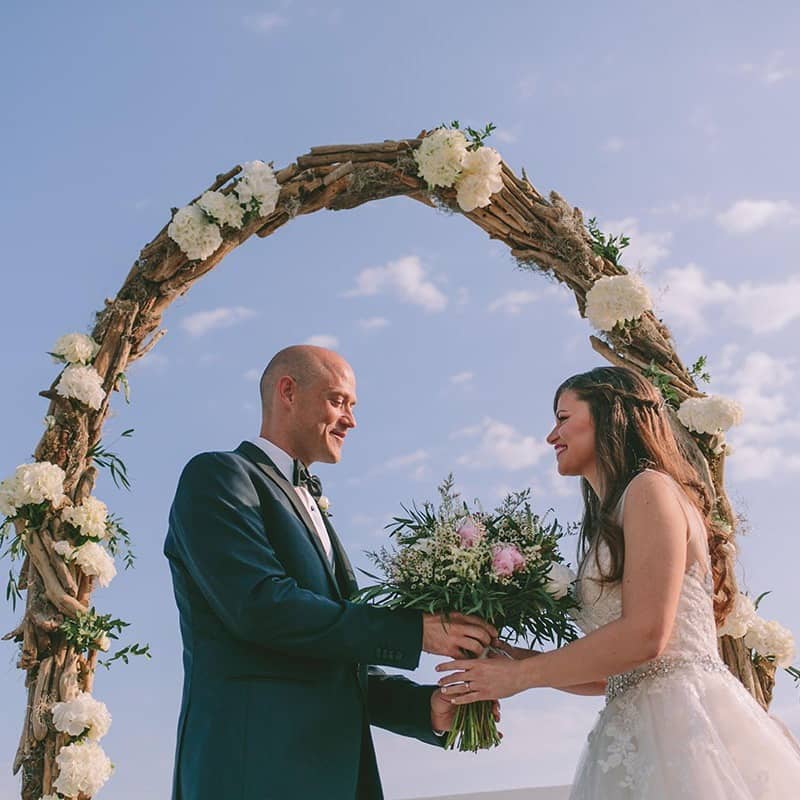 MARILENA & JEFF
May 6, 2020
Let us tell you all about how we came to work with White Stories, and why it was the best experience we could've possibly had with our wedding planning agency.
We had started looking for wedding planners in Greece (harder than you'd think!) and stumbled upon White Stories in a few different wedding web sites. We contacted her and a number of other wedding planners. Even from the very beginning, from that very first conversation, we could tell that there was something different about the way she worked. You could tell that she had a level of personal involvement and responsibility that was a cut above the other planners.
After initially talking to Katerina, we wanted to make sure we gave all the other planners a chance, but honestly, none of them connected with us the way that she did. After talking to the last of the wedding planners on our list, we called Katerina back as quickly as possible to tell her that she was the one we'd love to have plan our wedding. That was in September.
WORKING WITH WHITE STORIES
We talked over video chat for a few months before going to Greece in November. Once there, we set aside a day or two to go around with Katerina and visit all of her vendors. It became even more obvious that Katerina surrounded herself with other likeminded individuals who cared about their final product, not just bringing in clients to make money. She helped us establish personal connections with every single one of the vendors, from the florist to the graphic designer, to the photographer, and even to the baker. We felt so good about everything after our trip in November, we knew that Katerina, White Stories, and her entire team would do everything they could to make our wedding as amazing as we could ever want.
THE WEDDING PLANNER
After leaving Greece, Katerina stayed in constant communication with us. It didn't feel like a chore, for her, nor for us. It felt like we were staying in close touch with a great friend. One who wanted to make sure that we had our every desire for the wedding come to life. Katerina was very good at getting our input on the exact issues that mattered to us. She would take care of all the details that didn't need our attention, and make it very easy for us to decide on the things we needed to. She let us be as involved as we wanted.
One of the qualities that distinguish her is that she understands exactly what you want without many words. We could not have imagined it would feel so effortless to have something we had envisioned come to life in the way that it did. Looking back, it really feels like we had the easiest time in the world planning our wedding (though I'm sure Katerina will tell you it was a handful for her!), and it's all thanks to Katerina for making it such a low-stress endeavor for us. Even on the day of the wedding, we both could not have been more relaxed.
THE WEDDING
Katerina and her team were there to handle everything. The setup, the seating, the progression of events, even corralling in our wayward family members and other guests at the appropriate time(s). What for some people is an incredibly tense and stressful (albeit joyous) day, we both were so calm and confident because we knew that Katerina and White Stories would be there to take care of everything, every step of the way. We can't possibly say thanks enough to Katerina, her White Stories team, and all the other vendors that we worked with. They made our dream wedding come true in the best possible way, and we left feeling like we had made life-long friends with someone for whom we now generally care about, and who cares about us.
The relationship we have with Katerina now is personal, she is like family to us and we feel very fortunate to have met her. Katerina is not only exceptional at what she does, but she is also a wonderful person. Her attention to detail and her remarkable good taste were evident on the day of the wedding. She created a wonderland for us, it all looked so much better than we could have ever pictured it to be. Everything was absolutely perfect and all of our guests were very impressed.
She really is brilliant at what she does AND she is really fun to be with! Her kindness and her loving personality really set her apart. Katerina is a very humble person and we owe her a huge thanks for putting together the perfect day for us! Whenever we have another event in Greece, there won't be any question at all who we would talk to. We would run back to Katerina and White Stories in a heartbeat.