Wedding enthusiasts globally consider a Mykonos wedding as one of the most luxurious wedding types in the world. In fact, Mykonos has very few competing locations for destination weddings in Europe. This holds true even for weddings in Greece, where few locations can rival this cosmopolitan island.
One of these rival locations is the dreamy Santorini, which offers gorgeous amenities for a Santorini wedding to take place. Stunning accommodation options such as "Santorini palace hotel" and "El Greco hotel Santorini" make Santorini an ideal destination wedding island. However, these islands are quite different. While Santorini is more suitable for a Santorini wedding for 2, Mykonos is a more cosmopolitan location.
Mykonos is located on the Aegean Sea and is world-renowned as a "hot" party destination. It has its famous beaches such as Super Paradise and massive dance clubs. However, the island also contains historic landmarks, such as 16th-century windmills that face the town of Mykonos.
Recent years have seen a great spike in the weddings that take place here. Couples that love popular locations and partying, often favor this island over the quieter Santorini.
Mykonos is known for its more luxurious weddings. As such it receives a lot of visitors in comparison to other islands.
This guide aims to breakdown every single aspect of a Mykonos wedding, from the ideal locations, to the best venues, and to the best wedding planning tips! For more general information on planning your dream destination wedding, you can read our 12,000-word ultimate guide on getting married in Greece here.
All in all, if you're considering Mykonos for your destination wedding location but feel like the wedding planning process is too daunting, feel free to contact us for assistance. We love to assist couples that consider Mykonos as their destination wedding location!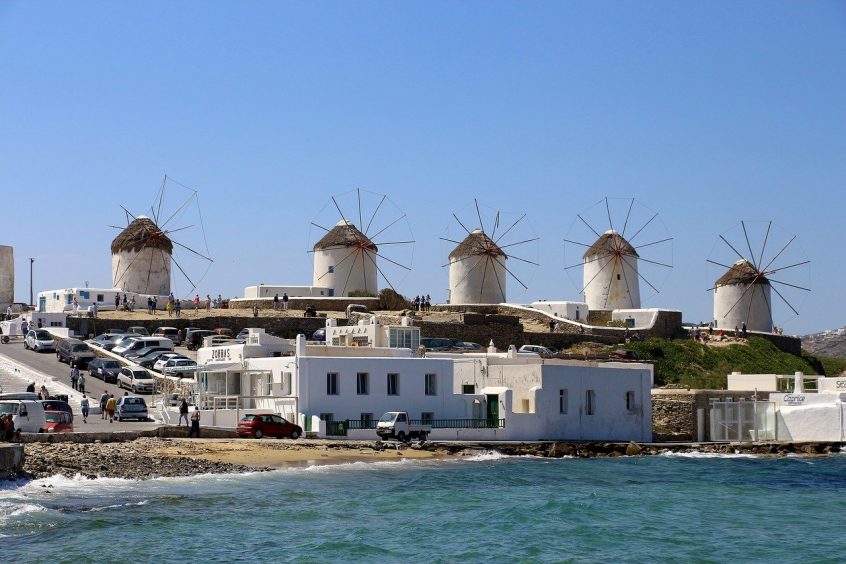 BRIEF HISTORY OF MYKONOS
Let's take a quick look at the past and present-day history of Mykonos!
ANCIENT HISTORY
Historians and archaeologists believe that Mykonos was first established by the Ionians in the 11th century. Mykonos was a member of the Delian Alliance, as it had a very close relationship with its neighbor Delos. This alliance marked the beginning of a prosperous time for Mykonos, which would end with the fall of Delos.
Moving forward in time, the island had consistently low agricultural yields. As a result, the island became relatively poor and faded into anonymity.
The Roman Empire would eventually find its way in Mykonos, followed by the Byzantines and Venetians. In fact, the island was occupied by several groups, from pirate forces to Russians.
Mykonos would only return to Greek hands at the beginning of the Greek revolution in 1821. Despite the ongoing war efforts that drained resources, the island managed to prosper. Its strategic location would make it an important trade hub and foreshadow future riches.
How then did Mykonos manage to transform from a trade hub into a world- known cosmopolitan location? How did it become a destination wedding location resulting in various beautiful Mykonos wedding types?
MODERN HISTORY
The contemporary history and characteristics of Mykonos are world-known. It is an island in Greece with intense nightlife, lifestyle and huge parties.
Following the anonymity that befell the island once again after the war, the archaeological findings of Mykonos would once again bring it to the forefront. These findings would attract artists, politicians, and others from around the world. The influx of celebrity artists, politicians, and high-income individuals would quickly register Mykonos as a "high-class" location.
The island residents, sensing a great opportunity for transformation, would go on to establish the appropriate venues and businesses to account for more premium tastes.
In conclusion, this Mykonos to its state today. A high-class destination, where every Mykonos wedding is a luxurious jewel.
HIRING A GREEK WEDDING PLANNER FOR A MYKONOS WEDDING
An important question you should ask is the following: Do I really need a wedding planner for a destination wedding?
Well, the answer comes down to you. For instance, do you value having great control over every wedding detail for your Mykonos wedding? Making sure everything gets done in time? Reducing unexpected surprises to a minimum?
Do you want to have your budget under control?
Then yes.
First, wedding planning is a huge time commitment with immense responsibility. Having work and family obligations places great stress on the wedding planning process. The pressure furthermore increases when a lack of experience comes into play. For example, your budget spikes because you underestimated the cost of a venue. Or the venue quote given to you did not contain the sound & lighting company.
All in all, the reality of the situation is that couples often decide to forego the wedding planner's fee. They take it upon themselves to plan a magnificent wedding. More often than not this backfire.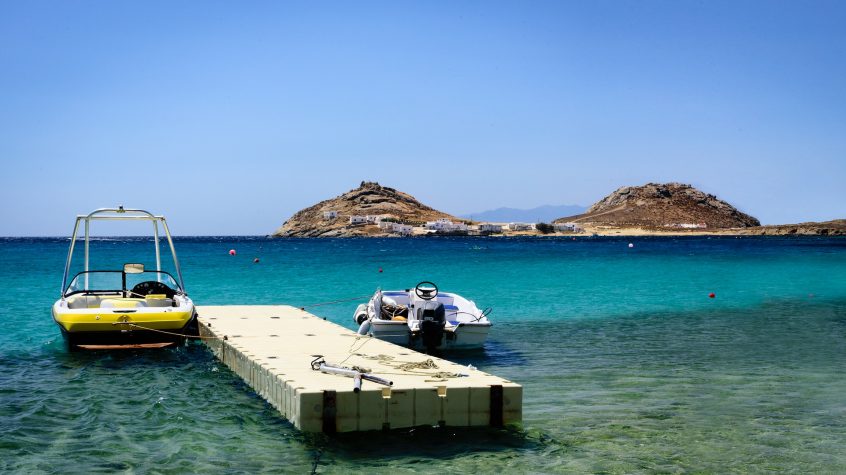 TRAVELING TO MYKONOS
BY PLANE
Mykonos has an airport conveniently located just a few kilometres away from the island's capital.
During peak season, the International Airport of Athens schedules several daily flights to Mykonos. In recent times, several EU countries have added direct flights to Mykonos Airport.
This is by far the easiest way to reach the island.
If you prefer to avoid heavy travel and don't mind the extra cost, then you can organize flights for you and your guests. Better yet, you can instruct your Greek wedding planner to initiate some preliminary research on available flights close to your wedding date.
BY SHIP
This is the second, and most common way to travel to Mykonos. Additionally, this is the least expensive way to reach the island for your Mykonos wedding. During peak seasons there will be several ferries that transport visitors to the island.
On average, this is an approximately 4.5-hour trip so plan accordingly. Make sure that you organize the relevant vehicle transportation to your hotel. Additionally, if you've organized meetings with your wedding professionals, make sure to include potential delays.
All in all, this is the least expensive way to travel to Mykonos and the only way if you plan to bring a vehicle with you. If you have excessive luggage, it is good to travel by ship to avoid paying extra plane luggage costs.
If you prefer extra privacy, consult your wedding planner regarding the rental of a private plane or yacht charter. This way you can combine your luxurious Mykonos wedding with a mini-trip around the Aegean.
EXPLORING THE ISLAND
Now that you've reached the island, its time to explore it.
You've already planned (hopefully) for in-island transportation vehicles for you and your guests. Available transportation options include shuttles, taxis, car & bike rentals as well as bicycles for shorter distances.
After you and your guests deposit your luggage in one of the many accommodation options available in Mykonos its time to explore a few areas.
Note that there are several "water" taxis that you can take. These are boats that travel between beaches, most notably Platis Gialos and Ornos.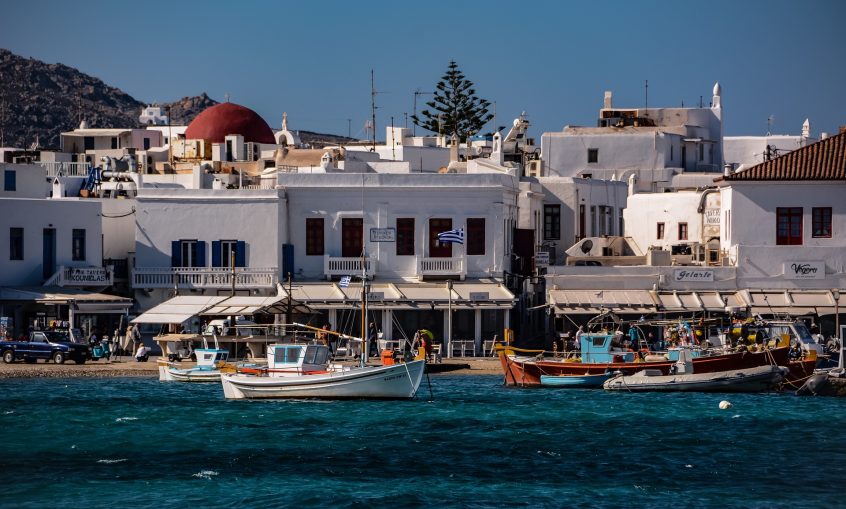 CHORA (MYKONOS TOWN)
Stunning Cycladic architecture fit for an elegant Mykonos wedding.
Undoubtedly one of the most characteristic and iconic areas in all of Mykonos. Visitors and travelers who view photographs of Mykonos before visiting have surely seen Chora.
Have you ever been to a Greek island that belongs in the Cyclades?
If yes, then Chora will initially feel quite familiar.
Chora is the capital of Mykonos. The iconic white houses and white-stoned pathways essentially create an intricate maze throughout the capital. Pavements and sidewalks contain thorny colorful bushes and trees, the houses have colorful windows and balconies. Small (white) chapels can be found scattered throughout Chora as well.
All in all, there are several restaurants and bars in the center, that you can relax and eat. As the sun sets, visitors invade the otherwise quiet streets. The reason is to enjoy a nice cold drink, take nice long walks, and of course, witness the amazing sunset in Little Venice.
LITTLE VENICE
If you've been to Italy, then you will immediately understand why this area is nicknamed "Little Venice". Visitors will feel as if they suddenly teleported to Italy.
Venetian architecture that contains wooden structures dominate the buildings found here. As mentioned previously, this is because of the influence the Venetians had on the island as a trading hub.
Little Venice has kept its unique Venetian influence, transforming many of the buildings into bars and restaurants. Visitors can enjoy the excellent modern service and great view in older structures. In fact, there are even several rooftops and terraces where visitors can observe the sunset and take memorable photographs.
All in all, it is an excellent area to immerse yourself in the past. If you find yourself thirsty for more ancient Greek immersion, there are plenty of museums nearby. After all, why not experience Greece as much as possible since you're here for a destination wedding?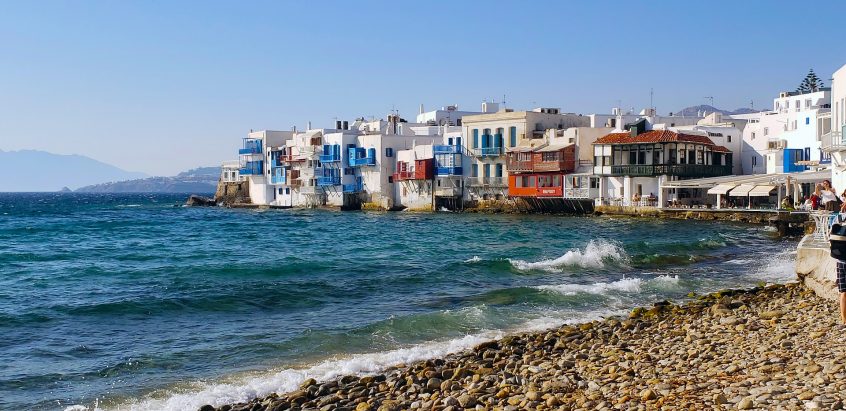 ARCHAEOLOGICAL MUSEUM
A look into ancient history for a Mykonos wedding
Visiting a museum is probably not the first thing in your mind when it comes to a destination wedding. However, it's a shame not to experience the traditional/cultural side of Greece since you're here.
After all a Mykonos wedding, like all weddings, is one of the most ancient practices in human history.
Conveniently located in the Old Port within Chora, the museum was founded in 1902. The layout of the museum contains a courtyard and six distinct exhibition rooms.
Visitors will get to see various relics that include marble and clay sculptures, vases and ceramics dating back to 9 B.C. Additionally, these include statues of Aphrodite, weapons and various jewelry
All in all, a great way to pass the time if you've got a spare hour. Additionally, it is a great area to take memorable photographs.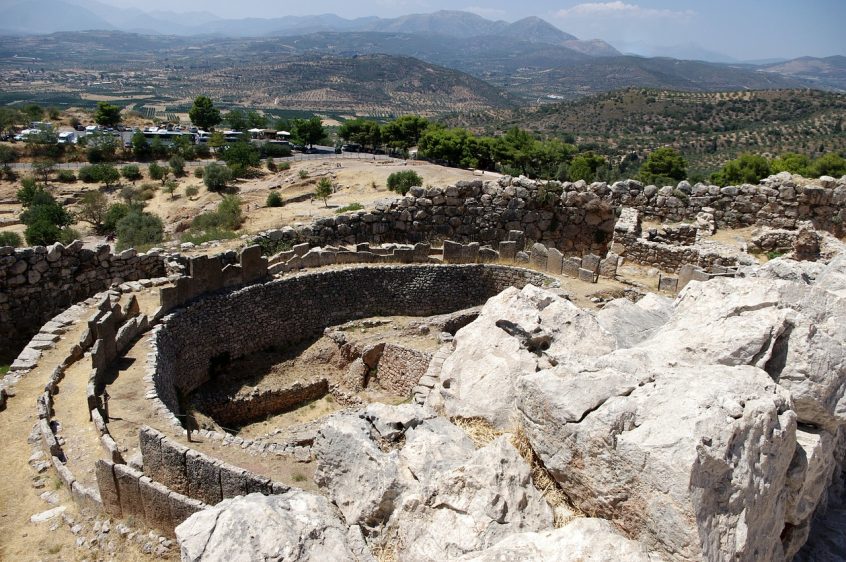 MYKONOS WEDDING STYLES
As mentioned before, Greece is an excellent country for a destination wedding since it offers many different locations for many different wedding types. For a Mykonos wedding, however, three wedding types are most suitable:
Luxury weddings
Elegant beach weddings
Boho weddings
Let's take a closer look at each.
LUXURY WEDDINGS IN MYKONOS
Luxury weddings are pretty much self-explanatory in Mykonos. The island is renowned for its expensive tastes and cosmopolitan nature. A trend that as stated before, began when high-society artists began frequenting the island to view its newly discovered architecture.
All in all, there are several venues available for a luxury wedding. Each one offers premium comforts and amenities that reflect the grandiose nature a Mykonos wedding should have.
ELEGANT BEACH WEDDINGS IN MYKONOS
Elegant beach weddings in Mykonos combine the two attributes found in abundance here: luxury, and beaches.
A couple may choose to forego a "rigid" luxurious venue, and instead decide to have a more alternative beach wedding.
There are several beach venues available in Mykonos where couples can decide on their fine wedding details. They can have a strict beach wedding right on the sand, or decide to combine the beach with a beach venue for greater flexibility.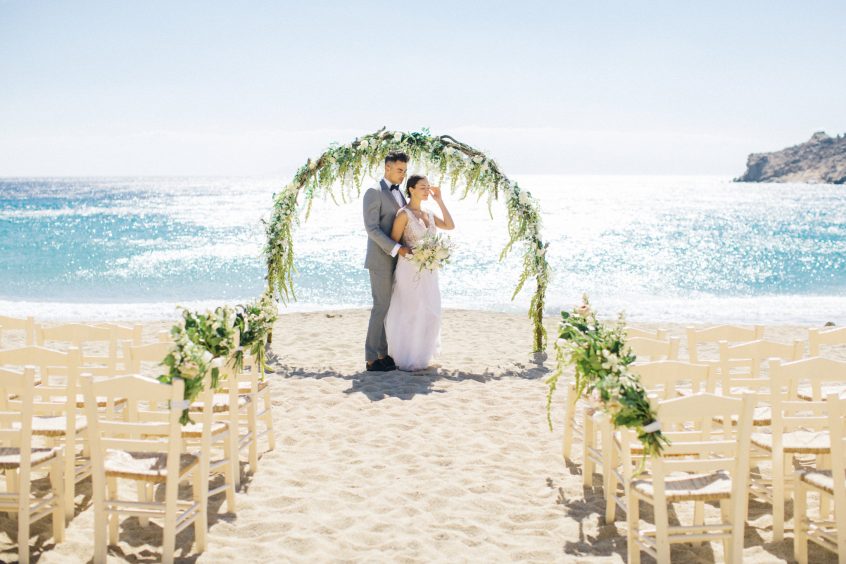 BOHO WEDDINGS IN MYKONOS
Recent years have led to a rise in popularity in a bohemian wedding type. The alluring nature of a mythical woodland gives off a very soft and romantic feeling. This inspiration from nature and Mother Earth finds a home right in Mykonos. The beautiful sea in combination with the abundant sun gives off a very romantic feeling, and several cactuses and other trees aid in the Bohemian type.
There are several venues in Mykonos, some right on the beach, that are decorated with a Bohemian style in mind. All in all, wedding couples who love Boho weddings, and want to have one for their own Mykonos wedding, should definitely give Mykonos a go!
VENUES FOR A MYKONOS WEDDING
Here we will look into various hotels, resorts, restaurants and beaches in Mykonos. Some are great choices for accommodation, while others are best suited as a wedding venue for a Mykonos wedding.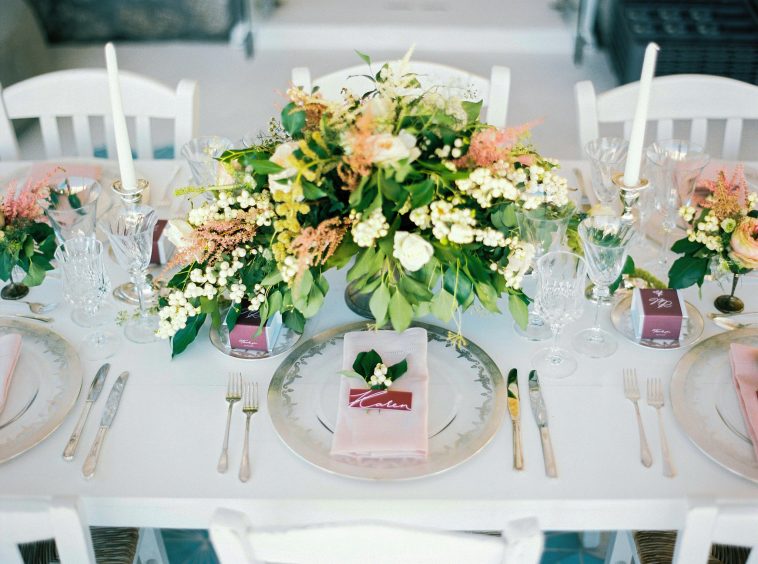 HOTELS
A few great hotel choices.
THE ROYAL MYCONIAN
The Royal Myconian is an ultra-luxury resort with awe-inspiring views of the longest sandy beach in Mykonos. The rustic facade, lit by the Cycladic stone, plays a central role with its modern interiors enormous terraces.
There is a pleasant mixture of antiquity and fantasy in place here, which the outstanding panoramic view eloquently complements.
The suites and large rooms are almost like real-life sanctuaries offering private balconies and large terraces. They are furnished with the highest level of comfort, and guests are given the choice of their own endless pool or jacuzzi.
All in all, the luxurious physical nature of this venue makes it ideal to host a wedding ceremony here.
PORTO MYKONOS HOTEL
What makes this hotel a great choice is its unique location: overlooking both the town and port. Visitors will be met with a sight of stunning lights during the night, as well as the characteristic sight of the Mykonos windmills.
There are several amenities to be found here including a private restaurant, a lounge, a bar as well as a finely kept pool.
The pool is especially valuable since its prime location allows guests to enjoy their cocktails while the sun is setting.
All in all, Porto Mykonos offers a truly remarkable way to relax. Interested couples can also contact the venue owners to discuss hosting their Mykonos wedding here as it offers great wedding reception options.
GRACE MYKONOS HOTEL
This wonderful hotel is located just a five-minute car drive away from the ferry port. The majority of the rooms have sea view balconies that overlook Agios Stefanos beach, as well as minibars and espresso machines.
This magnificent site includes stone walls, trees and red bougainvilleas around the whitewashed, Cycladic stone building. The minimalist lobby with arches, wooden furniture and a seating area with a reception offers guests champagne cocktails. This is a great setting for a minimalistic-traditional Mykonos wedding type.
This hotel contains a private restaurant and a poolside bar that offers wonderful glimpses during sunset.
While not located in the center, it is just a quarter of an hour drive away. This allows for greater privacy and peace. Those that wish to escape from the bustling center will find it a great accommodation option, and an excellent venue choice for a Mykonos wedding.
MYKONOS BLUE
Mykonos Blue offers white painted stone houses, private apartments and luxurious villas, some with private pools, are decorated with natural fabrics in white and total blue.
Guests will experience unique, amazing views from these prime rooms. Particularly the villas offer privacy and are located right on the sea-front. They are very spacious, and the hot-summer sun fully illuminates the interior.
More than 100 accommodation options can be found here, ranging from suites to villas. These options offer varying amenities such as hydro-massage bathtubs, private gyms, and private pools.
All in all, couples who would like to stay in villas and have their guests nearby should definitely consider Mykonos Blue.
KIVOTOS LUXURY BOUTIQUE
This luxurious hotel includes a spacious spa, gourmet dining experience, and more than 40 suites and villas. The amenities offered here, from lounge bars, to restaurants or even room balconies, allow the guests to gaze upon the wonderful Aegean Sea.
The architectural style found here is in compliance with the architecture found throughout the island. A characteristic whitewashed stone used as a building material in the entire Cycladic island.
Kivotos Luxury Boutique offers access to its own private beach, offering extra seclusion and intimacy. A great choice for visitors who want both a mixture of a party lifestyle offered in the center and a relaxing atmosphere.
BRANCO MYKONOS HOTEL
An excellent hotel choice that offers a great view, and high-quality service. There are several great entertainment options including a kitchen with delicious plates.
The hotel offers luxurious and spacious accommodation options regardless of taste and preference, with plenty of suites. As with several Myconian hotels, Branco's rooms offer a spectacular view of the Aegean Sea.
Branco's beach bar is an ideal choice for those wishing to relax while enjoying pleasant music and tasteful dishes.
They also offer a great wedding experience with their in-house professional staff, exquisite kitchen and an amazing beach for a beach wedding. The reception options available here are vast
BILL & COO HOTEL
Bill & Coo offer great accommodation options, a fantastic sea view and easy access from the center being just half a kilometer away.
The more than 30 suites found here overlook the Megali Ammos beach and offer a breathtaking sunset view. Some suites offer private pools, other balconies and verandas and a few a combination of both.
This five-star accommodation option offers a pool overlooking the sea as well as a five-star service spa. For wine and dining the excellent "Beefbar Mykonos" restaurant as well as the "Gastronomy Project" found within the walls of Bill & Coo, will satisfy any palate.
Overall, a great choice for a Mykonos wedding since it offers both quick access to the center as well as great in-house amenities.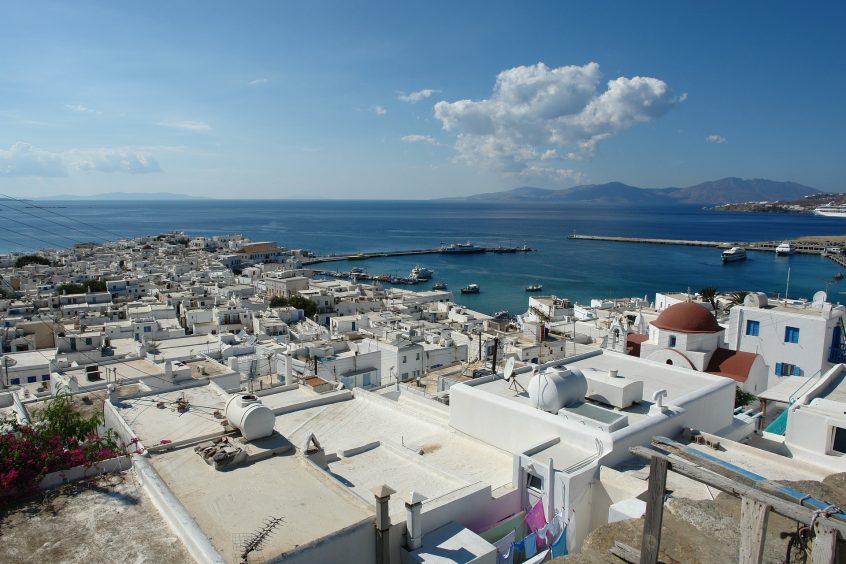 CHURCHES
A few excellent church choices.
THE CHURCH OF ST. SOSTIS
The Church of St. Sostis is an iconic church/chapel, which celebrates a huge amount of wedding celebrations and baptisms every year. The church itself is located upon a cliff that overlooks the Aegean Sea.
The interior is small in size, with the bulk of the guests having to remain outside during ceremony execution. The recommended guest size for a Mykonos wedding is around 30. A size of greater than 30 means that the interior of the church will not be able to accommodate the increased guest number
THE CHURCH OF PANAGIA PARAPORTIANI
This Church is located in Chora, right next to the sea. It is one of the most iconic churches in Mykonos since thousands of tourists and visitors photograph it and visit it each year.
What makes this church unique is that in reality its five small churches one built next/atop of each other. These churches were gradually built with the passing of time, beginning in the 14th century. The church of the Virgin Mary is atop of these and is visually similar to a dome.
For couples looking for a religious Mykonos wedding, this is a great choice. This is one of the most unique church complexes in the world, so a wedding here will surely have a uniqueness factor.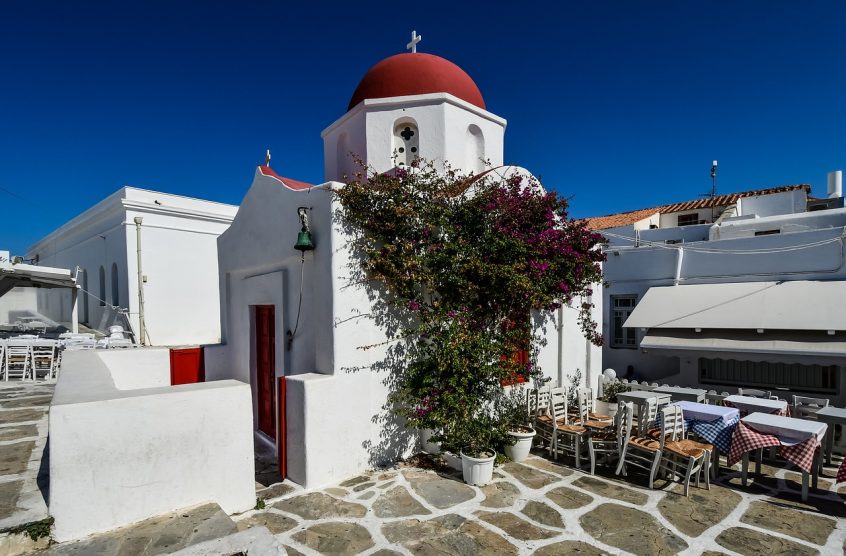 BEACH BAR-RESTAURANTS
A few great beach bar-restaurant choices.
ELIA BEACH
Elia Beach is regarded as the longest beach in Mykonos and offers both crystal clear waters and characteristically blue ones. The beach is a long stretch of pebble-less sand that contains hundreds of straw umbrellas.
The beach is also one of the most popular locations to visit in Mykonos. There area various accommodation options spread a few hundred feet above the beach. Each offers a unique view as well as easy access to the beach.
During peak season, there is almost no vacancy for the sunbeds as visitors flock to enjoy their sunbathing. During the afternoon, however, there is a unique opportunity to set up a wonderful beach wedding reception. As the sun retreats, so do the plentiful of guests, which in turn allows for greater beach privacy.
All in all, the Elia beach restaurant found on the Elia beach will allow for a wonderful wedding reception. The tropical, beach setting prevalent in the restaurant gives off a very carefree vibe and is appropriate for a tropical Mykonos wedding type.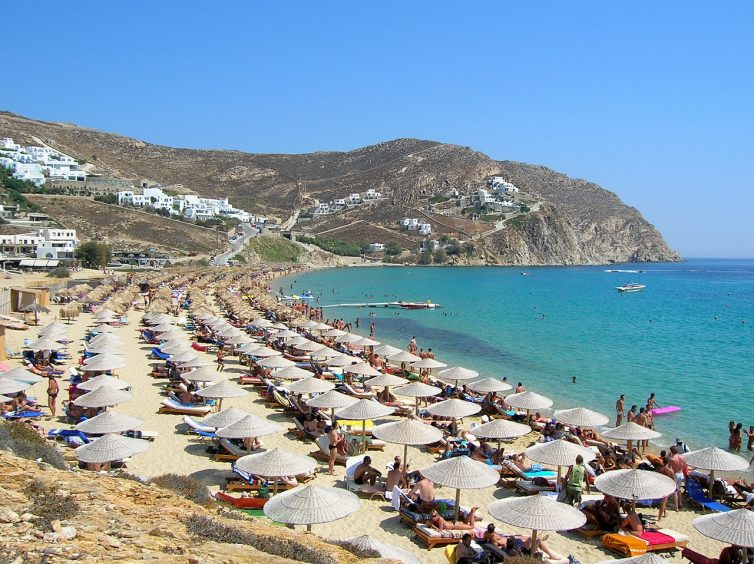 PANORMOS MYKONOS BEACH
Panormos beach Mykonos is one of the coldest beaches in Mykonos compared to other beaches found on this island. This is because it is located on the northern side of the island, which typically has stronger winds and stronger currents.
Panormos can be best reached by car. This beach is typically split into two parts: one section is a typical, beach setting while the other is known as a nudist area.
The food here is quite expensive, so visitors planning to budget their "beach" spending should consider other beach options.
ORNOS BEACH MYKONOS
A great beach to relax, with three separate stores operating within it. Almost the entire beach is covered with sunbeds so visitors can sit down, relax and grab a drink. The businesses here offer decently-sized meals, very tasty, and priced fairly.
This beach is infamously known for rarely having waves and is therefore adored by those who want to have a relaxing time. Ornos beach in Mykonos is described as one of the trendiest and most popular beaches on the entire island.
All in all, it is a great beach that you shouldn't miss out on. There are several accommodation options such as Kivotos, where visitors can view the spectacular Ornos beach.
AGRARI BEACH MYKONOS
Agrari beach in Mykonos is best known for its crystal-clear waters. Recent times saw the demolishment of the old, traditional tavern with a new modern one closer to the sea.
It is a favorite by many because it is less popular compared to other beaches in Mykonos. It also offers a great dining experience, and more reasonable prices compared to the other beach choices.
For those couples that want a beach Mykonos wedding, we suggest consulting with your wedding planner to find the most appropriate way of hosting it here!
BEACH BAR RESTAURANTS
A few excellent beach bar-restaurant choices.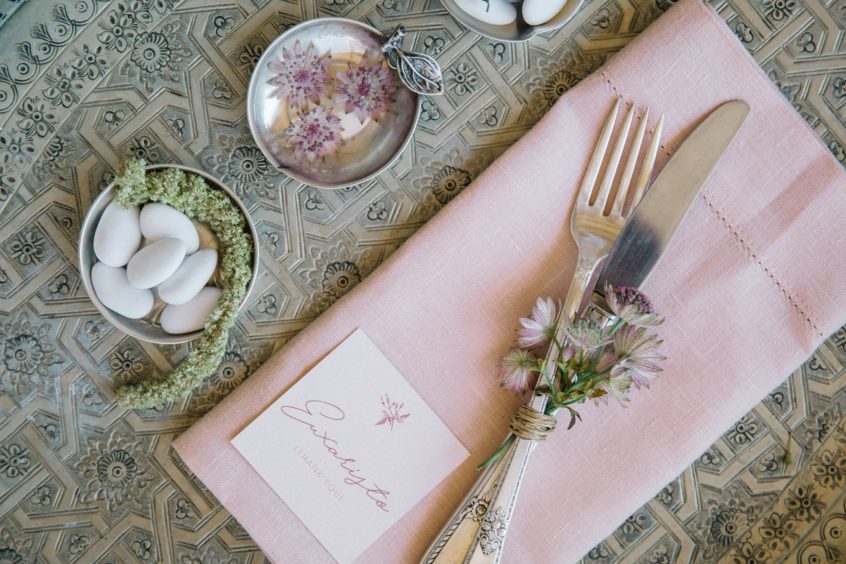 NAMMOS
Nammos was originally founded in 2003, to build on the reputation and love guests had expressed for Psarou beach. The concept was simple: build on an already existing desire to have fun on this wonderful beach. Nammos was swift to provide:
amazing dishes to hungry guests through its restaurant
a great beach bar to host amazing parties
wonderful bars and amenities to beach lovers.
Nammos quickly rose in recognition, and today it is one of the most well-known areas in Mykonos. As such, a Mykonos wedding here is a symbol of luxury. Guests will get to enjoy both fine dining and crazy after parties at this beachfront property.
HIPPIE FISH RESTAURANT
The aim of this restaurant was established when the owners decided to create an alternative, more unique dining experience for the island of Mykonos. The attempt of Hippie Fish Restaurant was to innovate both Greek and international cuisines. Judging from its popularity, we can positively say that they succeeded!
Guests will be greeted with a wonderful seaside restaurant, where they can enjoy their cocktail and eat delicious meals.
This also makes for an exquisite wedding venue because it combines the traditional, beautiful sea view with the alternative restaurant vibe. All in all, a Mykonos wedding here is a great way to give your wedding a non-traditional theme.
ALEMAGOU BEACH RESTAURANT
A beach bar-restaurant located in Ftelia Mykonos, just 12 minutes away from Mykonos Chora.
Visitors best describe it as a bohemian setting, that combines the best of both worlds: elegant yet comfortable, private and popular. It is not uncommon for visitors to think they have set foot in Mexico.
Relaxing couches and sunbeds, warm sand and an excellent beach make it a perfect area to socialize and relax. The interior blends Cycladic architecture prevalent in the island with organic structures.
All in all, couples who love the bohemian setting in combination with a beach wedding, should consider this venue for their Mykonos wedding.
SCORPIOS
Located at Greece's most cosmopolitan location, few other choices can rival this glamorous venue.
Scorpios' location is in the southern part of Mykonos. It sits right on the beach and offers guests a spectacular view of the Aegean sea.
Any wedding type is suitable for this venue, however, Scorpios is often known for the following styles:
Bohemian
Mediterranean
Romantic
Sophisticated
The venue is equipped with a:
Banquet hall
Bar/ Lounge
Waterfront sitting area
Restaurant
The idea behind the venue is creating a space where guests can relax and enjoy life for what it is: a timeless pleasure.
It's luxurious surroundings and handcrafted approach mixes with minimalistic details. The result is to create the perfect atmosphere.
To sum up, couples that want a Mykonos beach wedding should consider this prime wedding venue choice.
PRINCIPOTE
A gastronomic bar and dining experience of extreme beauty. It is one of the cases where the photographs accurately present the beauty of the actual place. The elegantly decorated beach bar gives off a very tropical vibe. Wooden floors, long seabed curtains and well-maintained decorations make it a wonderful area to sit and relax.
During peak season days, this is one of the busiest areas in Mykonos. Visitors can expect delays in finding a seat since there is a great demand for Principote.
For a Mykonos wedding, this is a venue to schedule your wedding. You will be able to combine the wedding ceremony at the beach, with a wonderful dinner at the Principote beach bar-restaurant. Beach wedding lovers who marry in Mykonos should seriously consider this option.
RESORTS FOR A WEDDING IN MYKONOS
A few excellent resort options.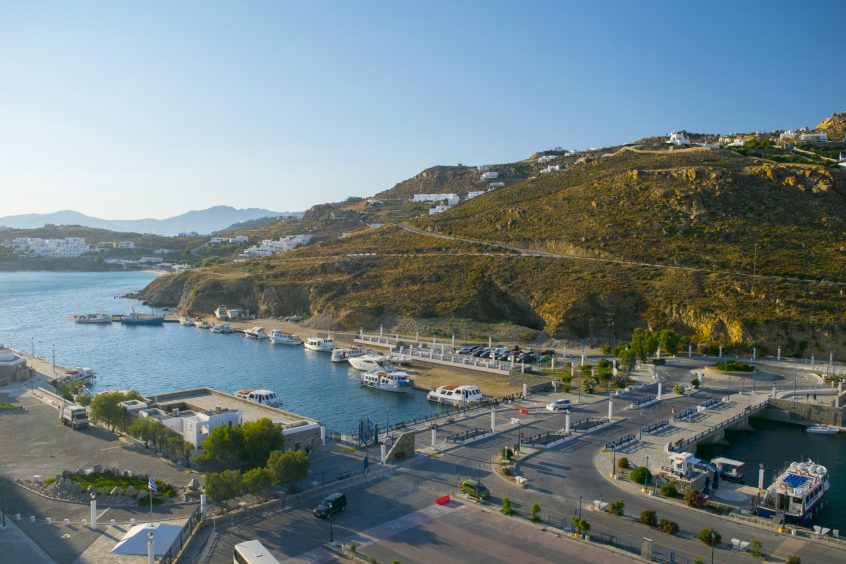 SANTA MARINA RESORT
An amazingly beautiful resort with amazingly polite and high-quality service. The resort is comprised of more than 100 guest rooms and more than 15 luxurious villas. The accommodation options offer access to a private beach for secluded parties and relaxing times.
The oasis pool and lounge is an amazing way to sit back and relax. Guests will also get to experience an amazing time at the Buddha-Bar Beach as well as the wonderful, five-star spa.
The fact that this resort has a private chapel and beach, means its perfectly suitable for a variety of wedding types for a Mykonos wedding. These wedding types include private pool afterparties as well as more private ceremonies within the premise of a villa
APANEMARESORT
A small little paradise within Mykonos, conveniently located just 15 minutes walking distance from the center. Its strategic location allows it to both offer an exquisite escape from the busy center, while still being close enough to allow guests to explore it. It sits right next to the seafront and offers stunning sunset views.
The seclusion and privacy that Apanemaresort offers is further enhanced by the fact that it has just 17 rooms and suites. Elegant, intimate, private, relaxed- but in no way less beautiful than more popular accommodation options.
All in all, Apanemaresort is a great choice for a Mykonos wedding. Couples can choose to book the entire resort for themselves and their guests, creating their own little "wedding city". Additionally, the fact that it offers a great sea and sunset views make it an ideal location to exchange vows. The resulting photographs will surely be breathtaking!
MYCONIAN UTOPIA RESORT
Positioned 300 meters above the sea level, Myconian Utopia Resort is truly a gem amongst gems. Lovers of natural beauty, extravagance, and luxury will instantly fall in love with the resort. Visitors will immediately notice the green ambiance prevalent throughout the resort; a result of hand-cut stones that perfectly complement the internal furniture and interior.
The phrase "a romantic getaway in paradise" could not fit another place as well as it does the Myconian Utopia Resort. The accommodation offerings, ultra-luxurious villas, and exquisite suites are second to none. Visitors will get to combine their five stars stay with an amazing infinity pool, a spa, as well as several restaurant and bar choices.
All in all, it is a great choice for a five star, private, luxury Mykonos wedding. The resort is known for its secluded wedding receptions made of small gatherings. As such, it is also an ideal location for a luxurious Mykonos elopement!
VILLAS FOR A WEDDING IN MYKONOS
A few excellent villa choices.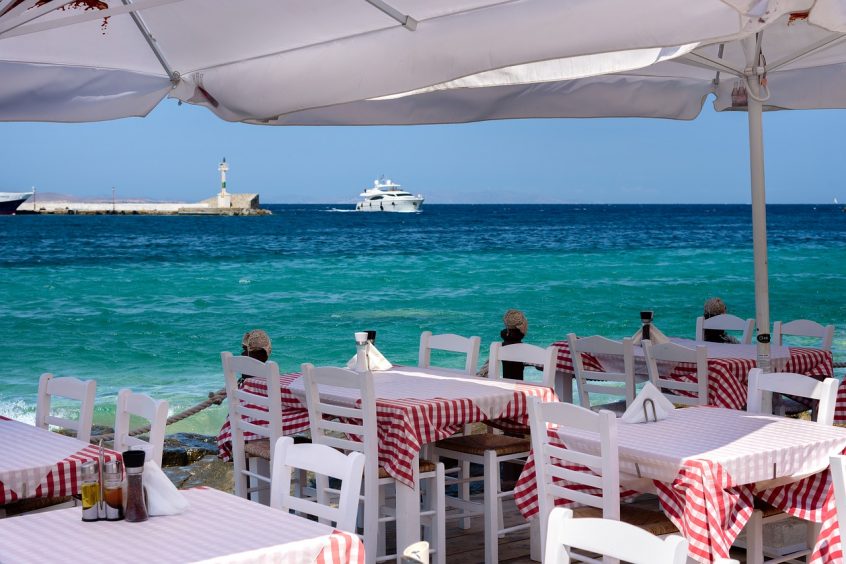 VILLA PARADISO
Villa Paradiso is a luxurious villa in Mykonos with 10 bedrooms and a maximum capacity of around 10 guests. It is ideally located atop a mountain hill, offering an awe-inspiring sea view and stunning sunset views.
The entire property covers a total of 2000 square meters, with the villa covering around 300 of those. The interior rooms include four bathrooms, 3 master bedrooms, 6 double bedrooms, a kitchen, living and dining rooms.
Villa Paradiso has handmade furniture that decorates the interior, with lighting expertly illuminating the room fixtures. The exterior grounds also have a cactus garden and a 10 x 20 m pool, which has several sunbeds.
All in all, it is a great choice for a secluded private villa Mykonos wedding. Small wedding parties can celebrate the couple's union here. Additionally, private elopements are also possible here.
OLIVE GROVE IN MYKONOS
This beautiful villa overviews the old harbor of Mykonos, and offers Aegean Sea views and a relaxing, quiet atmosphere. It offers a private section away from the bustling center, yet it is a small distance away. Both the olive groves as well as the sea itself surround this stunningly beautiful villa.
Olive Grove is suitable for a maximum of 8 guests and it offers four bedrooms. It has a wonderful terrace, a great swimming pool as well as lounging and sitting areas. It is a wonderful location for a small Mykonos wedding or Mykonos elopement. Olive Grove can be eloquently decorated so that it transforms into a small reception, fit for a quiet ceremony.
SEASCAPE COVE
One of the largest and most luxurious villa complexes in all of Mykonos.
What primarily separates this villa from the other ones is its immense size. This villa has 20 bedrooms that can comfortably accommodate up to 41 guests. A small to medium-sized wedding with few guests may choose to book this villa to comfortably celebrate their destination wedding.
It is almost like a "mini-resort" that belongs entirely to the couple and their guests. This mini resort comes with CCTV monitoring as well as helipads. The biggest villa also has two professional kitchens, making it ideal for preparing meals for a Mykonos wedding.
All in all, a great villa choice for a wedding in Mykonos. This is because it offers a very spacious and luxurious area, which can be decorated according to the couple's desire.
RESTAURANTS FOR A WEDDING IN MYKONOS
A few excellent restaurant choices. 
MAIZEVELO
The surrounding stone from neighboring restaurants and the wooden tables and architecture gives off a very cultural vibe. Maizevelo gives off a very minimalistic vibe, from the way it presents its simple dishes beautifully, to the layout and architecture of the entire restaurant.
Greek cuisine dominates here, so it is a great chance to experience traditional dishes.
All in all, it is a great restaurant suggestion for a Mykonos wedding. This is especially true in the case where you are looking to experience Greek cuisine to the fullest, and simplicity plays a major part in your wedding.
TO MAEREIO
This traditional Greek restaurant is one of the oldest, family-run restaurants in the island. It has the typical Greek tavern look, adjusted for Mykonos. The stone tiles and the whitewashed exterior walls mark the entrance to this cozy tavern.
Simply dishes have never been served more elegantly. Its small, intimate space offers a family experience, with the most personalized service and most delicious meals.
The menu here is rather small and limited, and it has classical Greek recipes. To maereio does a few things well, such as their well-known tenderloin in a vinaigrette reduction.
All in all, couples who decide to have a Mykonos wedding and want to experience the Greek culture at its finest, can choose "To maereio". Mykonos wedding types with a strong emphasis on simplicity and tradition will also find this restaurant to their liking.
D'ANGELO
D'angelo Mykonos is one of the most well-known restaurants in Mykonos. Its competitive advantage is simple: Italian cuisine. It is difficult to describe the elegance with which the chefs present their dishes. Italian food lovers will be sure to enjoy meals they have tasted thousands of times before, in a unique way. From delicious pizzas to an amazing pasta bar, D'angelo does both simple and complex dishes well.
The restaurant is located close to the renowned Mykonos windmills. It can be found amongst the Chora labyrinth, amongst the whitewashed walls and stone pavements.
It has both touches of luxury and simplicity. This great combination of both factors makes it an excellent restaurant choice for a Mykonos wedding. Bonus points if you and your guests love great Italian cuisine!
WHITESTORIES FOR A MYKONOS WEDDING
A Greek wedding planner takes care of an immense number of A-Z services. Namely, it is a stamp of guarantee. Put another way, Greek wedding planners are an act of insurance. They organize and plan every detail so that your budget is not burdened with avoidable costs.
In White Stories, we place the emphasis on every detail in order to achieve an exceptional event and write with you a story that creates beautiful moments and unforgettable memories.
All in all, our philosophy is to make every moment special, unique and long-lasting. At WHITE STORIES, we consider the journey as the most important part of every event. As a result, our purpose is to make this journey as calm, pleasant and as magical as possible.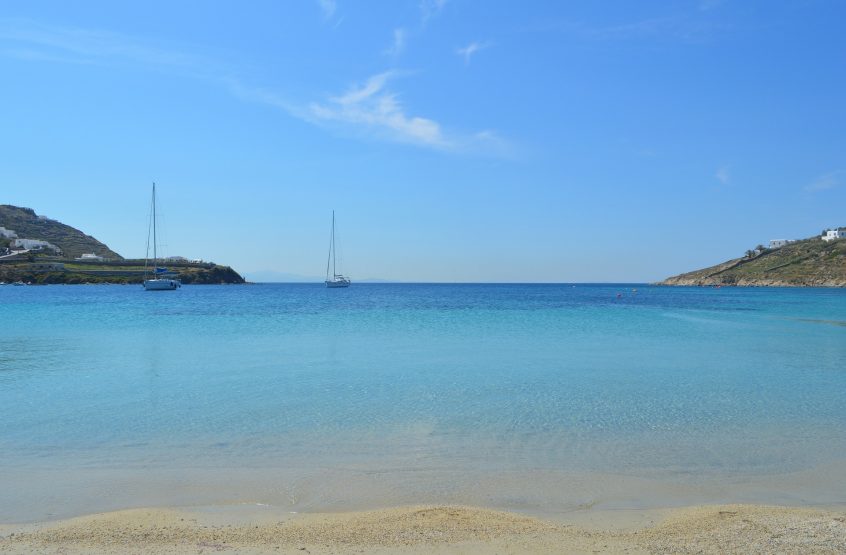 CONCLUSION FOR A WEDDING IN MYKONOS
A Mykonos wedding is no small deal by any means. It is by far the most expensive Greek island to have a destination wedding. Not hiring a wedding planner will mean that you will probably pay even more.
Does that mean that you should avoid the island altogether?
Maybe choose an island like Santorini?
If you find that you have the appropriate budget and flexibility in your requests, then you should communicate with a planner. This will help you get indicative costs, so you can choose the services you would like for your wedding.
A wedding is a very special occasion and you should treat it as such. If you've visited Mykonos previously and find that you want to have a Mykonos wedding then you absolutely should.
Our purpose for this Mykonos guide was to create an informative, all-encompassing Mykonos wedding post. From transportation information to and from the island to areas you should visit, as well as recommended venues. Feel free to check our Mykonos style shoot for even more specific wedding details!
All in all, Mykonos is a great experience that you should absolutely live with your family and friends. You can even decide to extend your stay in Greece and combine your honeymoon here as well.
Couples can both pull all-nighters partying at the center, as well as find remote areas for some privacy. If you end up combining your wedding with a honeymoon here, just be prepared for many sleepless nights and great, unforgettable memories!
If you want to find out more about booking a wedding planner for a wedding in Mykonos, feel free to click here to contact us! We love assisting couples who consider Greece as their wedding destination!