Greece is a popular destination for those thinking of getting married or elope to one of the various beach wedding venues. Its sunny and warm climate, beautiful sunsets, picturesque landscapes, and unexplored beaches with turquoise waters, are some of the reasons that make Greece high on the list of couples' options.
Beach Wedding Venues Next to the Sea
Are you dreaming of a romantic summer wedding? A wedding reception on a beach or overlooking the sea?
All you have to do is organize a reception at a beach wedding venue!
Couples who dream of a summer beach wedding should look between the various beach wedding venues in Greece. that overlook the sea or even the beach to be an extension of them.

Imagine and Create an Idyllic Setting
Greece has several wonderful beach wedding venues suitable for a luxury, bohemian, rustic, or any other wedding style. Couples have the opportunity to host their wedding ceremony and celebrate their love next to the sea.
In fact, the only difficulty is deciding where to go. Given that Greece's coastline is more than 15,000 kilometers, couples can think of the plenty of choices they have to find the perfect beach wedding venue for them.
Can you imagine a magnificent sunset, a beach wedding venue or a party on the sand, a starry sky, and the Mediterranean breeze to embrace you and your guests? This definitely reminds us of a movie scene. A natural landscape with discreet luxury, elegant and ethnic romance can perfectly compose your wedding reception.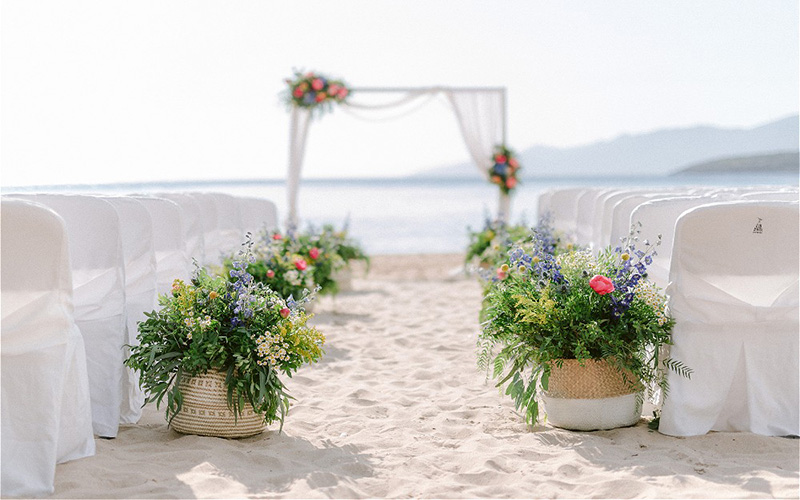 Brides who dream of their special day at a beach wedding venue are willing to create the ideal atmosphere for their wedding reception with the endless blue background. The main priority is for the couple and guests to have fun and enjoy the first day of the couple's life together.
Furthermore, wedding receptions are all about friends and family gathering to celebrate the love of the newlyweds. The party also works as the place where the two families come together as one and the couples' friends. This is why, in this case, a lounge area on the beach is an important part of a beach wedding.
What Wedding Style to Choose?
The ideas for a wonderful wedding setting are numerous! More specifically you can take off the backdrop with decorative touches. For instance, you may choose a color palette in white, pastel shades, and highlight with golden details.
Always remember that the dominant element of the landscape is water. The sea will impressively star with all its blue shades.
Furthermore, no matter your wedding style, a lounge area is a notable way to customize your wedding space.
A great idea would be to highlight your wedding decoration with pale shades and golden sand details. For example, light peach could be the flower arrangements' main color accompanied by blush pink and white flowers. Additionally, a beach wedding venue can be decorated with golden candle lanterns that will make a sparkling effect.
Another great idea would be to decorate the tables in the appropriate tones, to add scented candles, imposing metallic or rustic wooden lanterns, even tiki torches around the wedding reception for a tropical island aesthetic.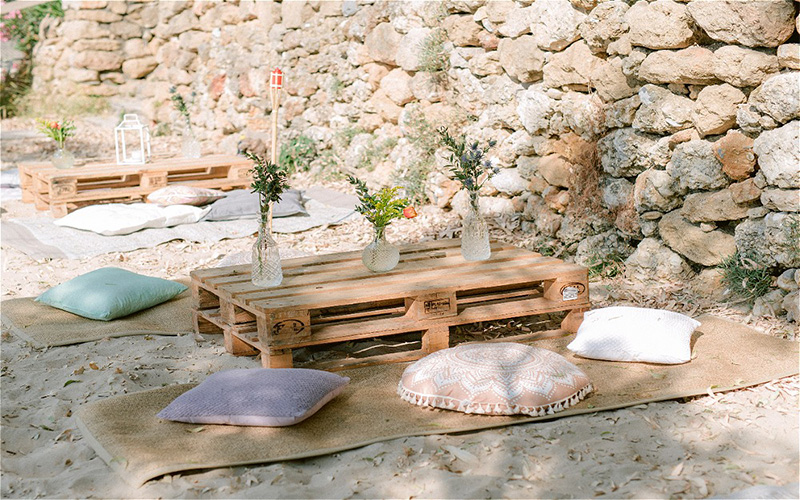 For a vintage touch, for those of you who love this style add color in shades of ocher and red.
For the beach area, you can choose a lounge décor with rattan carpets and cushions that guests can sit and enjoy their cocktails. Otherwise, you can choose vintage seating, like chairs, sofas, and coffee tables to give your space a living room feel.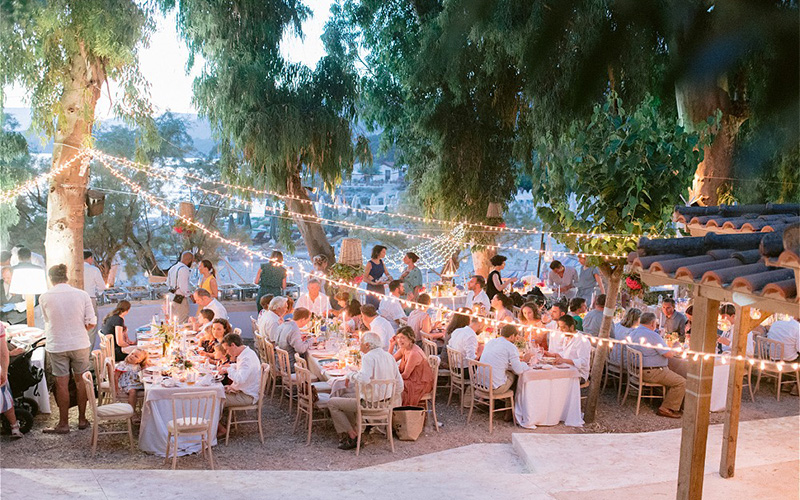 Beach Wedding Venues Conclusion
The ideas to design an intimate place for guests to relax are numerous!
However, the wedding is not a typical event. It is a very special day that has huge sentimental value.
Thus, if you are planning a wedding you should consider hiring a wedding planner. A wedding planner would make the wedding procedure calm, pleasant, and as magical as possible.
Do you want to marry in Greece? Feel free to contact us! We love to assist couples who consider Greece as their destination wedding location!