Wedding cake ideas are one of the most fun aspects of every wedding! The wedding cake itself is one of the most characteristic and symbolic features of a wedding. This is because when one looks at it they can immediately realize that this cake is for a wedding.
There are several styles and ways you can go with your wedding cake. This is because nothing is wrong and everything goes! Perhaps the most important tip we can give you as wedding cake ideas is to find a cake suitable for your personality.
At the end of the day it's your wedding so every single detail should represent that!
ELEGANT WEDDING CAKES
These are wedding cake ideas for couples who choose elegant wedding types. An important part of elegant weddings is that every wedding detail should be in line with the theme. As such, the wedding cake can be no different.
Perhaps the most important rule with elegant wedding cake ideas is the fact that you can play with different shapes.
Try to avoid having round layers of your wedding cake as individuals tend to associate them with more simpler themes.
All in all, having a cake with edges and select flower decorations on them is a sure method to achieve your elegant wedding cake. Try to communicate the importance of the cake to your planner. In turn, they can appropriately coordinate the baker as well as the florist for the ultimate elegant wedding cake.
GLAMOROUS WEDDING CAKES
These are wedding cake ideas for couples who decide to go for a more glamorous wedding type. Perhaps one of the most important details in a glamorous weddings is the use of gold as metal as well as a color.
This is because gold signifies glamour and wealth, and as such could not be missing from a glamorous wedding type.
All in all one should remember that the usage of gold does not apply strictly for stationery. To add extra glamorous detail, the artist will oftentimes add an acrylic cake topper to the top of the cake.
To finish the glamorous wedding cake ideas artists can even add touches of hand paint watercolors!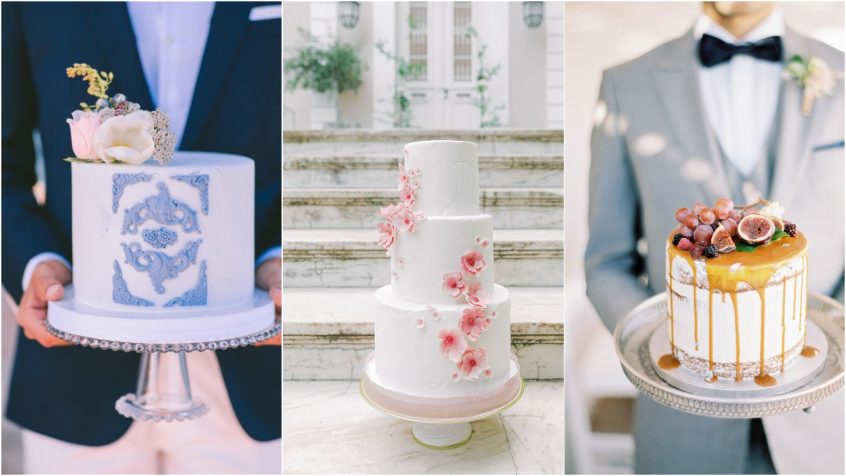 SIMPLE WEDDING CAKES
Simple wedding cake ideas do not have to be less expensive ideas! These are just wedding cakes that keep design and décor to a bare minimum. Oftentimes it is much more difficult to express yourself with fewer things than it is with many! In fact, individuals often consider simplicity as an elaborate art form!
One of the simplest ways to achieve a simple wedding cake is to have an all-white cake and highlight just a single layer. The artist can achieve this by decorating a single layer with flowers. Additionally, couples can choose to design their cake with an eyelet-inspired design. This will offer simple designs without going overboard.
All in all, simple designs and one or two colors are the way to go for a simple wedding cake!
CONCLUSION
Wedding cake ideas are numerous! As we state above, there is no right or wrong when it comes to your wedding cake. Perhaps the two most important ideas you need to remember however are the following.
First, you must make sure that the cake is something you like; after all it is your wedding! Secondly, you should keep the wedding cake in line with your entire wedding concept. This will ensure that there is consistently a wedding concept flow throughout the entire ceremony!
All in all, there are numerous wedding cake ideas. Google has tens of hundreds of wedding cake designs, so once you understand the cake concept you want feel free to do some additional research!
If you feel that you need help to organize your wedding planning, and you want to find the perfect wedding venue, feel free to contact us! We love to help couples who consider Greece as their destination wedding choice!