DESTINATION BAPTISM IN GREECE
Baptism in the Christian religion is the ritual of admission and adoption into Christianity. It is inextricably linked with water and the submersion into it as a way of denouncing the former life. It is a sacrament for the Christian church and that is why baptism in Greece is considered one of the most important moments in someone's life. The Christian Baptism is a very important moment in a child's passage through life. After the birthday, the Christening is the next significant experience a baby will have. Moreover, the baptism day is an opportunity for the extended family and their friends to come together in a festive celebration!
BABIES AND WATER
The baptism in Greece is performed in a large silver copper baptistery filled with holy water. The priest submerges the little toddlers in the name of the holy trinity. Then, he places them in the arms of the godmother or the godfather that holds a large and fluffy towel.
In Greece, all the guests take guesses on whether the little one will cry or not. Additionally, little christening pins and baptism favors are given to everyone as a witness for the baby's christening.
The age of the baptism is usually between 3 months and 1,5 years after the baby's birth. Most mothers choose to baptize their children in the summer where the weather is warmer and the baby won't get cold during the christening ceremony.
Also, summer events are just another opportunity for celebration and warm gatherings with friends and family! Everyone will come to celebrate the little boy or girl.
GODMOTHERS AND GODFATHERS
In Greece, almost every family baptizes the newest member of the family. Moreover, a baptism, also called christening, is a way of forming bonds between people. Happy godmothers and godfathers hug lovingly their soon to be godchild, they shower him with gifts and tiny colorful clothes.
The bond between the godparents and their godchildren is as strong as the bond between parents and children. People feel responsible for their godchildren and care for them as a second pair of parents.
Plus, the godparents love to spoil their godchildren with toys, fun dates in the soft play, shoes, clothes and everything nice! Therefore, no one can deny it that once you become a godparent you instantly have the googly eyes for your petit(e)!
CHRISTENING ATTIRE
The baptism in Greece is a highly symbolic event with lots of analogies. One of them – and maybe our favorite- is the white christening clothes the baby wears after the christening ceremony. They are white, to show the purity of the newly baptized baby.
Also, it is where the true style of the godparent lies. We love anything from boho crochet dresses to a princess-like tulle gown for the little girls. Moreover, the small suits with jackets and the monogrammed shirts are our favorite for the little boys!
In addition, the christening ceremony is about the welcoming of a new member to the family's faith. Furthermore, every godparent chooses a beautiful and precious cross for the baptized baby.
LOVELY CONCEPTS
Every family wants a memorable event to celebrate the baptism of its newest member! We can decorate a baptism in Greece in so many ways, it's almost impossible not to create something unique for each event! The concepts can be as varying as the families that come to us for their christening events!
For the little ladies' christenings, we love experimenting with classically elegant ideas! We love the princess theme, the pink and purple ballet concept, all these girly colors and textures. However, we also get inspired by watermelons, rabbits and so many more!
Our ideas are always flowing! For the boys' baptisms, we get inspired by the jungle, the baby animals, the sea! The options are endless! We love when families come to us with a challenging theme, something unique and unheard of.
Therefore, for baptism in Greece, we believe it is important to think outside of the box. The guests always appreciate a unique and inspiring theme, an interesting color palette and beautiful details!
CANDIES, CAKES, AND LOLLIPOPS!
When it comes to a celebration in Greece, the tradition and the customs of the country almost always revolve around food! A wedding or a baptism in Greece has always been an opportunity and an excuse to give away sweet treats.
The family welcomes happy wishes for their baby by treating the guests. The concept of philoxenia is the main inspiration and there are countless options for sweets and candies.
Therefore, in "White Stories" we believe in the power of a glorious, fully loaded candy bar!
We take pride in designing beautiful dessert tables. In addition, we always put a book of wishes so the guests can write sweet wishes to the baby and also enjoy themselves with some candies.
Our team always chooses macaroons, Choux au Craquelin, and religieuse!
Not only they are seriously delicious, but we also love how customizable they can be. Moreover, the talented pastry chefs we work with decorate the desserts it the most artistic of ways.
We are always amazed! Moreover, we sometimes use macaroons and candies as baptism favors or welcoming gifts to warm up our guests and get them to the joyous spirit!
MORE SPRINKLES ON OUR CAKES
Who says cakes are only for weddings and birthdays?
We think that whatever the question, a cake is the answer.
So, we always choose a beautiful cake for our candy bars! In addition, cakes can add to the overall concept and help tie the dessert table.
This is why we love cake so much and why we always bring it along for every baptism in Greece.
Also, we opt for cake pops and little charlottes! The cake pops are a lovely way to please children. Our little friends are always more than happy to discover the interesting shaped cake pops!
Additionally, they look like lollipops, hence their popularity among the little ones! Again, customized to fit the theme of our events, they set a lovely tone for our candy bar!
When life gives you lemons…
…Make a lemonade stand and pour everyone some sparkling tasty lemonade!
A lot of our events take place at summertime when the weather is rather warm. Therefore, everyone needs a big glass of ice cold lemonade when the christening is over!
We have a secret recipe for making lemonade and our guests love it every single time! While waiting for their kids to write some wishes or picking up their baptism favors, everything gets better with a cold drink in hand. In addition, we use spearmint in our lemonade that brings good luck and joy to the people!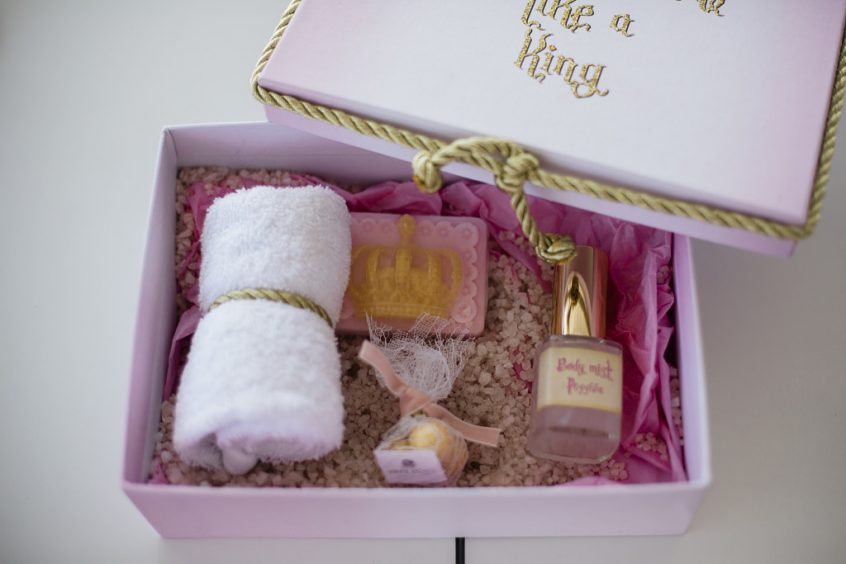 BAPTISM FAVORS
Have you ever thought of baptism favors?
They are such lovely little creations!
In Greece and Italy, they are called Bomboniere and inside them, you can find sugar-coated almonds or other sweet treats!
They are a reminder of the baby's big day and for every baptism in Greece parents and godparents together choose lovely baptism favors! Our company always gives a lot of thought when presenting possible favors.
We believe that they are very important for the overall event.
In addition, baptism favors are the place to truly experiment! There are millions of different ideas to choose from, hundreds of styles, and dozens of colors.
Depending on your comfort zone, your baby's personality, and the season we can come up with creative options for unforgettable baptism favors. Also, if you want to go old school and choose the safest but equally elegant favor, our team has a large collection!
White Stories love and inspire as well by seasons or elements in order to design the baptism concept.
Christmas baubles with the baby's name, watermelon-shaped boxes, candy-shaped favors! The ideas are countless.
If you don't like sugar-coated almonds, you can always opt for macaroons, chocolate crispies, or other little treats!
The good thing with the christening favors is that they can be as bold or as muted as you want, making them the perfect place to let your imagination run wild!
CHILDREN'S FAVORS
When it comes to children, one thing is absolutely necessary; keep them busy. Their attention needs to be stimulated in order to stay curious. This is why we have specific baptism favors for our little friends.
We create little pouches to fit the concept and inside we hide the most creative games for them! Our experience shows us that they love the games and the puzzles we put inside these baptism favors goodie bags!
Moreover, we choose unique color books and coloring pencils! The drawings and the coloring pages keep the little ones occupied and busy so the moms and dads can enjoy their time.
Also, colorful bubbles are the kids' best friends and we love seeing them running around while blowing bubbles. In addition, we put riddles or creative games to sharpen their minds and keep them busy. It's the perfect thank you gift!
THE PERFECT BAPTISM
Every baptism in Greece is a celebration for the families involved and an opportunity for friends to come together.
The perfect christening event is the one where people have fun! "White Stories" will create a wonderful event so that the family can spend quality time with each other and their friends.
Furthermore, refreshing drinks, a fluffy candy bar, and lots of beautiful details are the keys to a memorable event.
Lastly, pour some love into this combination and you will have an affair to remember for years!
If you enjoyed the post, and are interested in celebrating the baptism of your newest member in a unique way, feel free to click here to contact us with your theme and ideas!