A wedding in Corfu is a very joyous event. This beautiful Greek island is located just off the northwest coat of Greece in the Ionian sea. Corfu contains both mountainous terrains as well as several shorelines.
The island has a rich history, so a wedding in Corfu can certainly have a traditional, cultural theme. Historic landmarks, stunning buildings and beautiful natural landscapes are but some of the many reasons visitors come here.
Corfu takes its influence from multiple countries. This is because at different points in time, it was under the Venetian, French and British influence.
In fact, the Old Town of Corfu is a UNESCO world heritage site. Artists can easily recognize the Renaissance and Classical styles that were applied to the numerous buildings at the Old Town.
There are several stunning wedding venues here that make a wedding in Corfu a truly remarkable occasion.
THE MANSION OF VALSAMI
The mansion of Valsami is a unique location for a wedding in Corfu. As the name suggests it is a big mansion, a luxurious villa, that has a wonderful, grand, green area. In fact, it has both a beautiful inside area as well as the spacious outside area. This means that the Mansion of Valsami can accommodate a variety of wedding requests. These span from private and more secluded elopements inside, to grandeur wedding ceremonies outside.
All in all, the Mansion of Valsami can host up to 100 people for a wedding in Corfu. Couples can best organize their wedding in summer, spring or autumn.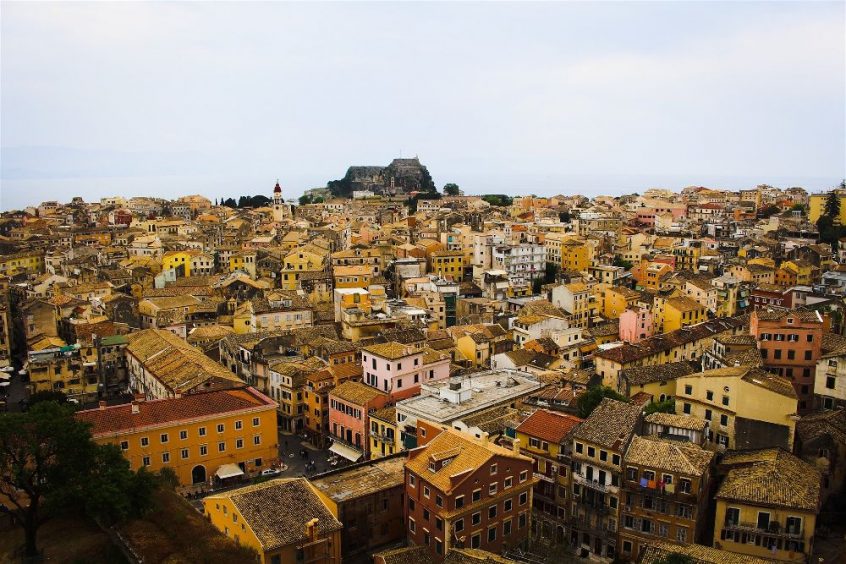 THE PALACE OF ACHILLION
A royal wedding in Corfu cannot possibly happen in another place except for Achilleion Palace. The entire establishment was built by none other than the Empress Elizabeth of Austria. Rumor has it that she adored the island so much, that she wanted to build something to leave her mark.
All in all, the sculptures and designs fill the Palace with culture and history. It has many striking similarities to a museum, and a vast courtyard suitable for a wedding reception. Couples who adore a classy and elegant wedding in Corfu will find the place perfect for their desires. The entire venue is suitable for up to 200 guests.
CHURCH OF PANTOKRATOR
The Church of Pantokrator is a beautiful and iconic church, suitable for a religious wedding in Corfu. This church can be found close to the Monastery of Vlaherna (another iconic religious building in Corfu), as well as other nearby churches.
This iconic church is more than 100 years old, and has the capacity to host 100 guests. The very location of the church, makes it remarkable. This is because people think it as an island within an island, as the land the church sits on is surrounded by water. All in all, it is a very iconic church that will allow for an amazing religious wedding ceremony.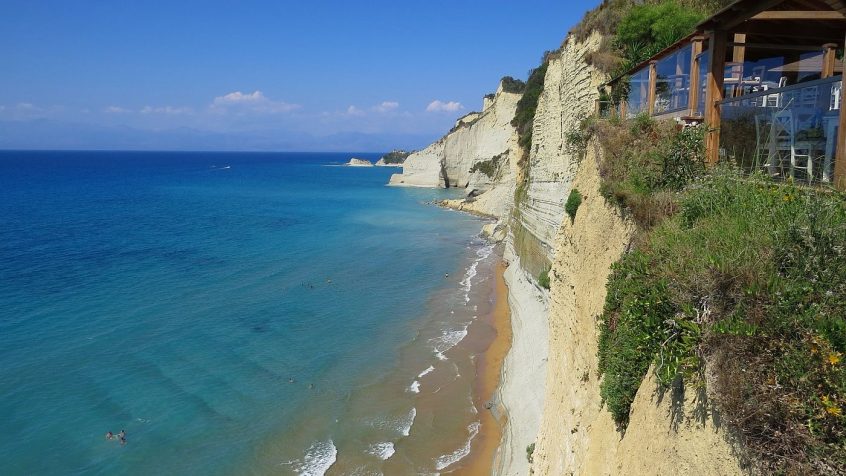 PARADISE BEACH
What makes Paradise Beach an amazing location in Corfu for a beach ceremony is that the natural landscape of the area protects it from strong winds. This is because it has steep white cliffs that provide a natural barrier to the incoming winds. As a result, the beach is suitable for wedding ceremonies.
All in all, couples can plan for approximately 100 guests at this wonderful beach ceremony. The crystal-clear waters and white pebbles will make it an amazing beach experience. Planners will also favour this location because the lack of wind will allow for more decorations.
THE IONIAN PARLIAMENT
There are perhaps very few iconic civil wedding locations in Greece. This is because they usually occur in town halls. However, with the Ionian Parliament this is not the case. This is because the beautiful building structure offers great insight into traditional Ionian infrastructure. The carefully decorated and designed inside areas, as well as beautiful surrounding areas, offer great beauty.
All in all, few can boast of a civil wedding in Greece with such beauty. The building structure, as well as the amazing view, will separate your wedding in Corfu from other weddings. The Ionian Parliament can comfortably host a wedding of around 100 participants.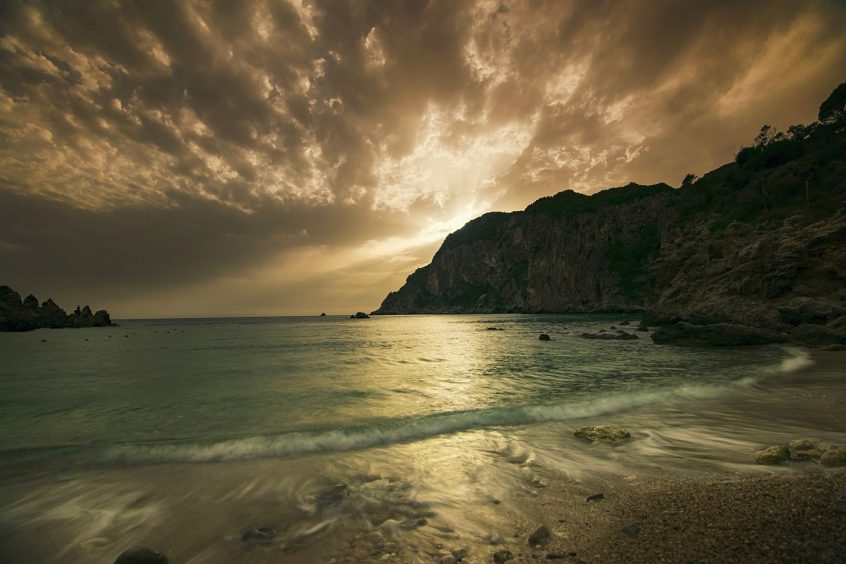 CORFU LUXURY VILLAS
On the tranquil shores of Corfu, you can find the Corfu Luxury villas. The glaring sunlight, the magnetic moonlight and the reflection of lighting from the pool will simply mesmerize the entire wedding.The breathtaking view in combination with the mystic atmosphere compile a luxury that offers a sensational experience for the couple and guests.
All in all, this venue has a capacity for 50 guests which is more suitable for medium-sized weddings.
YACHT CLUB
Unusual, but unique, the yacht Club in Corfu town allows for a feeling of elegancy and mystery to prevail. The paved road, the warm colors in the interior of the building create a warm-hearted atmosphere. It overlooks the Ionian Sea, and admires the luxurious yachts. This combination with meticulous attention to the setup makes the setting ideal for a majestic wedding.
All in all, it has a maximum capacity of guests of 30 guests which make it an ideal venue for smaller weddings.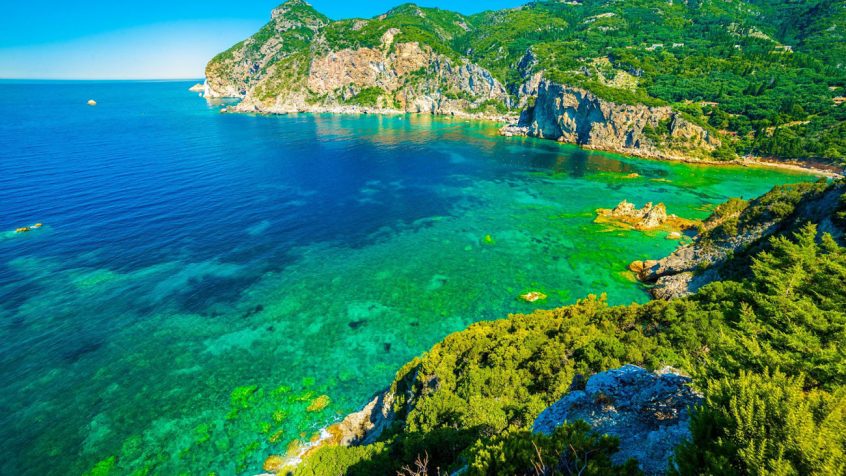 ISSOS BEACH
Movie lovers will probably recognize this beach for a wedding in Corfu. Issos beach was the very setting that a famous "James Bond" movie scene was filmed in. For wedding lovers, what makes this a great choice is the fact that it offers an abundance of space. The vast area of white and gold sand allows for a wonderful wedding ceremony to be set up here.
All in all this beautiful beach setting has a capacity of more than 100 guests. The guests will be able to comfortably sit on the shores of Issos Beach while they observe the stunning waters.
CONCLUSION
A wedding in Corfu has so many beautiful locations for couples to marry in. This week, our blog post's aim was to look at several locations in Corfu and briefly describe them. The locations we chose varied: from beach locations to civil wedding locations to religious weddings and impressive venues.
Wedding planners in Greece are the most diverse and experienced planners worldwide. This is because Greece has several different locations, each suitable for diverse wedding types (religious, beach wedding, civil & symbolic). Different locations that offer different venues suitable for different wedding types means that a Greek wedding planner has an infinite scope of wedding concept opportunities.
All in all, a wedding in Corfu offers diverse locations for diverse wedding types. Couples will really enjoy the opportunity to marry in such a diverse area!
Are you interested in getting married in Greece? Feel free to contact us! We love to assist couples who consider Greece as their destination wedding location!