Destination weddings in Greece arguably produce amongst the most elegant and most visually stunning weddings in the world. Even though there are several beautiful wedding destinations around the world, including stunning weddings in Europe, wedding locations in Greece are amongst the best. Perhaps this is because of the vivid landscapes.
The picturesque scenic sunsets.
Endless crystal blue seas.
The golden warm sands at the seashores.
The warming hospitality
In Greece, wedding traditions are also numerous, and a great way to add a unique factor to each wedding. Brides and grooms have a variety of ways to personalize their own wedding, and Greece offers suitable locations per individual needs. Couples can also choose to follow the Greek wedding food traditions, such as traditional bread salad when getting married here.
After all when in Rome…
Our team made a list of 44 picturesque wedding destinations in Greece (some more popular than others) for those couples who are considering Greece as their wedding destination choice for 2020.
We realize there are lots-and I mean lots- of factors to consider for your destination wedding in Greece, so if you find yourself struggling or simply need a helping hand, feel free to contact us!
We have planned numerous weddings in Greece, and love helping couples plan their very own wedding for 2020!
You can also check out our ultimate guide for getting married in Greece, where we wrote more than 12,000 words on how to set up your destination wedding in Greece!
DESTINATION WEDDINGS IN GREECE: THE LOCATIONS
We have divided this list by region. Specifically:
Attica
Cyclades
Dodekanisa
Ionian islands
North Aegean Islands
Saronic
Central Greece
Peloponnese
Northern Greece
Let's begin.
A DESTINATION WEDDING IN ATTICA
The best locations for a destination wedding in Attica, Greece.
ACROPOLIS
Perhaps one of the most iconic symbols of Greece. The Acropolis is an architectural monument that reminds visitors of the times of Ancient Greece. The birthplace of democracy, the Ancient Athenian marketplaces that surround it, and the voluminous Ancient Greek history. Romantic couples, or couples who love tradition and history, can choose a rooftop that overlooks the Acropolis. Couples can even choose to replicate ancient Greek wedding traditions such as getting married after dark. The choices can either be a hotel rooftop or a popular coffee store as there are several buildings with veranda access.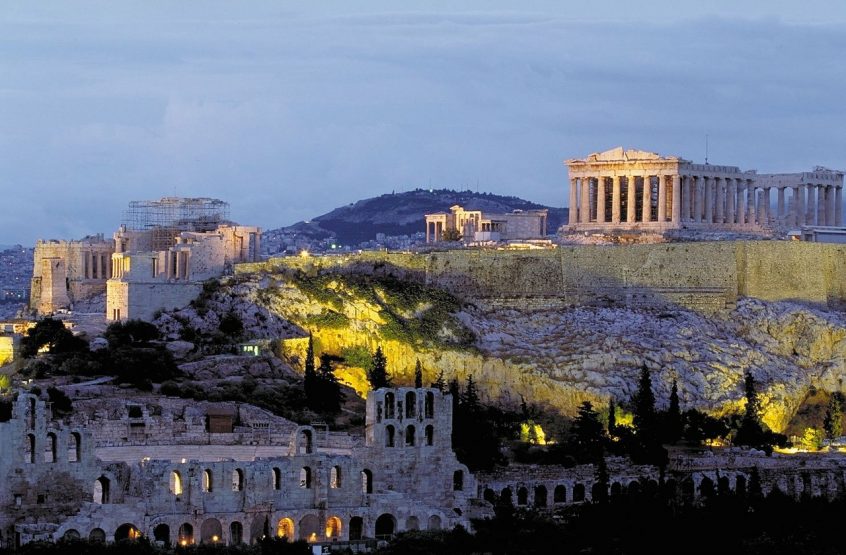 ATHENIAN RIVIERA
A coastline that stretches for several kilometers, close to both the Athenian centre and the airport. As such, this is an ideal area for those couples that want to travel short distances combined with a sea view. Locations with a stunning view, excellent venues, and great beaches fill the Athenian Riviera. Hotels and resorts also decorate the Athenian Riviera, so couples can plan their stay accordingly. As such, both beach wedding types and traditional venue weddings are possible here.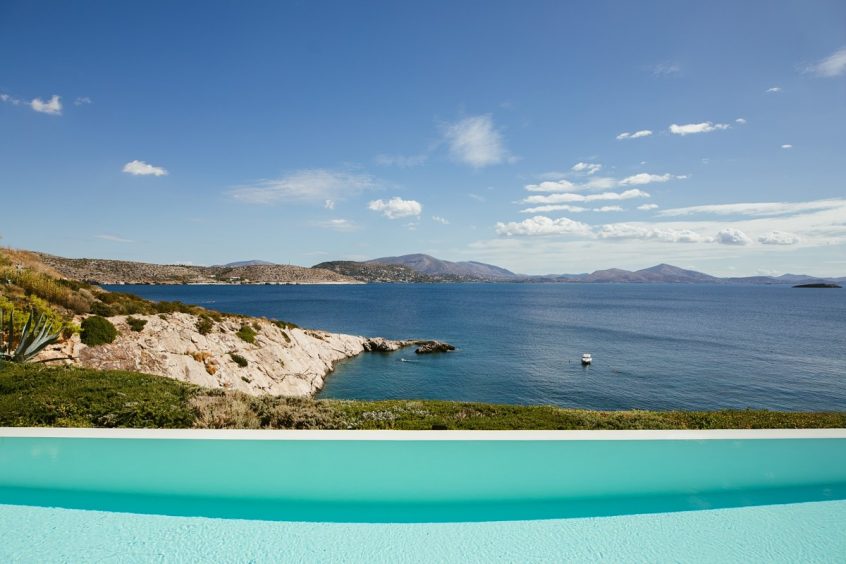 LAKE VOULIAGMENI
 A lake located within the Athenia Riviera, whose waters are said to possess healing powers. The underground current from Mount Hymettus refills the water of this lake initially formed 2000 years ago. The lake is supplied by both warm seawater and a freshwater spring meaning its temperature usually ranges between 20-25 degrees Celsius. It is a majestic location for a lake wedding, as the natural landscape constitutes it as a unique, irreplaceable location. The privacy it offers makes it one of the most beautiful destination wedding locations in Greece for an elopement.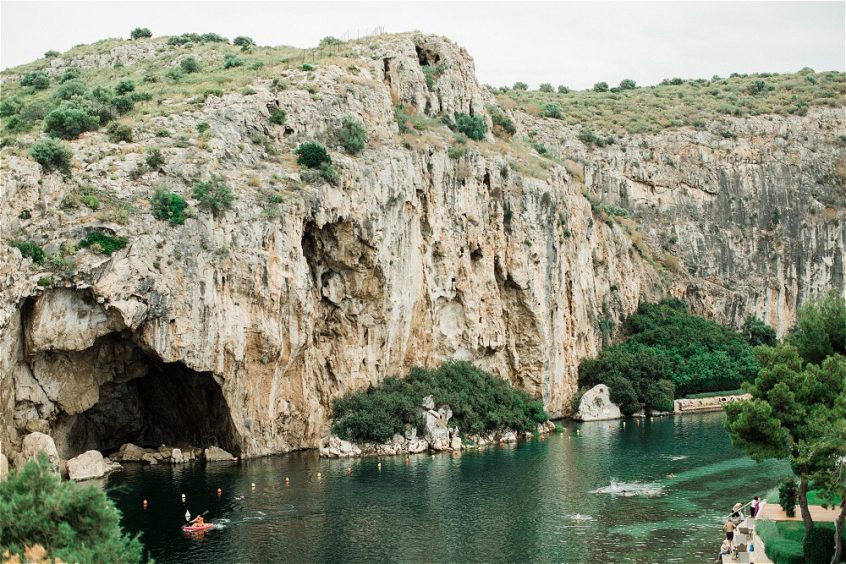 A DESTINATION WEDDING IN THE CYCLADES
The best locations for a destination wedding in the Cyclades, Greece.
FOLEGANDROS
Folegandros is a small island with less than 1000 permanent members. The privacy and seclusion it offers make it a great place for a more secluded, private wedding. In fact, even romantic elopements with just the bride and groom are a perfect match for this small island. All in all, the fact that it is just 6 hours away by boat, and offers amazing sunset and sea views, make it a great choice. If you consider that it is one of the less popular destination wedding choices in Greece, you will have a chance to have a more "exclusive" Greek wedding. In summary, a great choice for getting married alone.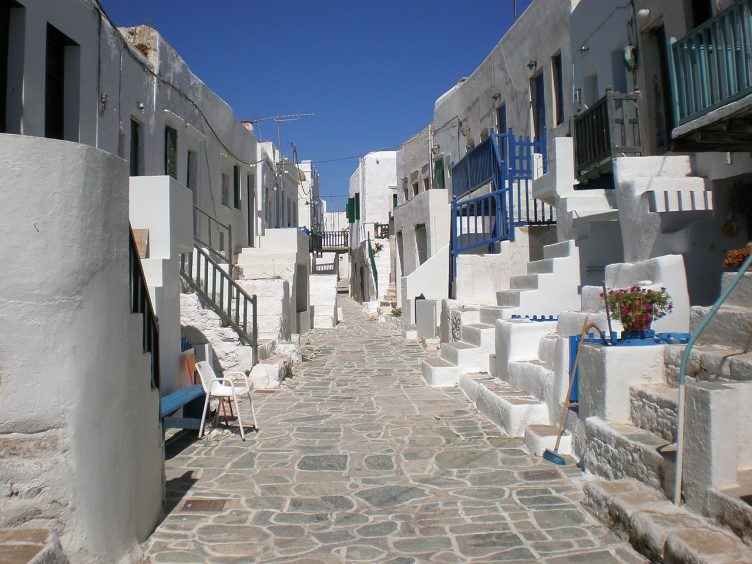 SANTORINI
What more can one say about this picturesque island in Santorini Greece that hasn't been said by others? Santorini is the "heart" of the Greek wedding destination industry. When one thinks of a Greek destination wedding, it is most likely that they think of the beautiful architecture. Traditional, all-white buildings. A world-famous sunset and sea view. The infinite photographs that tourists take. Dream weddings one can find only in the sweetest of dreams. Beware, however, that the popularity of the island means that couples will need a significant budget to properly tie the knot in Santorini.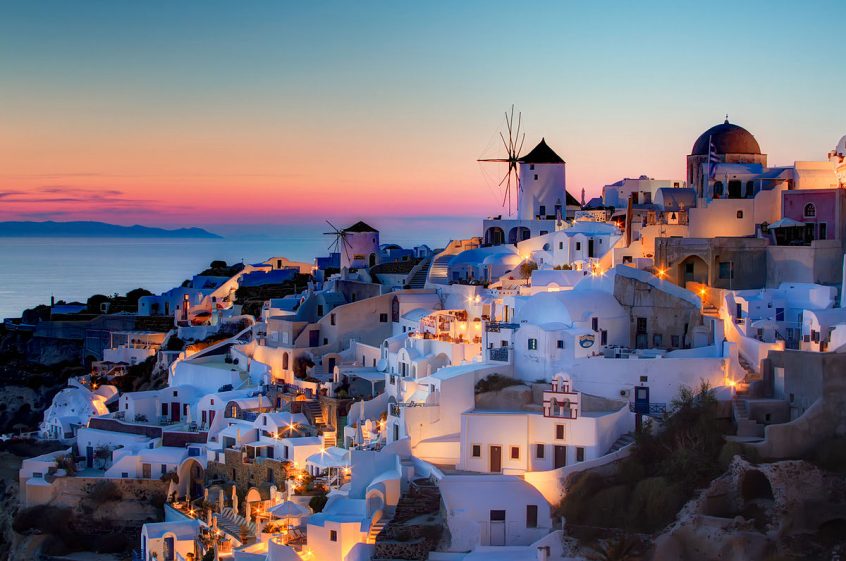 KEA
An island of medium popularity, Kea's top features are its accessibility from Athens and the numerous luxurious villas it has. It is a picturesque small island, that offers great beaches, and relaxing hills to view the sunset from. Couples can plan to book a luxurious villa to both exchange wedding vows and have a great stay. All in all, it offers easy access for couples and their guests, and great accommodation options.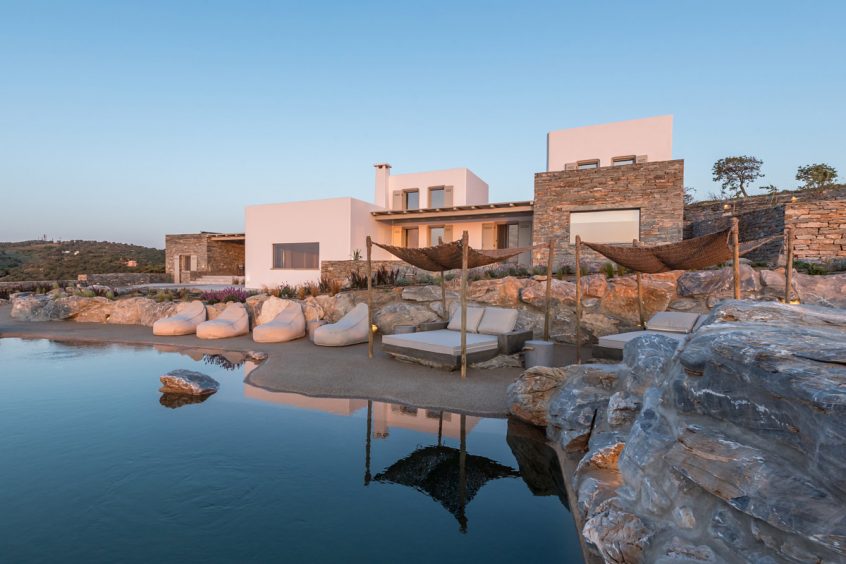 MYKONOS
People often describe this island as one of the world's most "cosmopolitan" travel destination. And they are far from wrong. Summer in Mykonos finds the island constantly packed with tourists, entertaining them with the party lifestyle the island so prominently features. One can consider the spending amounts here as "above average"; a description that can easily apply to those that consider a wedding here. The island has several prominent wedding venues, from beach venues to hillside villas, that offer services based on wedding type.
All in all, prepare to have a high budget (and overestimate costs) if you consider having your wedding here. You can read more about Mykonos in our Wedding in Mykonos guide that we published recently!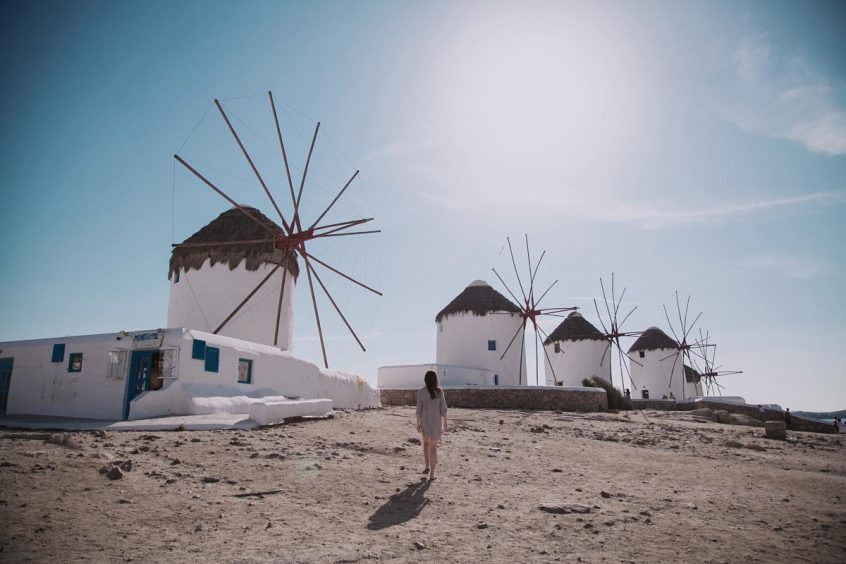 PAROS
One of the "top three destination islands", arguably coming third after Mykonos & Santorini. It is a very popular tourist attraction and destination wedding choice. It offers a great party lifestyle, but also beautiful architecture and more secluded areas for those wanting something more private. Paros has several beaches and great wedding venue choices. All in all, it is a suitable island more geared towards a wedding with a large budget and a great number of guests. It is also an excellent choice for an elopement!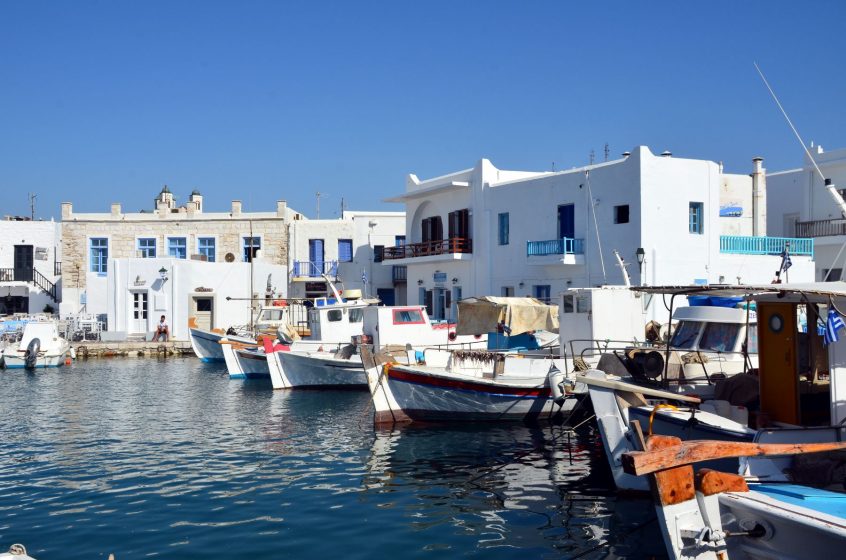 SIFNOS
Primarily known for its sandy beach of Chrysopigi, as well as the white monastery of Chrysopigi. For fans of private get-aways that idolize the perfect "just us wedding" moment, Sifnos is an excellent choice to consider. This is because of the existence of the small chapel of "The Seven Martyrs". This iconic church is located on the edge of a high hill, a few meters away from cliffs that border the sea itself. All in all, fans of iconic, private settings that want either a religious wedding or a beach wedding, will be pleasantly surprised. It has several venues which you can read more about here.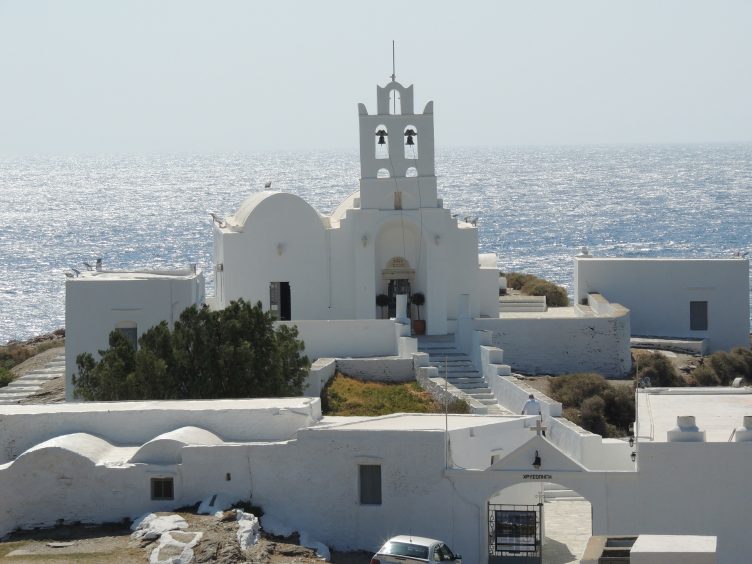 SYROS
If you are a fan of the classicism architectural type, combined with a Venetian and Genoese influence, then Syros will feel strangely familiar to you. Wooden floors characterize this style; two-story houses combined with a tiled roof and large openings. The many grand Churches mimic the building style of the island, and couples who enjoy traditional, religious settings should consider having their destination wedding here.
All in all, Syros can be reached both by plane and by ferry and is vastly suitable for the religious wedding seekers.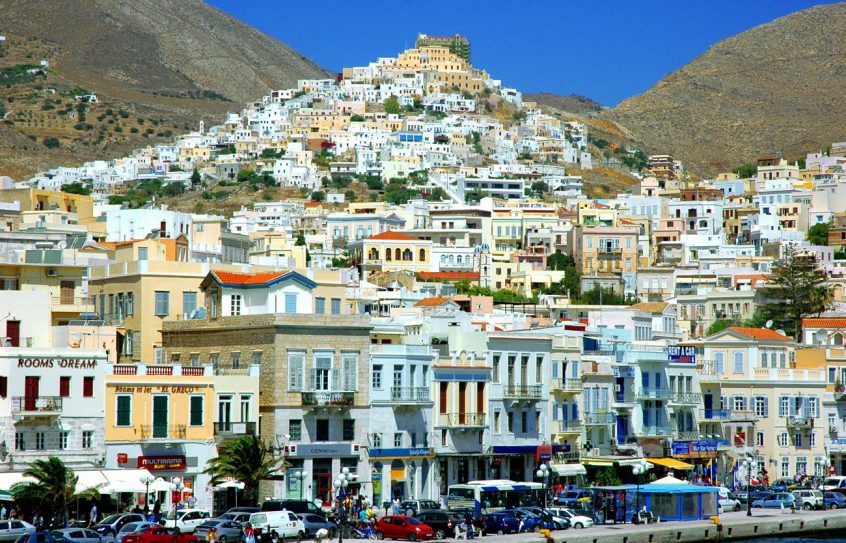 A WEDDING IN THE DODEKANISA
The best locations for a destination wedding in the Dodekanisa, Greece.
KOS
Kos aerial view of the town and sea One of the farthest islands to reach by boat (approximately 14 hours), this island borders the Turkish shores. The landscape in Kos is deceptive; even though it has several beaches and seaside locations, it also has several mountains and deep forests. This island is perhaps best suggested for adventurous couples who want to embark on a honeymoon immediately after their wedding. Couplesouples can embark on hiking trips, day trips around the island, and take a ferry across to Turkey.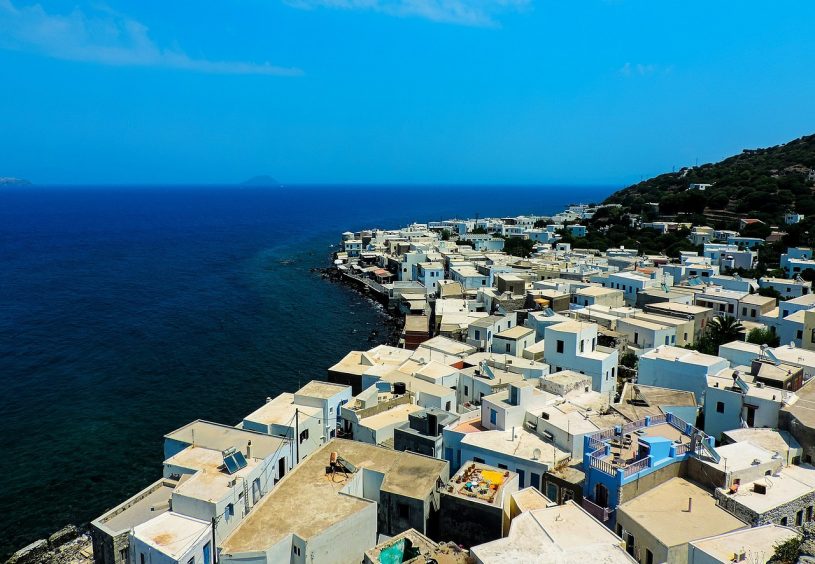 RHODES
Rhodes view of sea and hill An island almost as far away from Athens as Kos, but significantly more popular. We suggest an automobile to navigate around the island as it is relatively large. There are great iconic beaches found all around the island, such as Saint Paul's beach, as well as several resorts, and churches.
All in all, Rhodes has something for every wedding type for a destination wedding in Greece. You can read more about the paperwork process and excellent Rhodes venues here.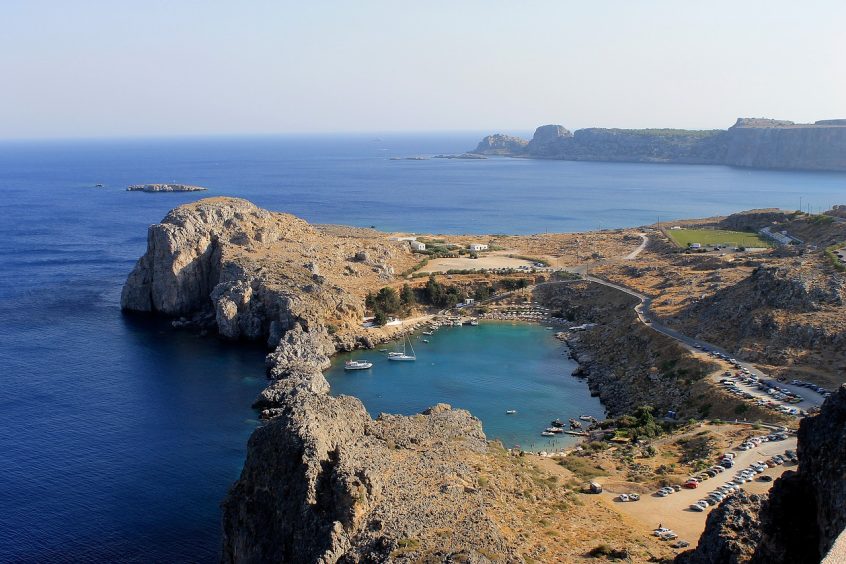 CRETE
A wedding destination choice in Greece that has everything for everyone. Crete is located in Southern Greece and offers couples and travelers multiple choices for entertainment and leisure. Couples can shift effortlessly from intensive, popular entertainment options to more relaxed, ambient settings.
All in all, every wedding lover that wants a customized wedding type will find their match here. Crete is quite some distance away with a boat (8-10 hours); however, it has an airport that can serve both domestic and international flights.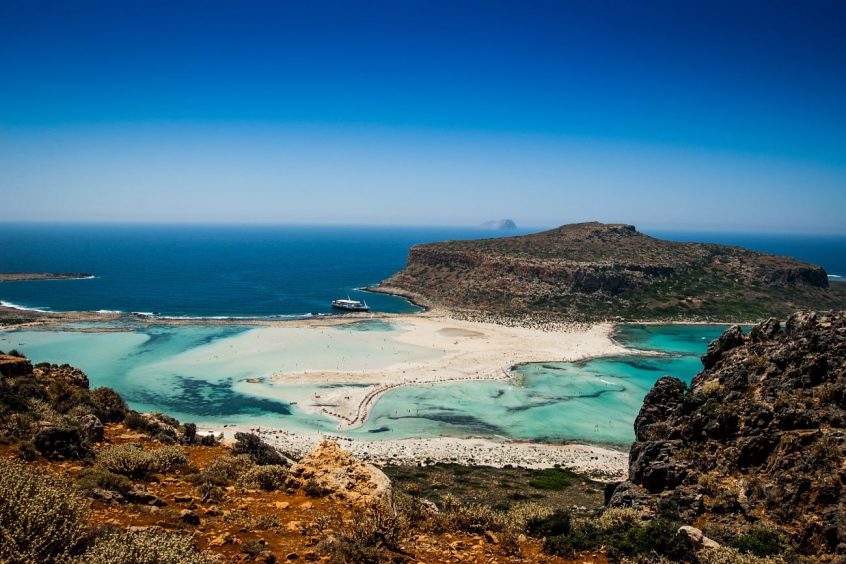 A WEDDING IN THE IONIAN ISLANDS
The best locations for destination weddings in Attica, Greece.
ITHACA
I'm guessing that this island is self-explanatory to those that love reading books.
And I mean really old books.
Think ancient Greece "old".
This island was the beloved island of Odysseas, the Greek king who fought in Troy and suffered great tragedies and losses on his way back. Homer, who also wrote the Iliad, detailed the adventures of Odysseas in his writings titled "Odyssey".
If you have ever visited Ithaca, or looked at photos of Ithaca, you can immediately understand why Odysseas so desired to return here. It is the second smallest island of the Ionian islands, with lush greenery and graphic scenery.
All in all, couples who are nature lovers and who love more secluded destination weddings in Greece will appreciate this island.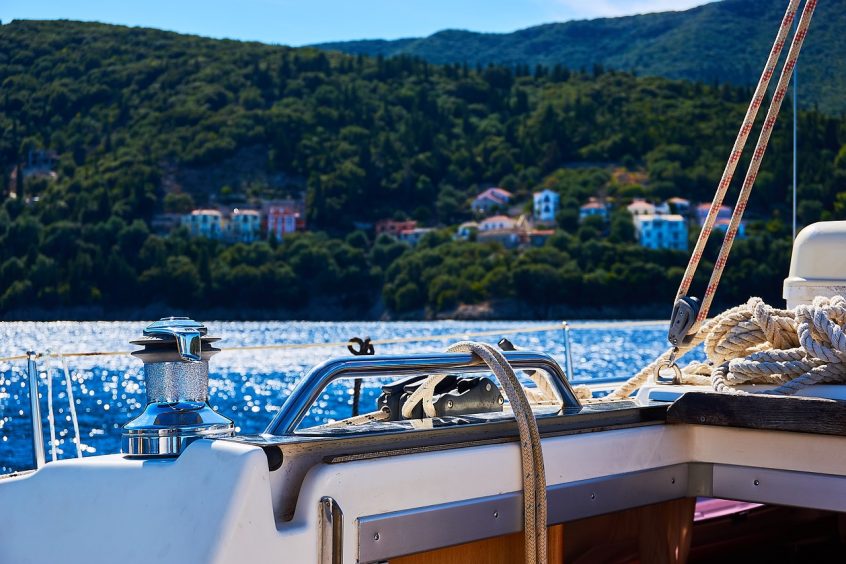 KEFALONIA
With a port and airport, as well as a relatively close distance to Athens, Kefalonia is an easily accessible Greek wedding destination choice. Both Orthodox and Catholic weddings can happen here, as there are a variety of Churches and Chapels. Kefalonia has numerous wedding receptions in the form of taverns. For those that want an extra luxurious touch, numerous villas are available to choose from.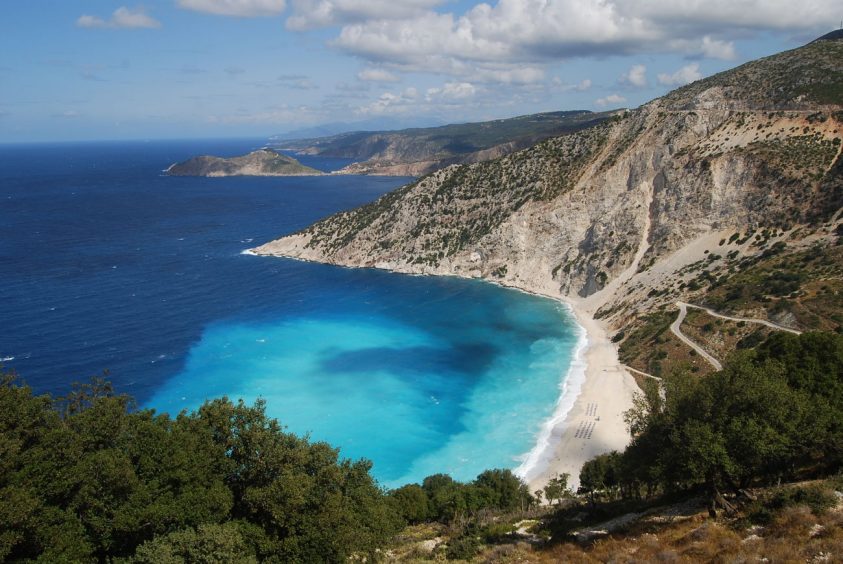 KYTHIRA
Kythira Greece view of sea and beach An island whose architecture has a strong influence from the Venetians who ruled during the Medieval age. It is located in the south of the Peloponnese and is rather secluded since it is separated from the other Ionian islands. The island includes wonderful beaches, great sightseeing opportunities as well as medieval structures.
All in all, it is a semi-popular destination, that offers a great privacy factor for couples seeking a more secluded, nature-filled wedding location.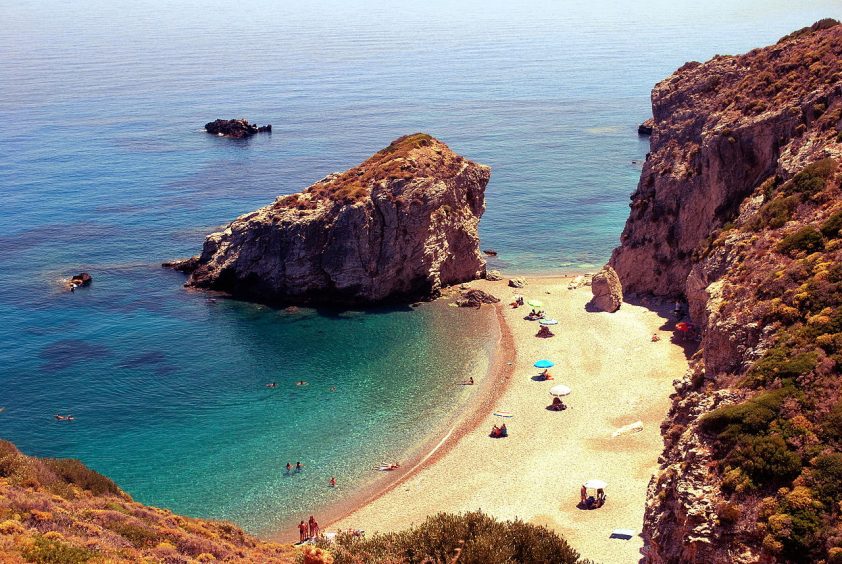 LEFKADA
This destination is well-known for numerous beaches it has; in fact, several beaches are known around the globe, for example, Porto Katsiki. It also neighbors the ex-privately owned Skorpios island. It goes without saying that the large sandy beaches of immense beauty, make it a perfect destination for a beach wedding. However, amazing traditional churches and luxurious hotels are also available for those seeking a more traditional wedding type.
All in all, it is a popular area of immense beauty.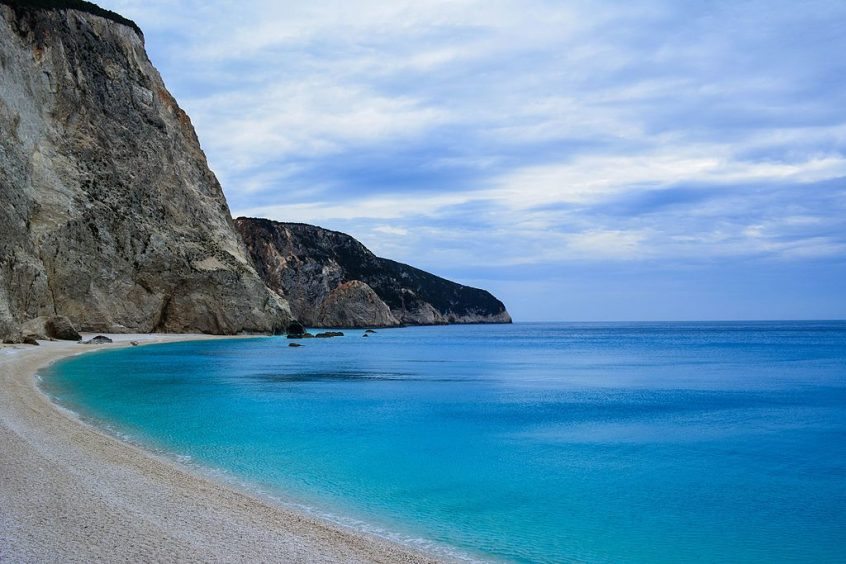 PAXI
Paxi is another great choice for a more secluded, and private destination option. Small in size and small in permanent resident members, this is a great choice for those looking to escape the buzz of the city. All in all, small wedding sizes, or private elopements are perfect choices for Paxi. The couple and their guests will be delighted by the small fairy-tale setting available to them, as well as the beautiful natural landscape.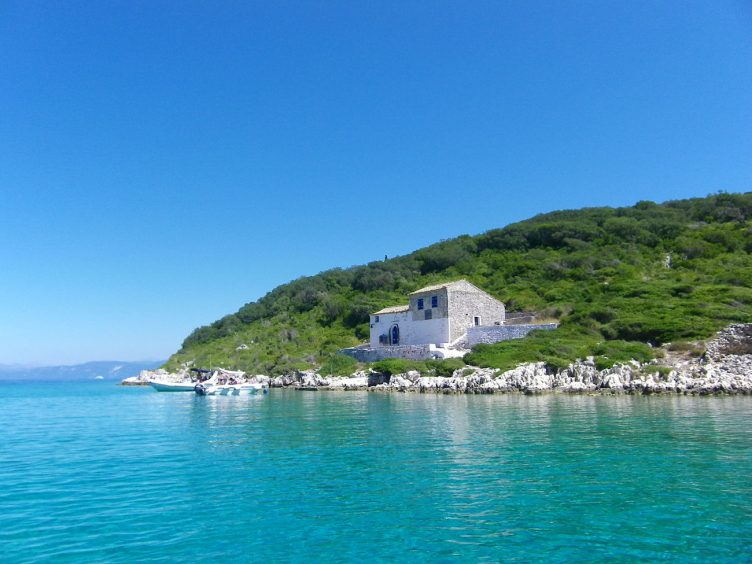 A DESTINATION WEDDING IN THE PELOPONNESE
The best locations for destination weddings in Attica, Greece.
MONEMVASIA
What best characterizes a wedding setting in Monemvasia, is the fact that couples can organize a wedding in an actual castle. This medieval castle is right next to the sea, surrounded by green forestry and flowers. There is an excellent, luxurious 5-star resort as well as several taverns fit for couples to try Greek wedding food traditions.
All in all, it is a great mainland setting with immense beauty and easy transportation access. Couples who love both mountains and the sea, and dream of an aristocratic wedding within a castle, should look no further for their Greek wedding destination.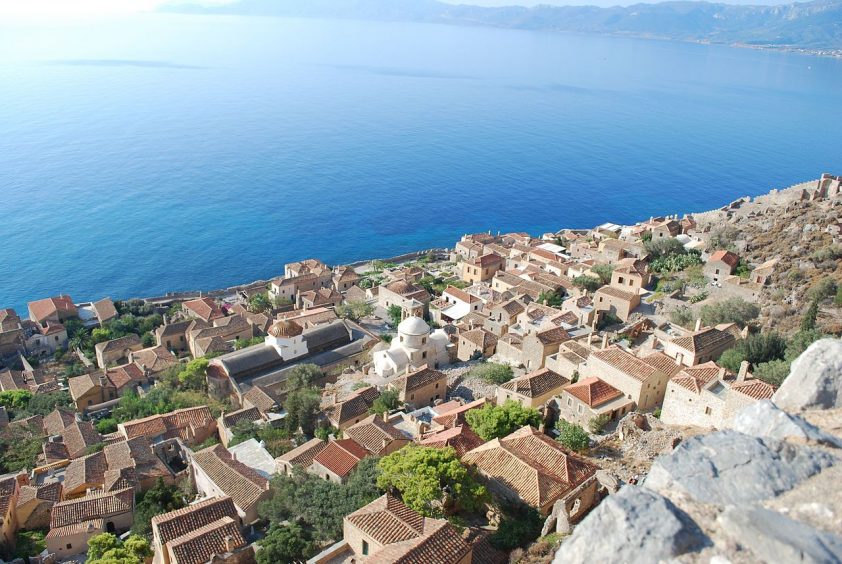 KORONI
A small picturesque village right by the seashore. Guests visiting this small, lovely village will think they are on an island as the similarities are plenty. There is a great beach for a lovely beach wedding that stretches several kilometers, a castle and the great Orthodox Church of the Panagia. The saying is that the church was founded when a woman had a vision that an icon of Saint Mary was enclosed in rocks. When the villagers carved the huge boulders, they found the very icon of Saint Mary that is proudly displayed within the church. Adds a very mystical-religious sense of getting married there. For those that also seek luxurious options, there are two five star resorts several kilometers distance away.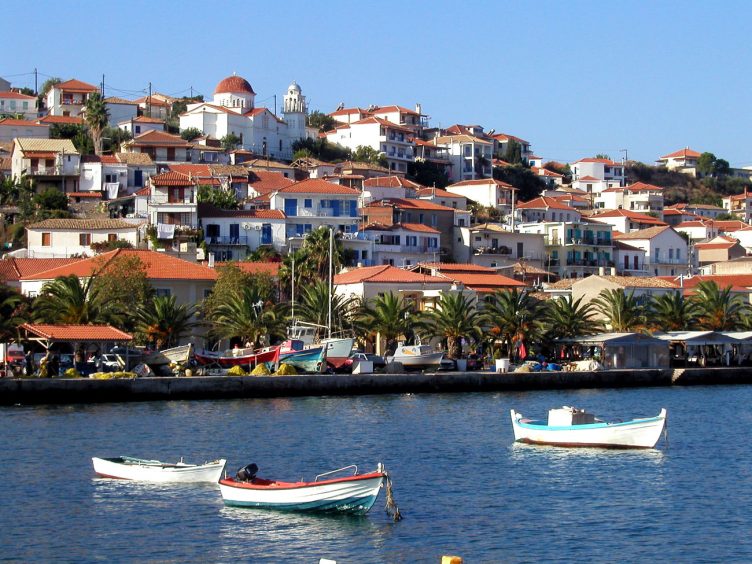 METHONI
Methoni is located a few kilometers away from Koroni, and is also a slightly larger version of Koroni. It's a seaside village, with several taverns and great beaches. It has a huge castle overlooking the entire village, where visitors can walk through and enjoy the magnificent view. There are great chapels and monasteries found close by. A wedding here offers a unique chance to have a castle photoshoot, and enjoy a more relaxed atmosphere in a village setting.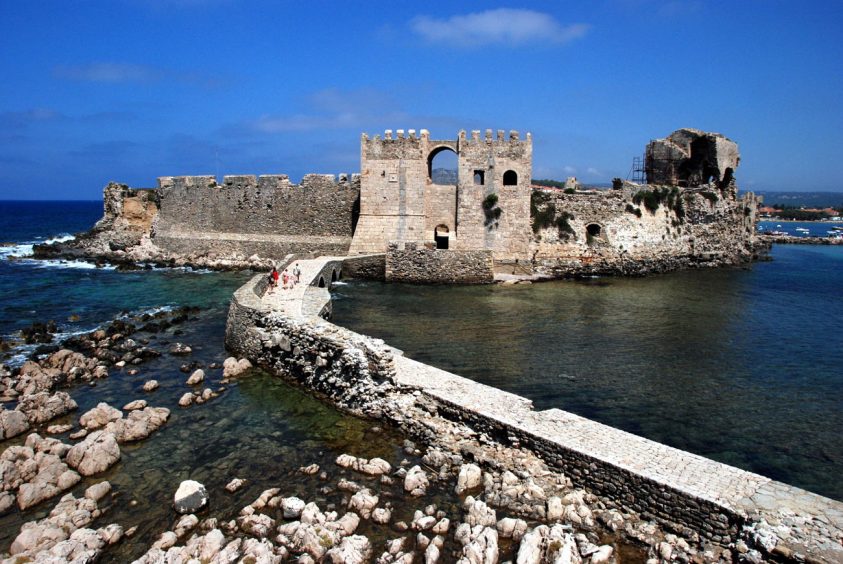 KALAMATA
The small city of Kalamata is a popular, busy visitor choice. The city has wonderful churches, luxurious hotels, and several beachfront venues. Couples who prefer to travel by land, in an area relatively close to Athens, should consider Kalamata. It offers several entertainment choices in the form of bars and clubs and is centrally located close to many picturesque villages and sightseeing opportunities. All in all, couples should consider Kalamata if they love to travel, as they will have the opportunity to visit several locations.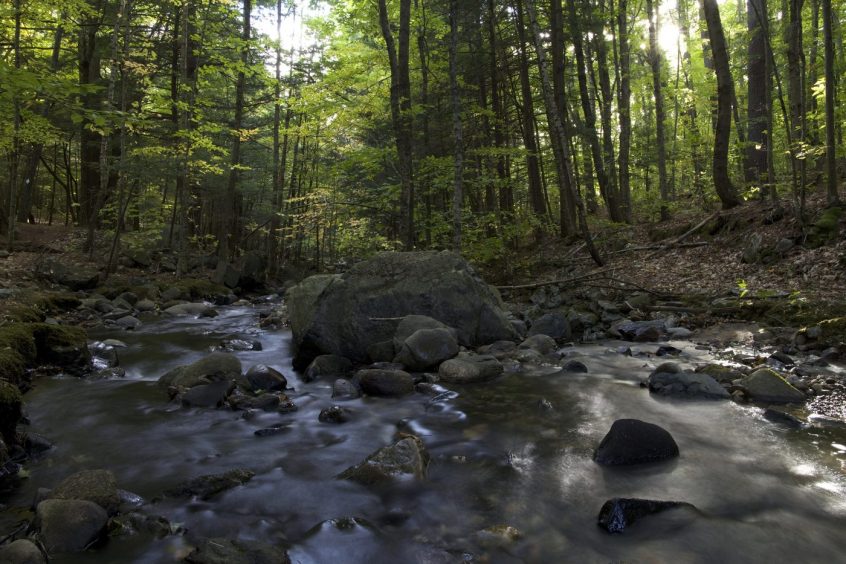 MANI
A relatively unexplored area in Southern Peloponnese, Mani is located close to Kalamata. There are several iconic villages, each having its own little church and chapel. Mani offers great opportunities for stunning weddings, whether it's the port of Gerolimenas or the natural topography. The couple and their guests can experience traditional Greek cuisine, while also being part of a great wedding ceremony. All in all, a suitable choice for romantic couples who love the sounds of birds chirping when combined with sea waves hitting the seashore rocks.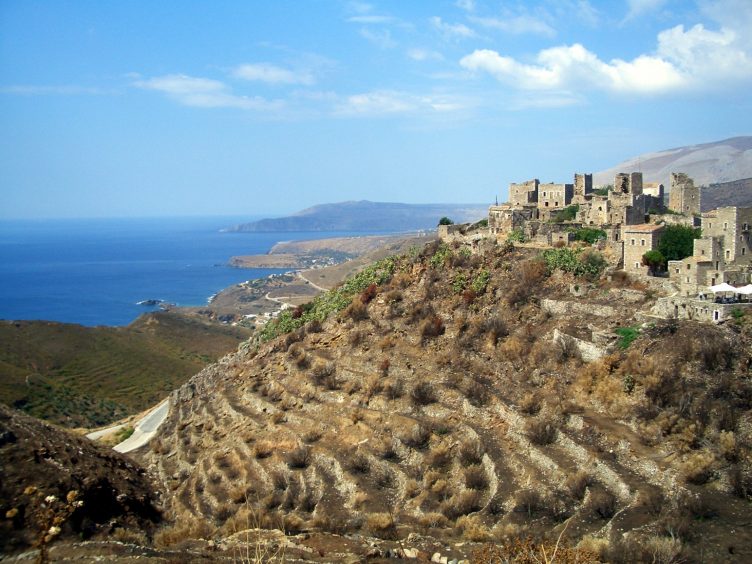 STOUPA
A wonderful location in mainland Greece, with golden sand, crystal clear waters and warm sunlight. The Peloponnese is a mixture of terrain: lush greenery, mountainous and hill terrain, and of-course wonderful beaches. The lovely village of Stoupa offers all three. It is a quiet village, that has received immense popularity in the past few years. There are several surrounding chapels and churches that offer a sense of tranquillity, as well as restaurants to host receptions. All in all, couples looking for a traditional escape for their destination wedding in Greece without having to travel via boat or airplane, should consider this village.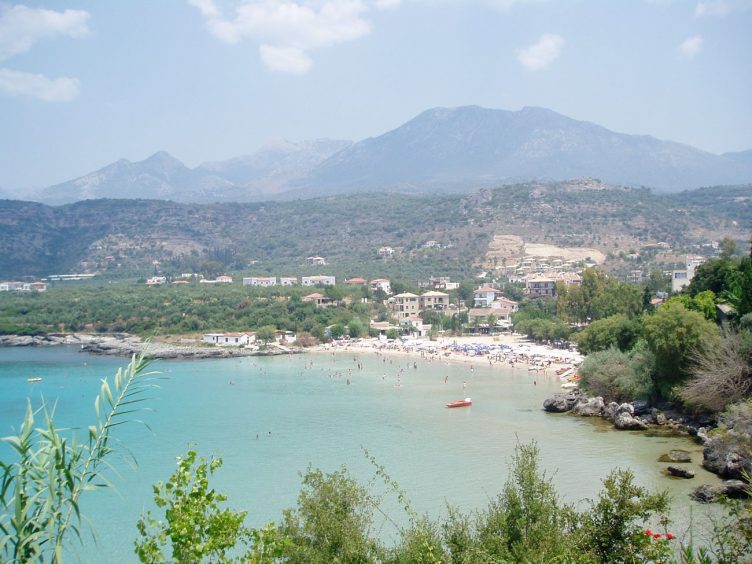 KARDAMYLLI
Just a little over three hours' drive from Athens, Kardamylli is yet another village located in the Peloponnese. The village is located between the sea and the mountain of Taygetos. Couples who equally love mountain and sea settings, instantly connect with this area. Couples can choose to exchange vows on hilly areas overlooking the sea, the beach, or even at the traditional church of St. Spyridon. All in all, a private setting with a little bit for everyone.

AREOPOLIS
A town within Mani, that borders the seafront. Areopolis takes its name from the Greek god of War Ares. The entire town was made with the defensive structure in mind. In fact, the town has several structures made of stone, as well as fortifications. A visit here is like a trip down memory lane, due to the traditional architecture that is found. Areopolis is suitable for historic loving couples, who would like there wedding to have a traditional touch.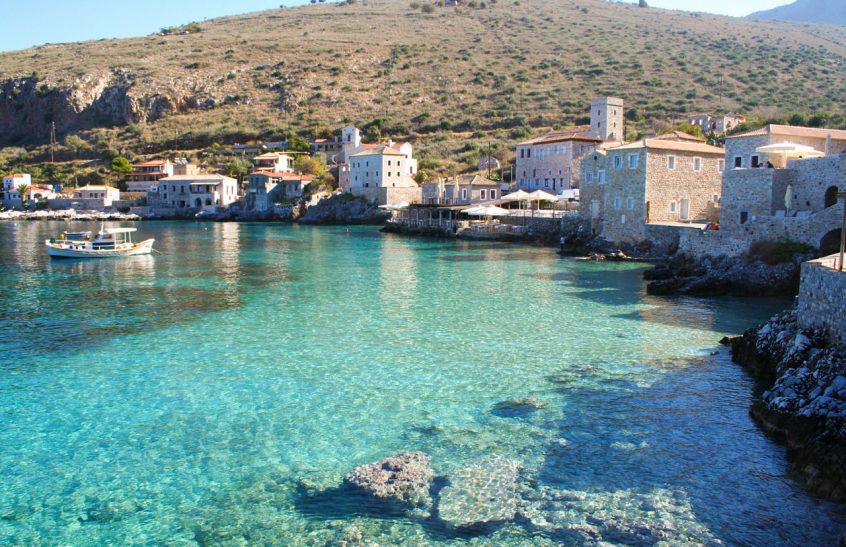 PYLOS
A town in the Southern Peloponnese that is a former municipality of Messenia. Historically it was known under its Italian name, Navarino, which serves as the inspiration of the grand resort "Costa Navarino". It is a seaside town, with plenty of beautiful villages and landscapes nearby and just a 15-minute drive to Costa Navarino. Luxurious, simplistic and romantic weddings are available here.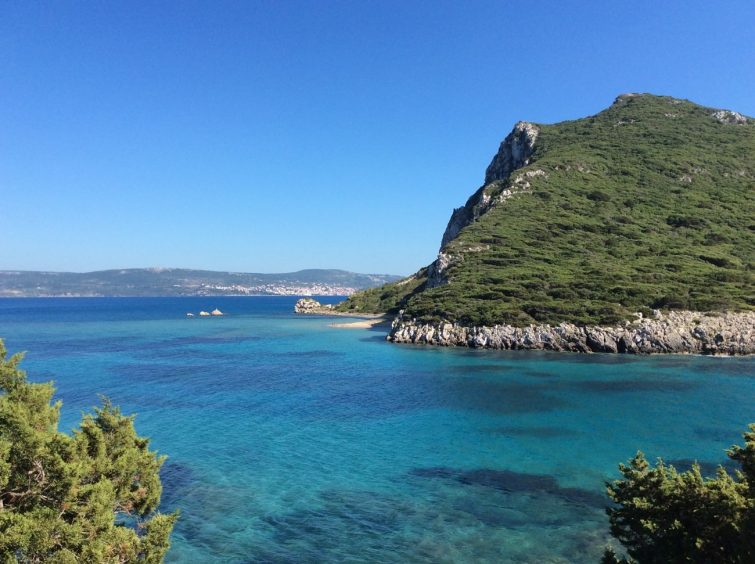 PORTO-HELI
A town in Eastern Peloponnese, close to the island of Spetses. Rather quiet during the winter, during the summer it is a popular tourist destination. It has plenty of excellent beaches with crystal clear waters. All in all, during the winter it is a suitable elopement location as it is rather quiet and private. During the summer it is an excellent wedding location if you love beach weddings and plan to vacation there.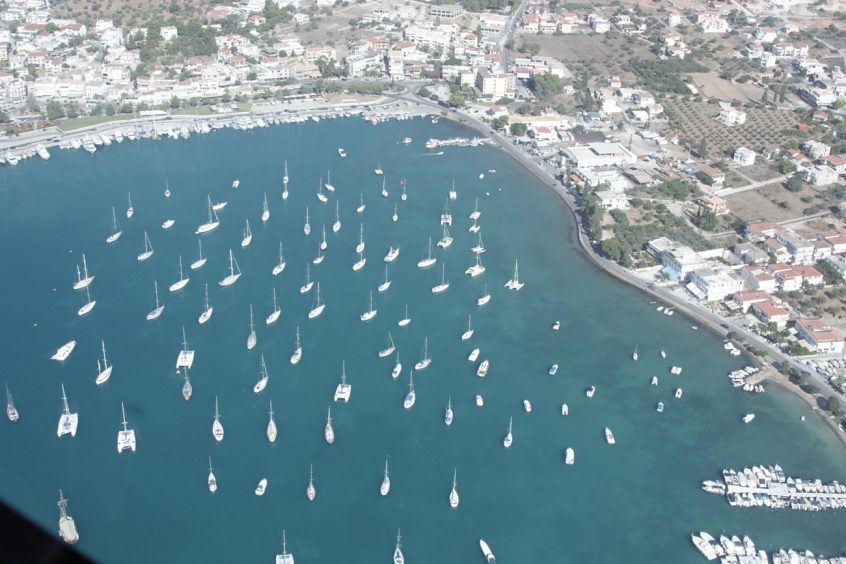 FILIATRA
Filiatra is a town in western Messenia, located close to the Ionian Sea. A scaled replica of the Eiffel tower exists near the town entrance, and the town itself contains several churches. This town is a suitable choice for couples who prefer a semi-busy wedding location, and for those planning on exploring the Peloponnese. There are several villages and excellent beaches nearby "little Paris".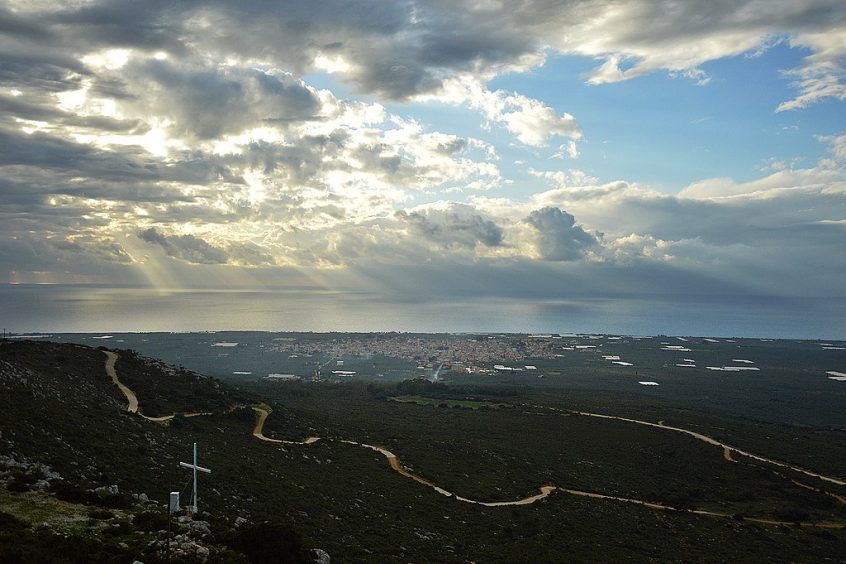 A DESTINATION WEDDING IN THE NORTH AEGEAN SEA ISLANDS
The best locations for a destination wedding in Attica, Greece.
LEMNOS
A large island, with relatively few inhabitants. Lemnos is a great choice for a more privatesque wedding type. If you love exploring, and long hikes up the mountains and seashore, then you will love this island. Lemnos offers traditional religious wedding venues, as well as secluded beaches with total privacy. All in all, a great choice for a destination wedding in Greece if you are planning for a beach wedding. You will have the entire beach to yourselves both for the wedding ceremony and for any after-party you may want.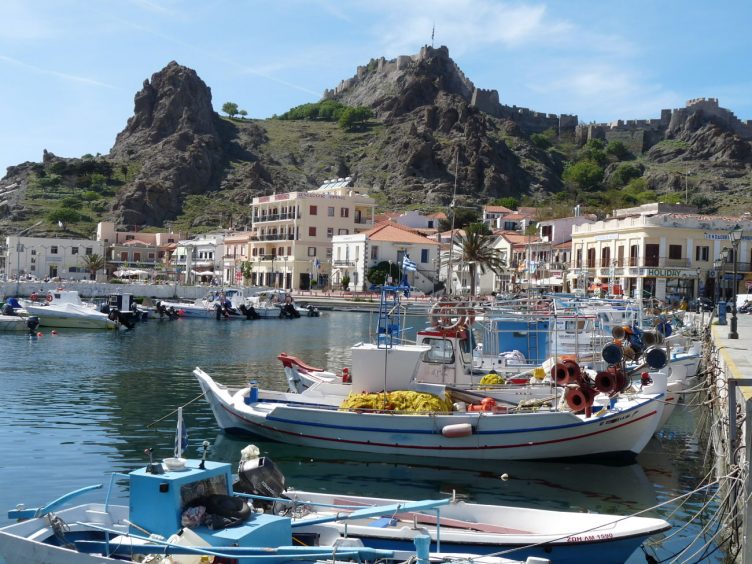 LESVOS
Perhaps the most iconic images of this island are the Panagia Gorgona chapel and the large castle of Mytilini that overlooks the island. Lesvos is the third largest island in Greece and has various traditional houses and unique architectural buildings. The island has several long beaches, as well as beautiful chapels and churches. As such, civil, religious and symbolic weddings can occur here.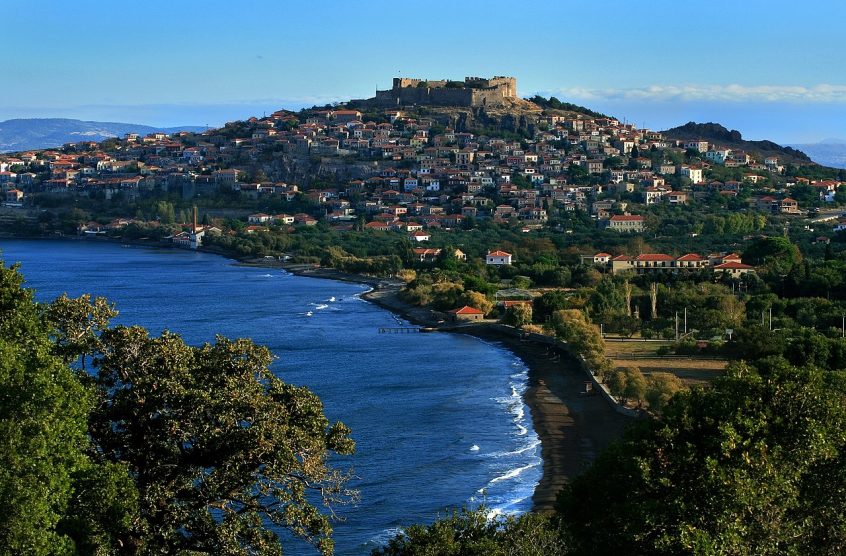 SKIATHOS
This island received a huge spike in traffic in the past few years. The reason? The movie Mamma Mia, which was set on the very island itself. If you fell in love with the island once from the movie, prepare to fall in love with it ten times more when you see it up-close. The sandy beaches, crystal waters and wonderful sunset will make you wish your wedding day lasts forever! In summary, a beautiful island, that can be further discovered from the movie itself for those that want a closer look.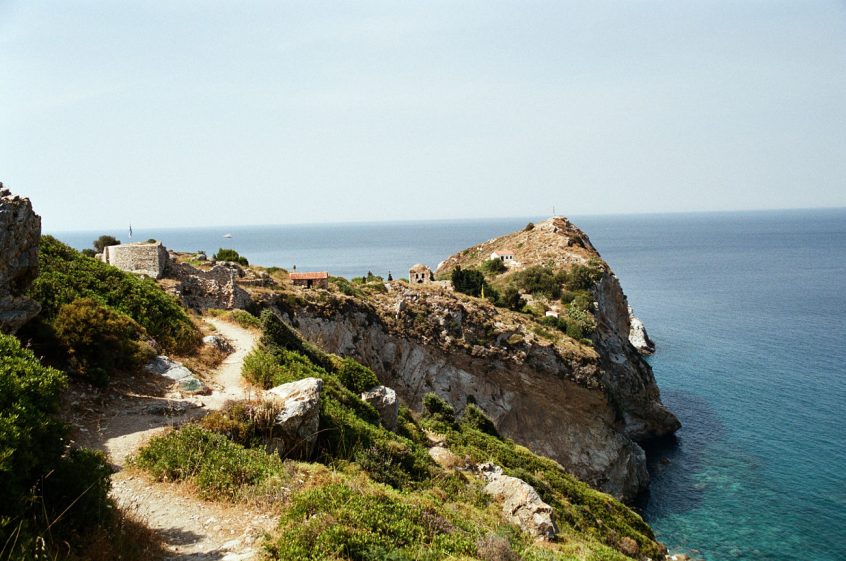 SKOPELOS
Similar to Skiathos, this is another Greek island the movie Mama Mia includes. Skopelos has several beautiful beaches, with traditional Greek taverns. There are also plenty of chapels spread throughout the island for those that seek a religious wedding. All in all, Skopelos has several beautiful landscapes that provide several unique areas for getting married.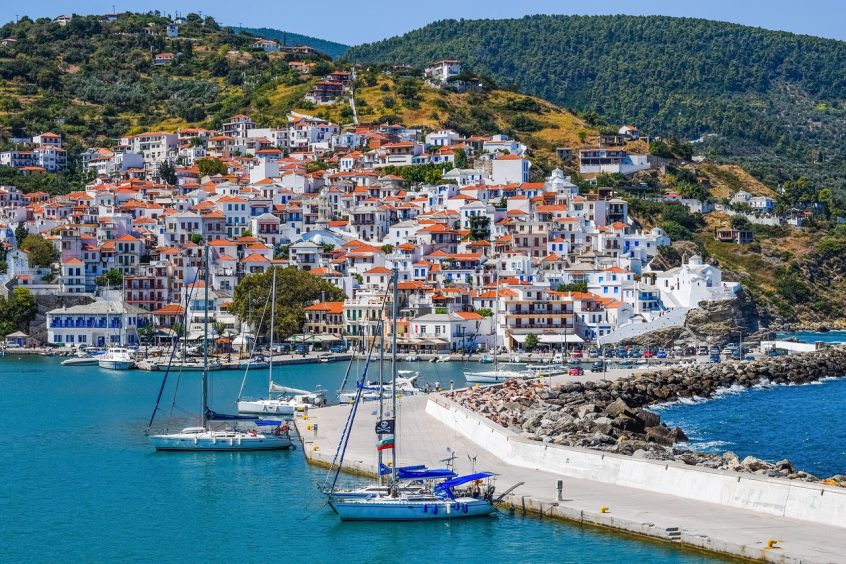 A DESTINATION WEDDING IN THE SARONIC:
The best locations for a destination wedding in Attica, Greece.
HYDRA
Hydra is a picturesque Greek island characterized by pure elegance and class. This island has the ideal scenery for a summer elegant wedding. The earthy colors of the island greatly complement different wedding concepts. Better prepare your walking shoes, since private cars are not allowed on the island. All in all, the island has areas of stunning beauty, luxury venues with a sea view and several iconic chapels.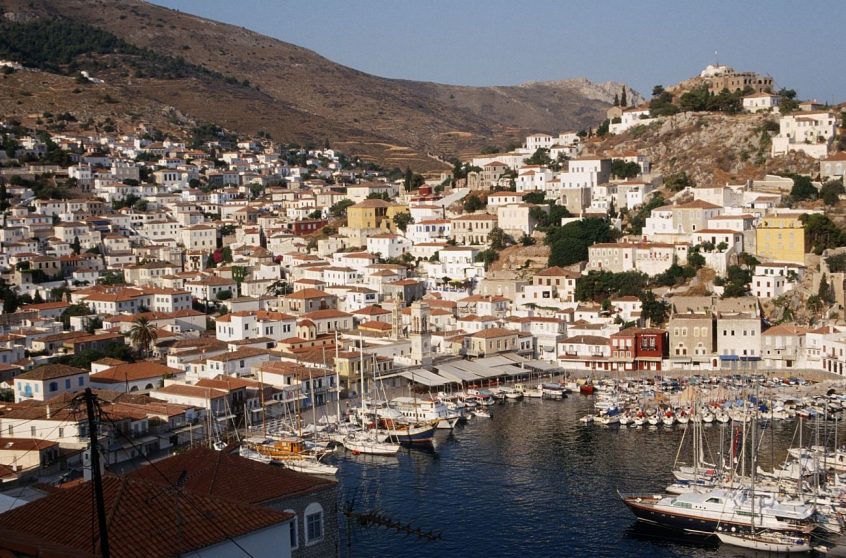 POROS
Poros is part of a small couple of Greek islands on the south side of the Saronic Gulf, 58 km south of Piraeus and separated by the Peloponnese. It is relatively close to Athens compared with other islands, so it makes for a quick escape from the capital of Greece. This will allow couples to easily plan pre or post-wedding events for their guests.

SPETSES
This island is an ideal choice for couples that want a romantic getaway without traveling too much. Spetses has wonderful landscapes, great churches, and historic buildings. Couples that would love their wedding to have a cultural vibe should consider this island.
All in all, couples will have the chance to visit a romantic getaway and cycle all around the island with bicycles.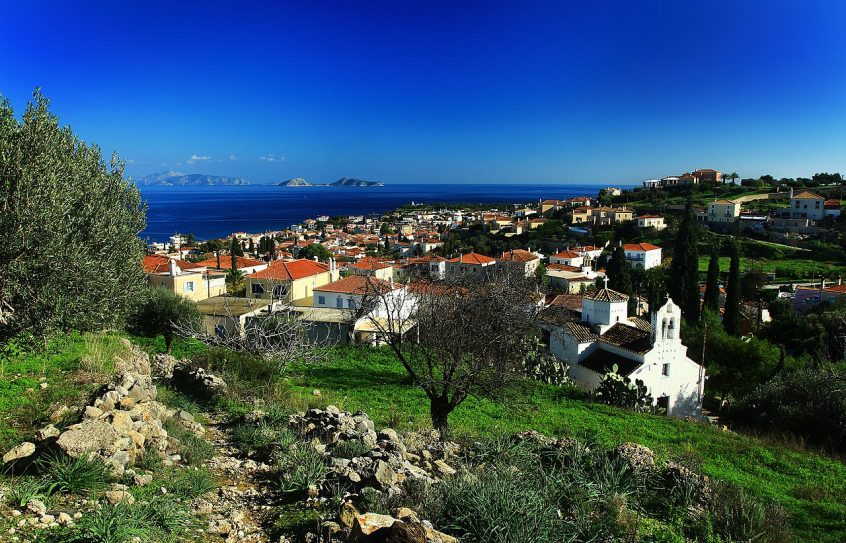 A DESTINATION WEDDING IN CENTRAL GREECE
The top locations for destination weddings in Attica, Greece.
KARPENISI
Karpenisi is a Greek town located on the river Karpenisiotis, in central Greece. This city is said to look very similar to Switzerland due to its mountainous terrain and house structures. There are several taverns and venues that offer an excellent mountain view. Those that desire to experience Greece for their destination wedding in Greece and love mountainous regions will definitely enjoy their stay.
All in all, it is an excellent choice for a romantic, mountain wedding.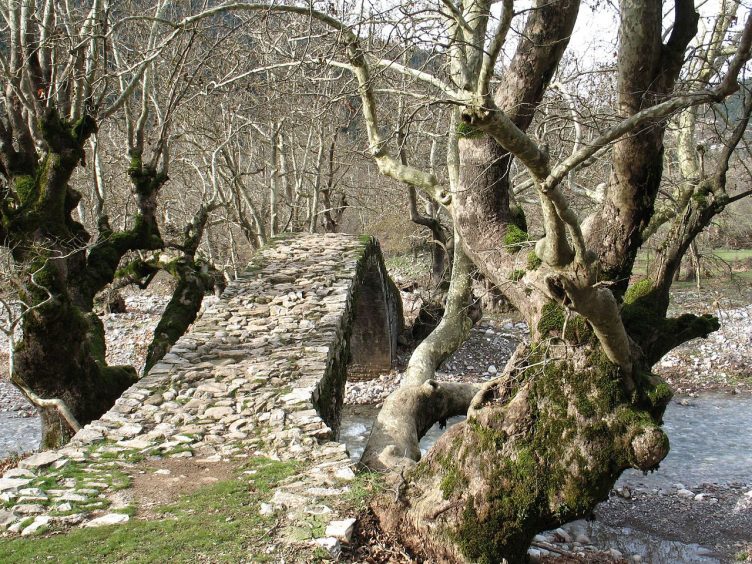 LAKE DOXA
This artificial lake is located in Corinthia, around 900 meters above the ground. It is surrounded by thick forestry and is a very quiet and bliss area. There is a small chapel located on one shore side and is an overall ideal place for a lake wedding. Similar to Lake Vouliagmeni in the Athenian Riviera, a river wedding here offers a mystical, romantic touch.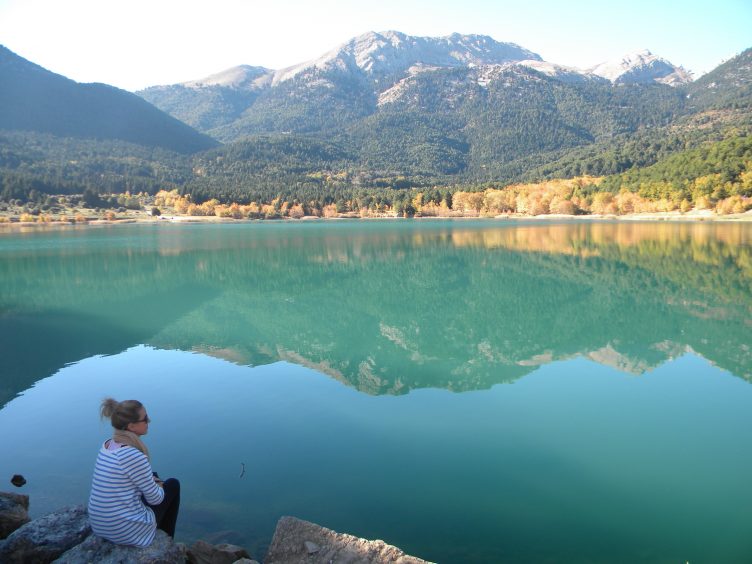 NAFPLIO
Nafplio is a seaside location in the Peloponnese, a little under two hours away from Athens. It includes a castle, seaside locations, churches as well as several beaches. It is a decently popular location, that attracts several visitors. Couples who would love a castle setting for their destination weddings in Greece, without traveling too far away, should consider this location.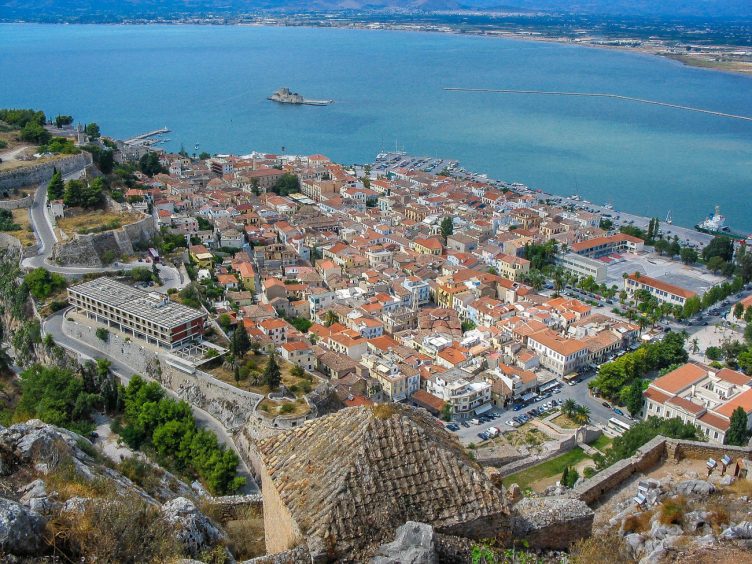 PARGA
Parga is both a mountainous and seaside location in Preveza. A wedding in Parga seems perfectly suitable for more intimate, private wedding celebrations. Weddings that include close friends and families should consider Parga. The atmosphere of privacy and seclusion is further enhanced by beautiful natural locations that don't receive too much traction. As such, Parga is also a great choice for those that seriously consider elopements.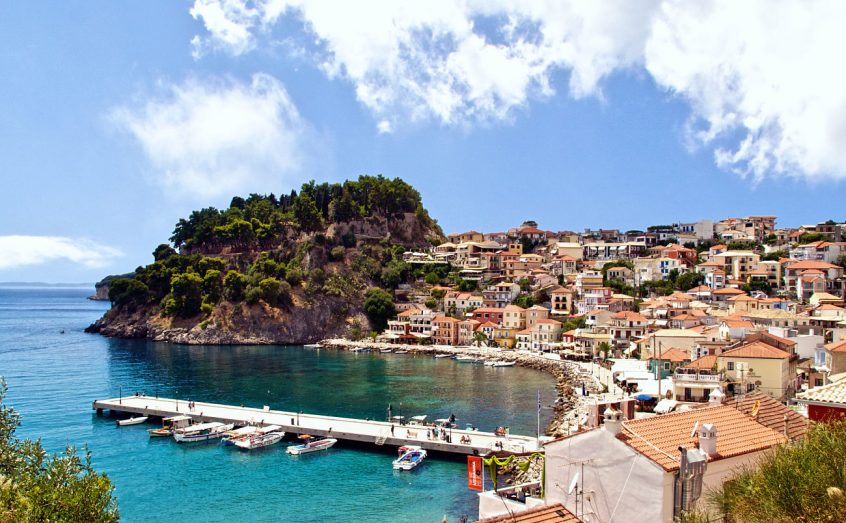 A DESTINATION WEDDING IN NORTHERN GREECE
The top locations for a destination weddings in Northern Greece.
HALKIDIKI
Halkidiki weddings are interesting location choices. This is because they offer a vast area with impressive wedding venues, churches, and beaches. Halkidiki itself is a popular camping choice since it offers several seaside campings. Halkidiki is located close to the second largest city of Greece, Thessaloniki, and as such can be easily reached. Couples looking for a perfect place to combine their destination weddings in Greece and honeymoon should look no further.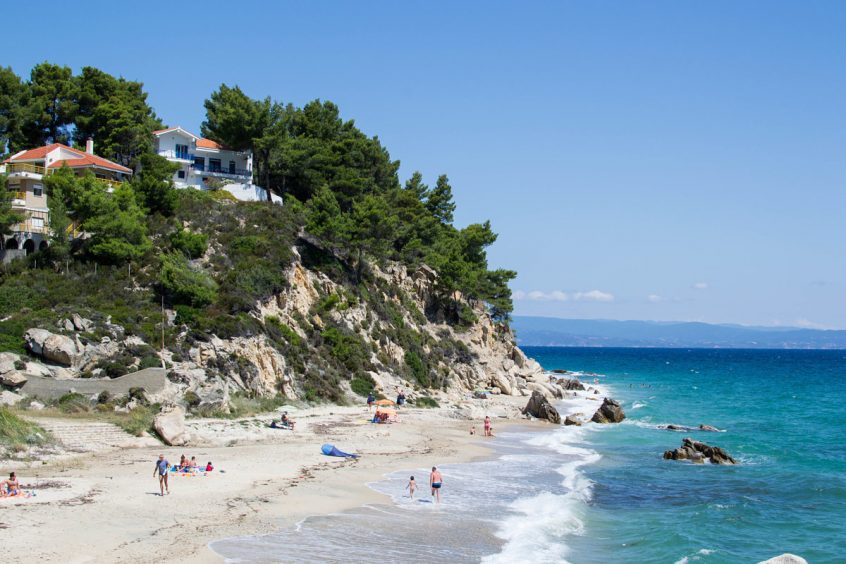 MOUNT OLYMPUS
Mount Olympus is the tallest mountain in Greece and one of the most iconic places in Ancient Greek Mythology. The Ancient Greek Gods are said to have resided in the tallest peaks. Today, it offers plenty of great hiking trails as well as ski opportunities. Couples who love the cold and mountains should consider having their wedding experience in Olympus. This involves marrying in a small chapel in a nearby village, renting a private mountain cabin, and exploring the nearby areas.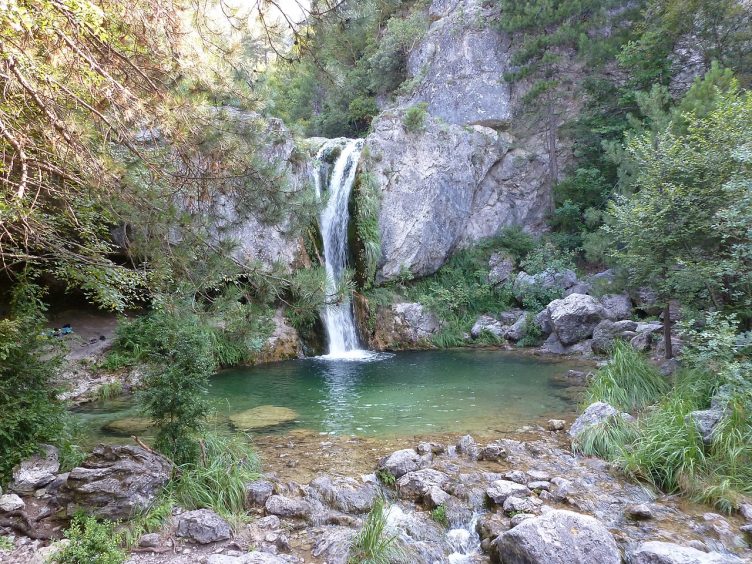 ZAGOROCHORIA
Zagorochoria is located in northern Greece, in a mountainous region. It is made up of two words, "Zagori"(the region) and "choria"(the Greek word for villages). The entire Zagorochoria is a bundle of 46 traditional villages, each with equally beautiful natural surroundings. It is truly a magnificent area to explore for those you love mountain hiking and walking through picturesque landscapes. Couples who seek a secluded, mountainous, fully green landscape for their destination weddings in Greece should definitely consider this location. It is also a flexible location because couples can get married both during winter and summer here.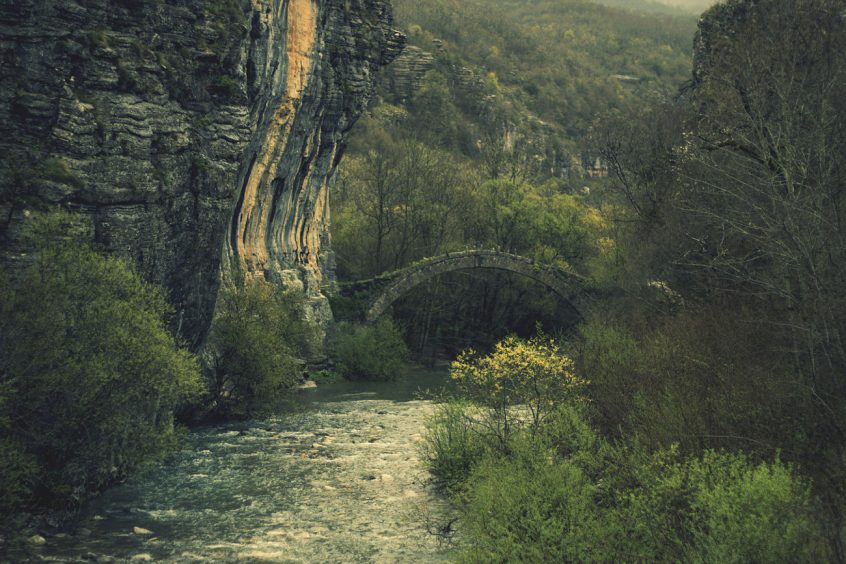 KAVALA
Kavala is located right beside the sea in Northern Greece. Its combination of both hills and sea, as well as charming architecture, make it an attractive wedding location. It hosts both small churches and a larger one, and there are a series of sightseeing opportunities. The Panagia square, Tobacco Museums, lighthouses as well as Kamares. All wedding types are possible here since there are several amazing beaches to view as well. A great location to get married in Greece since it offers exquisite photo shooting opportunities.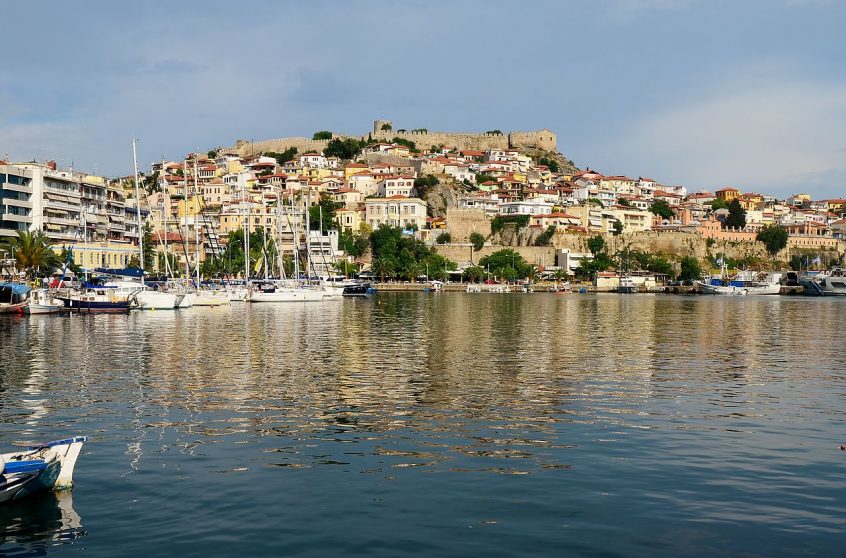 DESTINATION WEDDINGS IN GREECE AFTERTHOUGHTS
Destination weddings in Greece offer plenty of locations to choose from based on couple preferences. There are stunning weddings in Europe opportunities as well, however, Greece seems to capture every location, for every wedding type.
Couples who love privacy and are thinking to elope can choose between secluded rivers, private mountain regions, and isolated beaches.
Those that wish for a more cosmopolitan experience, can choose amongst many of the numerous popular islands destination weddings in Greece has to offer. There are also plenty of mainland locations in Greece that receive an influx of tourists every summer season.
If you want to find out more about booking a wedding planner for a wedding in Halkidiki, feel free to click here to contact us! We love assisting couples who consider Greece as their wedding destination!