Halkidiki weddings (also written as "Khalkidiki/Xalkidiki/Chalkidiki") are interesting location choices. This is because they offer a vast area with:
impressive wedding reception venues
wedding ceremony venues
churches
beaches
Halkidiki weddings include diverse wedding types, wedding themes, and wedding landscapes. A wedding planner has great freedom of ideas to suggest, plan, and coordinate.
Additionally, Halkidiki is a popular camping choice. In fact, the booking of camping resorts begins many months prior. However, our focus for this blog will view Halkidiki as a wedding destination rather than a camping in Greece location.
As such, what is the first thing that comes to your mind when you think of Halkidiki weddings? Is it something specific? Put another way, do you think of a typical Greek wedding setting when you think of Halkidiki weddings?
When you think of a Mykonos wedding, does your mind immediately thinks of a very large, elegant wedding? Is the same true for a wedding in Halkidiki?
Halkidiki wedding planners have a strong "core base of ideas" to work with when they plan a wedding here. The immense stretch of land known as the "Halkidiki Peninsula" offers:
beautiful sandy beaches
chapels
churches with an awe-inspiring sea view
and reception venues to celebrate weddings right on the shorefront
Let's take a closer look.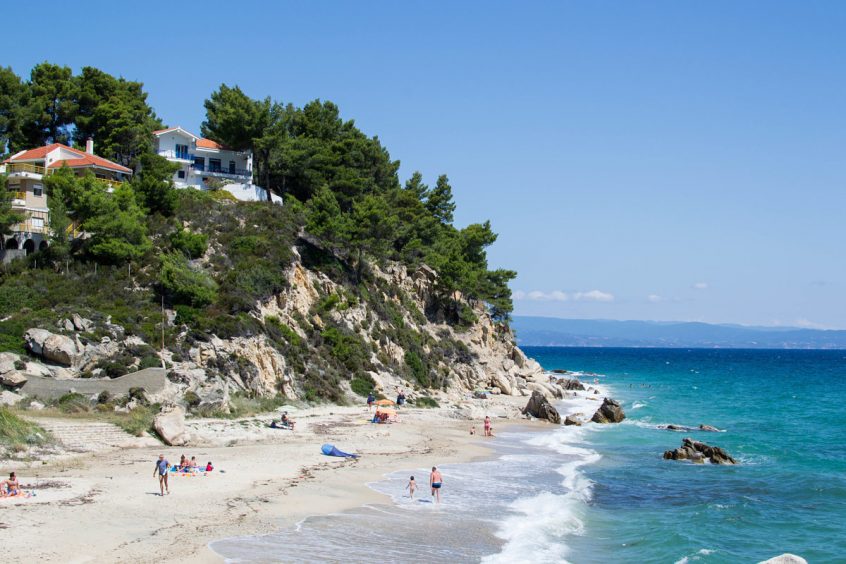 WEDDING IN HALKIDIKI
The vast natural landscapes that Halkidiki weddings offer, make it a suitable choice for more secluded wedding types. This is one of the main reasons why this location is popular amongst elopement packages.
We will look at three beautiful wedding venues in Halkidiki that are suitable for:
religious
symbolic
and civil weddings.
Let's start with a religious wedding type.
CATHEDRAL HALKIDIKI WEDDING
Cathedral of St Constantine and Helena is atop of Ouranopolis, amongst Mount Athos and architectural monuments. The external building is constructed of white stone, and the roof tile material is Byzantine ceramics. Internally, several mosaics and murals are present, with a cross-shaped chandelier standing out. It is a work designed by none other than the notable architect Aristotelis Zachos.
The cathedral has a maximum capacity of fifty guests regardless of the season. It is a spectacular cathedral, where murals eloquently decorate it. It is a beautiful sight to observe both during the day and night.
All in all, this is a beautiful religious venue for couples to marry in.
RESORT HALKIDIKI WEDDING
We could not write a blog post about Halkidiki weddings without referring to one of the most popular resorts: Sani resort. This resort contains a mix of landscapes: from green lush forests to warm sand, and blue waters. The total space this resort contains is more than 4 million square meters, each space devoted to a specific property. These include the Sani beach, Porto Sani, Sani Asteras amongst others.
All in all, Couples that marry here can choose different wedding types and creative wedding activities to accompany their wedding ceremony. From having a hybrid forest/beach wedding to combining their wedding with a honeymoon, couples have unlimited creativity for a symbolic and civil wedding!
PANORAMIC HALKIDIKI WEDDING
For the couples who enjoy magnificent panoramic views, and are set on having a beach wedding, Ouranoupoli Beach is the right place in Halkidiki for you. The characteristic white sands and lukewarm sea constitute it as a well-known tourist attraction. In addition, spectacular panoramic views are available here. Combined with the forest surrounding the beach, it is a very beautiful setting to get married in.
All in all, couples should feel free to consider Ouranoupoli beach as a wedding ceremony location. Additionally, this beach spans more than five kilometers, which allows couples to select their perfect little area to get married in.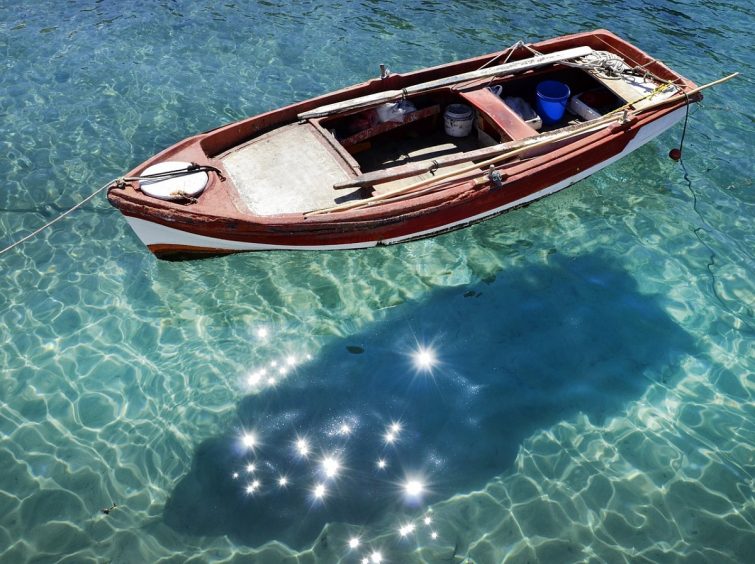 HALKIDIKI WEDDINGS CONCLUSION
Perhaps the most important factor for a Halkidiki wedding is booking appropriate venues in advance. In fact, this holds true for every wedding.
Destination weddings in Greece involve meticulous planning and research ahead of schedule. Even though Greece is a European country, located in the Mediterranean, its weddings and elopements contain a distinguishing trait. This separates a Greek wedding and Greek elopement from an Italy elopement & wedding, Spanish elopement & wedding, and general EU elopement & wedding.
All in all, a wedding in Halkidiki will allow guests to experience a dreamy wedding landscape. The couple can enjoy their dream wedding at a much lower cost. This is especially true when we compare Halkidiki to more popular Greek marriage destinations. Additionally, couples will also enjoy a greater degree of privacy.
A venue in Halkidiki may not be as well known as "Dana villas Santorini" for example. However, resorts such as "Sani resort" and "Eagles resort" offer just as much luxurious treatment.
If you want to find out more about booking a wedding planner for a wedding in Halkidiki, feel free to click here to contact us! We love assisting couples who consider Greece as their wedding destination!