There are several excellent wedding resorts located throughout Greece. Visitors can find different wedding resorts in the Peloponnese, in Northern Greece, and on popular Greek islands.
Typically, wedding resorts have several different areas suitable for weddings which include:
Poolside areas
Indoor lounges
Outdoor garden terraces with a terrific view
This week, we will focus on a few popular wedding resorts guests can find throughout Greece!
Kinsterna Hotel
Fairy-tale-like, traditional resort
Our list of great wedding resorts in Greece starts with Kinsterna hotel. Guests can find this traditional, fairy-tale-like resort in the Southern Peloponnese area.
Kinterna Hotel is a restored estate mansion that exists from the Venetian times. The reason it seems fairy-tale-like is that it looks like a castle, with modern touch additions.  In fact, it overlooks the medieval fortress town of Monemvasia.
The entire estate covers more than 70,000 square meters that include herb gardens, fertile vegetable patches, olive trees, and other plants and greenery. Guests that stay here may choose to immerse themselves in various agricultural activities such as:
Olive oil production
Soap production
All in all, couples and guests who want a traditional wedding venue to surround themselves with greenery and beautiful architecture, should choose this resort!
Saint John Hotel Villas & Spa
Beachside, luxury resort
Guests can find our second inclusion in our wedding resorts in Greece shortlist, in cosmopolitan Mykonos island.
This beautiful resort is expertly located right next to the beach and offers a stunning sea view to its guests.
There are a number of great amenities and facilities visitors and guests can find here:
A private beach that is 200 meters long (great for seclusion and a private beach wedding)
A spa (a great way to relax)
Swimming pools
Tennis court
Restaurants
Bars
Outdoor reception areas
Conference halls
All in all, it is a great accommodation option. Additionally, for couples who wish to marry in Greece, there are a great number of reception options available here!
Ambassador Hotel Santorini
Picturesque luxury, resort-like hotel in Santorini
Santorini's limited area and topography does not allow for a resort per se. However, the reason we include Ambassador Hotel Santorini is that it closely resembles amenities and luxury options guests can find in the other resorts in our list.
Ambassador Hotel Santorini offers more than 35 suites, villas and rooms with private pools.
Couples and guests who wish to view the magical Santorini sunset can do so while they enjoy all the luxury this resort-like hotel has to offer. The very fact that this resort-like hotel is located right on the cliff's edge, allows for a truly stunning view of the volcano, the sunset, and the sea.
All in all, it is a very luxurious accommodation option. Additionally, the very fact that it is in Santorini will allow couples to combine their vacation or honeymoon with a gorgeous wedding!
Creta Maris Beach Resort
All-inclusive, island resort
Guests can find our last resort in our wedding resorts in Greece shortlist in no other place than the beautiful island of Crete.
Creta Maris Beach Resort is located less than half an hour from Heraklion airport and offers guests more than 650 rooms to choose from.
It's located right next to the beach does and does wonders for guests who can swim in either the refreshing salty waters or in any of the several pools available in this resort. Additionally, guests can experience a number of different facilities and amenities which include:
Waterslides
A spa
Restaurants
Outdoor terraces
Indoor lounges
All in all, it is a great option for visitors to experience both a beautiful Greek island as well as a luxurious stay. Additionally, the resort has hosted several weddings in the past so couples that want to marry in Greece can combine their vacations/honeymoon with a marvelous wedding!
Conclusion
There are a number of great wedding resorts in Greece that offer stunning facilities for a beautiful wedding in Greece. This week, our shortlist takes a look at a few wonderful resort options.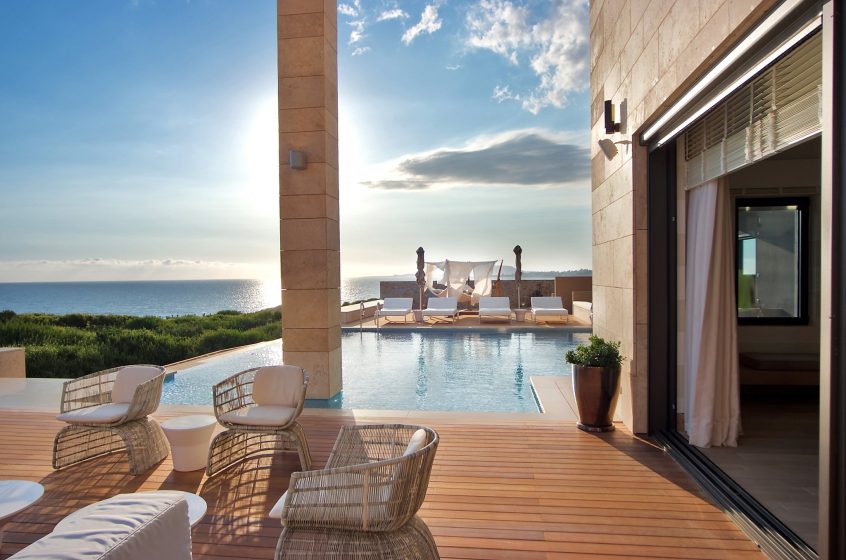 All in all, our shortlist shows a few great options for readers to further explore.
Do you want to marry in Greece? Feel free to contact us! We love to communicate with couples who consider Greece as their destination wedding location.