Getting married in Rhodes offers interesting location choices. This is because they offer a vast area with:
impressive wedding reception venues
wedding ceremony venues
churches
beaches
A wedding in Rhodes includes diverse wedding types, wedding themes, and wedding landscapes. A wedding planner has great freedom of ideas to suggest, plan, and coordinate.
Amongst destination weddings in Europe and specifically Greece, Rhodes is a popular choice for the marriage abroad of U.S. citizens. In fact, marriage in the USA for foreigners often results in Rhodes as their destination wedding choice. To help US couples who are planning to get married abroad or any other couple, we decided to devote this week's post to Rhodes.
As such, what is the first thing that comes to your mind when you think of a wedding in Greece and specifically getting married in Rhodes? Is it something specific? Put another way, do you think of a typical wedding in Greece?
When you think of a Mykonos wedding, does your mind immediately thinks of a very large, elegant wedding? Is the same true for a wedding in Rhodes?
Rhodes wedding planners have a strong "core base of ideas" to work with when they plan a wedding here. The immense island of Rhodes offers:
beautiful sandy beaches
chapels
churches with an awe-inspiring sea view
and reception venues to celebrate weddings right on the shorefront
All in all, Greece has several beautiful wedding locations.
Rhodes is most notably known as a destination wedding location, for couples who love to combine their honeymoon with their wedding. As such, the island has several prominent hotels and resorts expertly built to accommodate this niche. Let's take a closer look at the most popular hotels and resorts for these wedding types.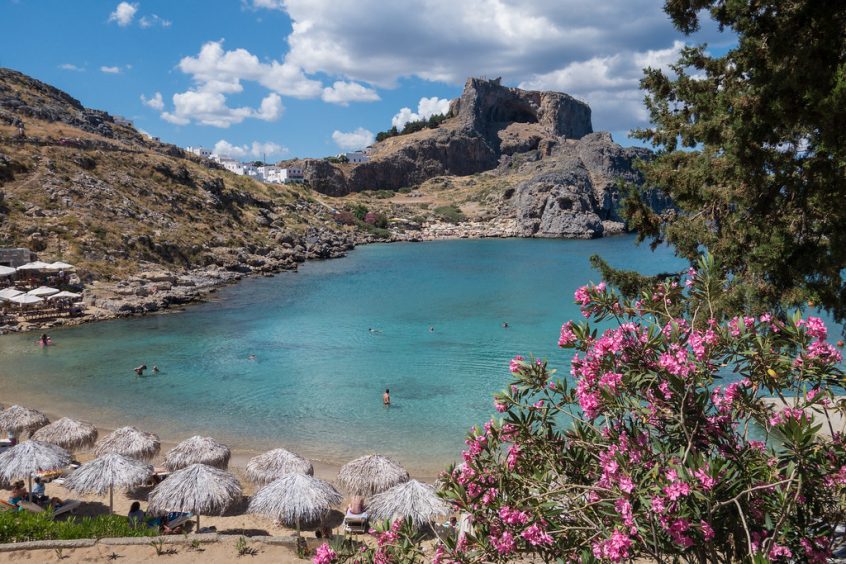 WEDDING VENUES FOR GETTING MARRIED IN RHODES
A few excellent choices.
ATLANTICA AEGEAN BLUE
Located right beside the beachfront, with a beautiful view of the sea. This resort offers various accommodation options, from simple rooms to luxurious suites that overlook the sea.
Atlantica has a tasty buffet with different fresh meals the chefs prepare daily. It even has its own A La Cart restaurant that features foods from Asian cuisine. The venue has several amenities including a vast garden space, a pool, and even an exclusive waterpark.
Large wedding parties looking to stay together should seriously consider this venue. This is because this resort has very many rooms and room types that can comfortably accommodate guests. For couples getting married in Greece, this resort has both indoor and outdoor reception areas so they can comfortably plan their wedding here.
ATRIUM PLATINUM RESORT HOTEL & SPA
Atrium Platinum Resort hotel & Spa is a five-star hotel in Rhodes. This marvellous establishment is in Ixia bay, right behind the Acropolis of the island. This resort combines the cosmopolitan nature of islands such as Mykonos, with a more secluded and private rest area.
Transportation to and from the resort is straightforward. We find the island's international airport, as well as the island's port, just a short driving distance away.
Atrium offers several accommodation options, including magnificent luxury rooms and sea view suites with chic furniture. The resort has a private pool, restaurant choices, a well-maintained spa, and great wedding venues.
All in all, couples who love the idea of a resort destination wedding in Greece, can host their wedding here. The resort offers indoor halls as well as a pool outdoor reception area.
PRINCESS ANDRIANA RESORT
We characterize this luxury resort by its quieter nature, especially when we compare it to its counterparts. Princess Adrianna Resort and Spa has more than 350 rooms, with several amenities. These amenities include a playground, arcade rooms, a restaurant, a spa, and several private pols.
What makes this hotel a more secluded accommodation option is that it's further away from Rhodes city, and harder to reach from the airport and port. If you're planning to stay here, prepare to have available transportation options, preferably look to rent a car.
All in all, if you are a couple that loves a more seclude themselves in their own piece of paradise, then look no further. The hotel offers an escape just the right amount of distance away that will allow you to get married in Rhodes Greece.
EDEN ROC RESORT HOTEL & BUNGALOWS
A self-described "oasis of tranquillity", Eden Roc falls in no way short of that description. We find it between the town of Rhodes and Kalithea, and it offers exquisite suites, beautiful rooms, and luxurious bungalows.
What separates this hotel from the rest is the fact that Eden Roc takes pride in the level of personal service. This stems from the fact that the hotel has been family-run for more than 30 years.
This hotel offers a variety of wedding venue choices. Couples can get married:
at an Olympic-size swimming pool (can hold up to 350 guests)
in Eden's garden area (can hold up to 200 guests)
at their A La Carte Restaurant (can hold up to 120 guests)
at their beach tavern (can hold up to 80 guests)
All in all, it is a great choice to both stay and to marry in!
RODOS PRINCESS
We find Rodos Princess in perhaps one of the most beautiful areas on the island; right on the beach in the awe-inspiring Kiotari. Because this beautiful hotel overlooks the wonderful Galouni Bay it offers picturesque scenery.
Rodos Princess contains its own private beach, both outdoors and indoor pools (with water slides), an amazing spa, and restaurant options among others. For the more active guests, the hotel also offers several sports fields where guests can engage in activities.
All in all, Rodos Princess is an excellent accommodation and wedding option for getting married in Rhodes. Couples that host their wedding here will get the chance to get married in a wonderful seaside-overlooking venue, with tasty dining options. The luxury that guests so wonderful experience while staying here will beautifully reflect through your wedding.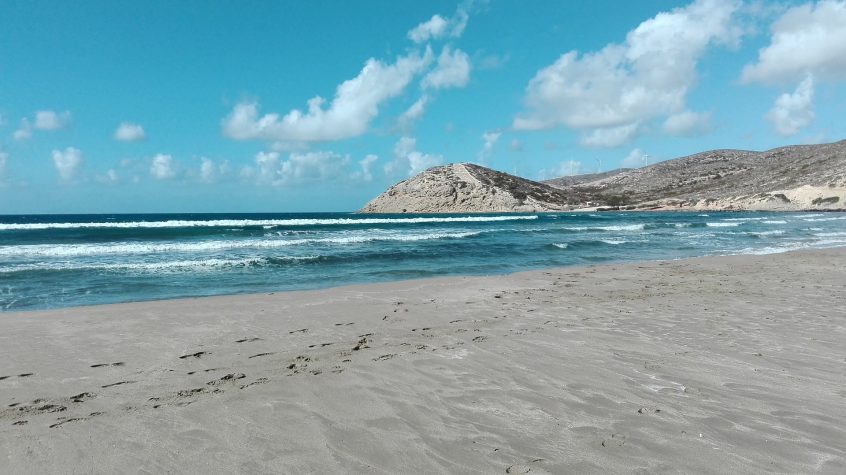 LEGAL REQUIREMENTS FOR GETTING MARRIED IN RHODES
One of the biggest considerations in hosting a destination wedding in Rhodes, and generally in Greece, is the paperwork requirements. Although initially, the bureaucratic process may seem too much, it is not as complex as initially thought. In the following lines
FREQUENTLY ASKED QUESTIONS:
DO YOU NEED TO BE A CITIZEN OF GREECE TO GET MARRIED IN GREECE?
No, authorities do not require couples to be Greek resident to get married here. If, however, one of the two is a Greek citizen, then that person must have a valid residence permit.
Note that certain islands or villages may have slightly different legal requirements. Once you decide on a location make sure to double-check with your wedding planner or research the location yourself.
All in all, legal requirements for a wedding in Greece are generally the same regardless of the wedding location. However, different municipalities may ask for slightly different paperwork. Always double-check with your wedding planner and/or local authorities.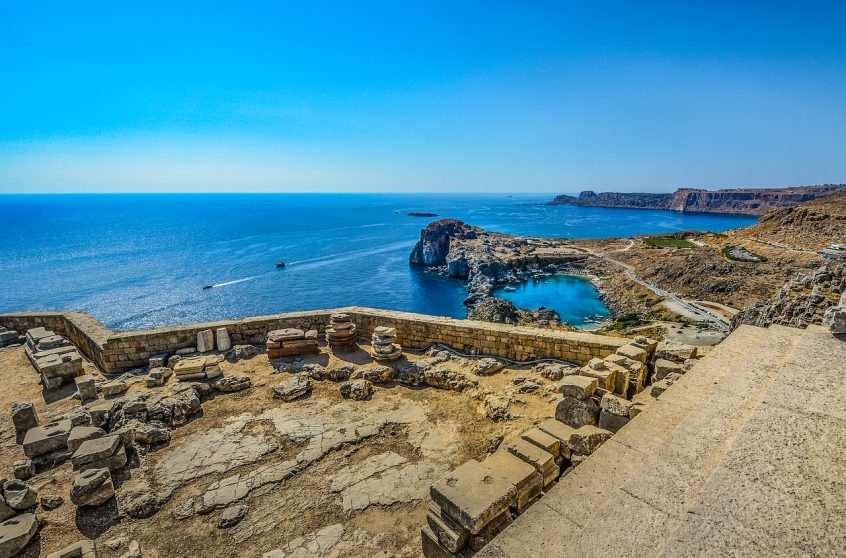 WHAT IS THE MINIMUM LEGAL AGE TO GET MARRIED IN GREECE?
The minimum legal age is 18.
Exceptions to this rule can only occur through a court decision after both parties receive parental permission (we describe the paperwork below).
Generally, authorities will require the following items for a wedding in Rhodes:
A valid passport
Original birth certificate
Notarized affidavit of marriage in Greek and English
A copy of the newspaper where your marriage declaration was published
Certificate of no record of marriage
Original affidavit for name change (if applicable)
Any former marriage certificates (if applicable)
Original decree of absolution (if applicable)
The original copy of the death and marriage certificate proving widowed status (if applicable)
Original copy of adoption (if applicable)
Certificate of No Impediment (CNI)
Certified consent letter from both parents if either party is underage (if applicable)
All in all, the proper authority should translate the documents above to help you get married in Rhodes Greece.
Note that translations can happen with a certified lawyer, the Greek Consulate of your country or by sending the official documents to your wedding planner to have them do it locally. For example, US couples can try visiting the Greek embassy USA, for more information on the translation process.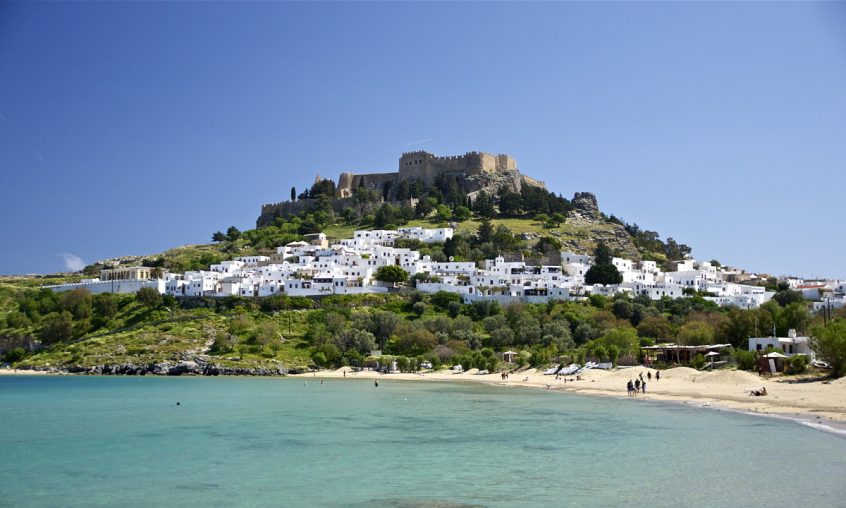 WEDDING IN GREECE PROCESS
All in all, a wedding in Greece follows a similar process to a wedding anywhere in the world. Perhaps the biggest difference with Greece is that it has several municipalities. Each municipality may ask for slightly different variations in the paperwork provided. It's best to consult with your wedding planner for the appropriate documentation. Different municipalities and different wedding types will sometimes require different paperwork.
Mandraki harbour Rhodes view
CONCLUSION
For this getting married in Rhodes blog post, we discuss the Greek wedding process, popular Rhodes accommodation & wedding venues, and the necessary paperwork. In terms of popularity, Rhodes may score a 5/10. This in no way indicates the island's beauty or amenities it offers because it purely denotes the wedding traffic it receives.
A typical occasion in a Rhodes wedding is the phenomenon known as "double wedding".
What does that mean? Can someone be married in two countries?
Typically, what occurs is that couples may have a civil wedding in their home country, and then visit Greece to get married in Rhodes in a symbolic ceremony. All in all, this is one of the ways in which couples choose to get married in another country legally, and they often avoid lengthy bureaucratic processes. It is always best to consult your wedding planner and local authorities because they have the necessary experience to help you get married in Rhodes Greece!
Additionally, we recently wrote an ultimate guide to getting married in Greece that can help you out with your wedding planning process!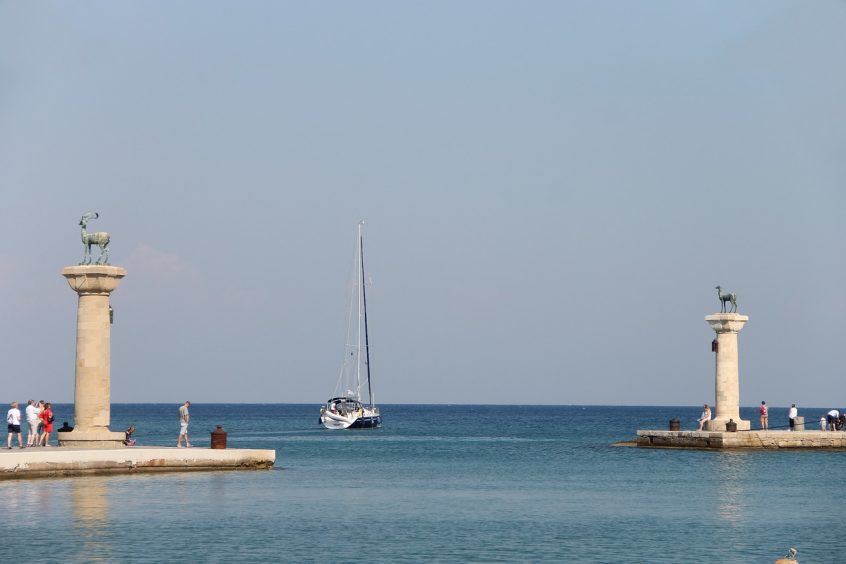 If you feel that you need help to organize your wedding planning, and assistance with your paperwork, feel free to contact us! We love to help couples who consider Greece as their destination wedding choice!