A wedding in Sifnos is an interesting location choice. This is because Sifnos is an island that has:
beautiful wedding reception venues
amazing wedding ceremony venues
picturesque churches
iconic beaches
In fact, a wedding in Sifnos allows for different wedding types, wedding themes, and wedding landscapes. This is a dream come true for a wedding planner since it allows for great freedom of ideas to suggest, plan, and coordinate.
As such, what is the first thing that comes to your mind when you think of a wedding in Sifnos? Is it something specific? Put another way, do you think of a typical Greek wedding setting when you think of a wedding in Sifnos?
When you think of a Mykonos wedding, does your mind immediately thinks of a very large, elegant wedding? Is the same true for a wedding in Sifnos?
For a wedding in Sifnos, wedding planners have a strong "core base of ideas" to work with when they plan a wedding here. This beautiful island is known for its:
beautiful sandy beaches
chapels
churches with an awe-inspiring sea view
and reception venues to celebrate weddings right on the shorefront.
Let's take a closer look.
A WEDDING IN SIFNOS
Even though a Sifnos is not one of the most popular wedding islands in Greece, it is a very beautiful Greek island. As mentioned above, it has several different venue types for different wedding types. Each couple who prefers a particular wedding type will find a match here.
In particular, we will look at some beautiful wedding venues that are suitable for a wedding in Sifnos:
religious
symbolic
and civil weddings
Let's start with a religious wedding type.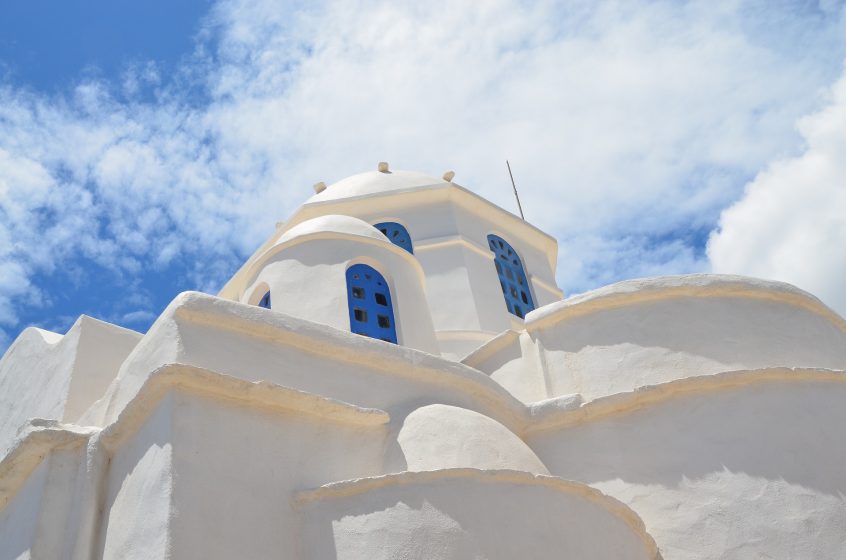 SEVEN MARTYRS CHURCH
This is one of the most photographed locations in all of Sifnos. The small iconic chapel offers picturesque photo opportunities. The Seven Martyrs church is found at Kastro village, on the very top of a small rocky hill that offers a panoramic sea view. What makes this location offer immense beauty is the fact that during strong winds, the church and its surrounding areas are hit by big waves. This creates a very intense atmosphere, which in turn results in very stunning wedding photographs.
All in all, the church is in line with classic Cycladic architecture: blue dome on top and whitewashed building. Visitors and couples may reach the church by some stone stairs that lead up to it. It is a beautiful little chapel that is a great fit for couples that want a religious wedding in Sifnos.
LAZAROU BEACH
We could not write a blog post about a wedding in Sifnos without referencing one of the most popular resorts in Sifnos: Lazarou beach. This venue contains a mix of landscapes: from greenery to rocky surroundings, to warm sand & and blue waters.
The venue couples can find here is located on Lazarou bay, next to the bay of Platis Gialos. The venue has an outdoor wooden platform atop the water where the couple can have their ceremony and guests can party.
All in all, couples that marry here can choose different wedding types and creative wedding activities to accompany their wedding ceremony. The restaurant offers both indoor and outdoor area for the wedding reception, as well as ana amazing sea view. The wedding professionals that run the restaurant have hosted several weddings in the past. Amazing Sifnos dishes are at the disposal of guests, which can enjoy them at the rocky restaurant of Lazarou Bay.
VERINA VILLA
For the couples who enjoy magnificent panoramic views, and are set on having a beach wedding in Sifnos, Verina Villa is the right place in Sifnos for you. The characteristic white sands and lukewarm sea constitute it as a stunning accommodation option. In addition, spectacular panoramic views are available here.
This luxurious villa, located in Vathi, has its own tennis court, swimming pool, hammam as well as a playground. This means that there are several different areas that the couples and their guests can transform into a wedding reception.
All in all, this luxurious villa choice is a combination of 3 different buildings. Together, they add up into a stunning and relaxing unique indoor and outdoor environment. The quiet environment Vathi is known for also helps produce a relaxing and secluded atmosphere for the wedding in Sifnos.
CONCLUSION
Perhaps the most important factor for a wedding in Sifnos is booking appropriate venues in advance. In fact, this holds true for every wedding.
Destination weddings in Greece involve meticulous planning and research ahead of schedule. Even though Greece is a European country, located in the Mediterranean, it's weddings and elopements contain a distinguishing trait. This separates a Greek wedding and Greek elopement from an Italy elopement & wedding, Spanish elopement & wedding, and general EU elopement & wedding.
All in all, a wedding in Sifnos will allow guests to experience a dreamy wedding landscape. The couple can enjoy their dream wedding at a much lower cost. This is especially true when we compare Sifnos to more popular Greek marriage destinations. Additionally, couples will also enjoy a greater degree of privacy. A venue in Sifnos may not be as well-known as "Dana villas Santorini" for example. However, the venues found for a wedding in Sifnos offer stunning beauty that will pleasantly surprise any couple!
Are you interested in getting married in Greece? Feel free to contact us! We love to assist couples who consider Greece as their destination wedding location!