How much does a Santorini wedding cost?
This is a very difficult question, and it is therefore almost impossible to give an exact answer. The reason for this is very simple: complexity.
Whenever you have many factors that determine the outcome, estimating the final product becomes tricky. Trying to estimate a Santorini wedding cost is no exception. There are simply too many factors to take into consideration, for example: wedding photographers, venues, florists and others.
Our recent guide for getting married in Greece outlines in depth the considerations couples need to make for their wedding. Feel free to read through the entire post, or simply your areas of interest. This way you will have a solid understanding of the wedding planning process, and you will be able to budget your wedding more efficiently.
All in all, a Santorini wedding cost will be affected by three general factors: experience, the number of services, and quality of services. In the following paragraphs, we will do our best to give you a price range for getting married in Santorini, Greece. We encourage couples who want to get into specifics regarding the planning of their Santorini wedding to contact us directly!
Note that our estimations throughout this article are based on a quality standard that we can attest to. There are several wedding organizers and planners, each operating and pricing based on their own process and quality standards. Our price indications are based according to a White Stories quality of standards, which represents a more premium pricing standard, and reflects approximate prices based on a thirty-person wedding.
FACTORS AFFECTING A SANTORINI WEDDING COST
Experience
Number of Services
Quality of Services
We do not work with professionals who we cannot guarantee their quality of work. As such our budget indications reflect a White Stories quality standard based on these professionals which we feel will confidently satisfy our couples!
EXPERIENCE
Couples with experience will be able to estimate costs more accurately and spend less money. They can avoid last-minute costs as a result of poor planning.
For example, the scenario where a couple books a venue but does not inquire about whether the venue fee included musical entertainment. The couple will need to either cancel the venue (they will lose their down payment) or book musical entertainment on their own (this will increase their budget estimate). The scenario gets worse if the couple realizes this oversight closer to the wedding date since popular vendors will probably be booked. Additionally, those that are available may ask for a higher price for last-minute bookings.
This example is one of many on why experience is required. Unless you plan several weddings as part of your career, it is highly unlikely you will have the experience needed to plan a wedding. Especially a Santorini wedding cost determination that has added challenges. Reading material relevant to weddings will only give you a basic understanding because you cannot account for every single scenario.
WEDDING PROFESSIONALS
This is also one of the primary reasons why couples choose to enlist the help of a professional. A wedding professional will be able to sum accurately the overall Santorini wedding cost based on your wedding preferences. Additionally, you will be able to choose the appropriate professional based on the size of your wedding, your budget, and your overall needs.
The graph below outlines the three wedding professions, and their estimated costs (in euros) based on how luxurious the wedding is: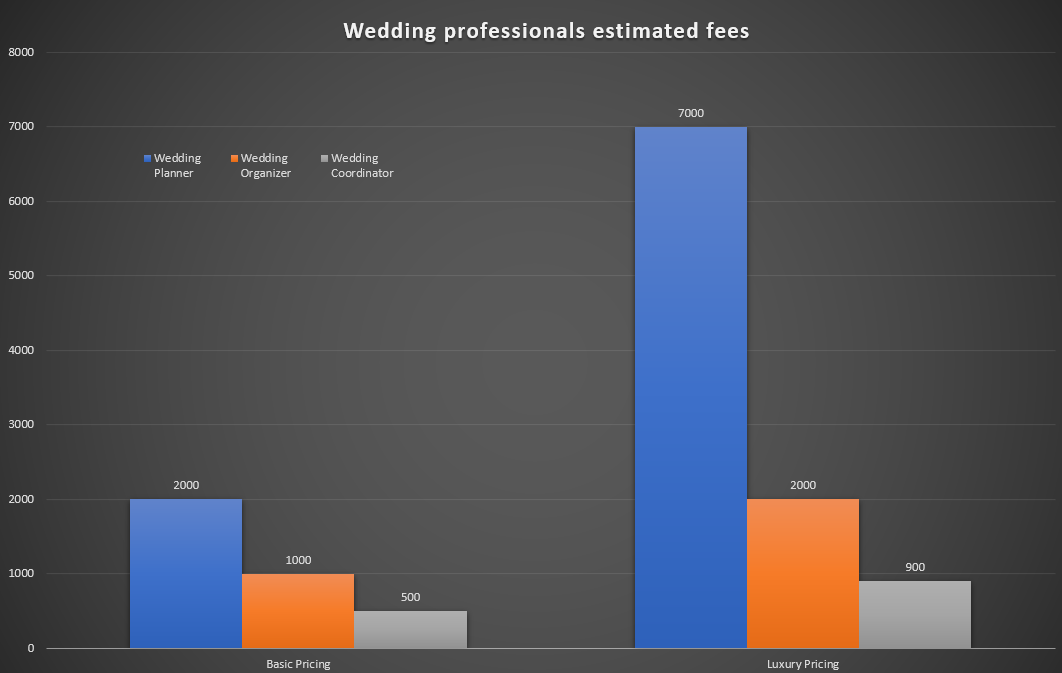 To briefly explain, a wedding planner is responsible for organizing and coordinating every aspect of your wedding. This process starts several months before the wedding date.
A wedding organizer is responsible for organizing your wedding procedures a few weeks before the big day. Less planning hours compared to the wedding planner.
A wedding coordinator is responsible for two days: the day before the wedding and running the wedding day.
For example, our company, White Stories Events, takes on all three roles. We plan, organize and coordinate events all over Greece. We've organized weddings in Santorini in the past and will be more than able to provide a Santorini wedding cost analysis for you. All in all, our recent article which you can read here analyses in-depth, the role of each wedding professional.
The number of services, venue choice, and the number of guests all affect the scale of a Santorini wedding. Additionally, the quality of the desired services will determine the overall Santorini wedding cost.
NUMBER OF SERVICES
For creative couples, the number of services needed may easily become a very long list. This is because creative couples tend to want a very big degree of customization and details. In general, however, we can group several specific details into a few general categories. These categories are:
Reception Venues
Ceremony Venues
Wedding Villas (Event Fee)
Wedding catering
Florists
Sound & Lighting Companies
Musical Entertainment
Wedding Make-up Artists (Only for the Bride)
Hairstylists (Only for the Bride)
Bar Management Companies
Wedding Photographers
Wedding Cinematographers
Price estimation per service (€):
Not every service is required for a wedding: for example, couples don't need both a hotel and villa (unless they plan to accommodate their guests at their destination wedding). The services are different based on the luxury factor for a Santorini wedding cost comparison (for example more expensive reception options). In conclusion, more services are equal to a greater cost.
QUALITY OF SERVICES
Quality of services means both a luxury factor, as well as the number of features offered per service. For instance, choosing a luxury priced wedding photographer may mean that:
You will get more overall photographs than the basic package
A pre or post-wedding photoshoot is included
More than one photoshoot location will be available to you
As noted in the graph above, the luxury priced option is more expensive than the basic option per service. As such, this means that choosing one, two or many luxury options will increase your wedding budget for Santorini.
SUMMARIZING A SANTORINI WEDDING COST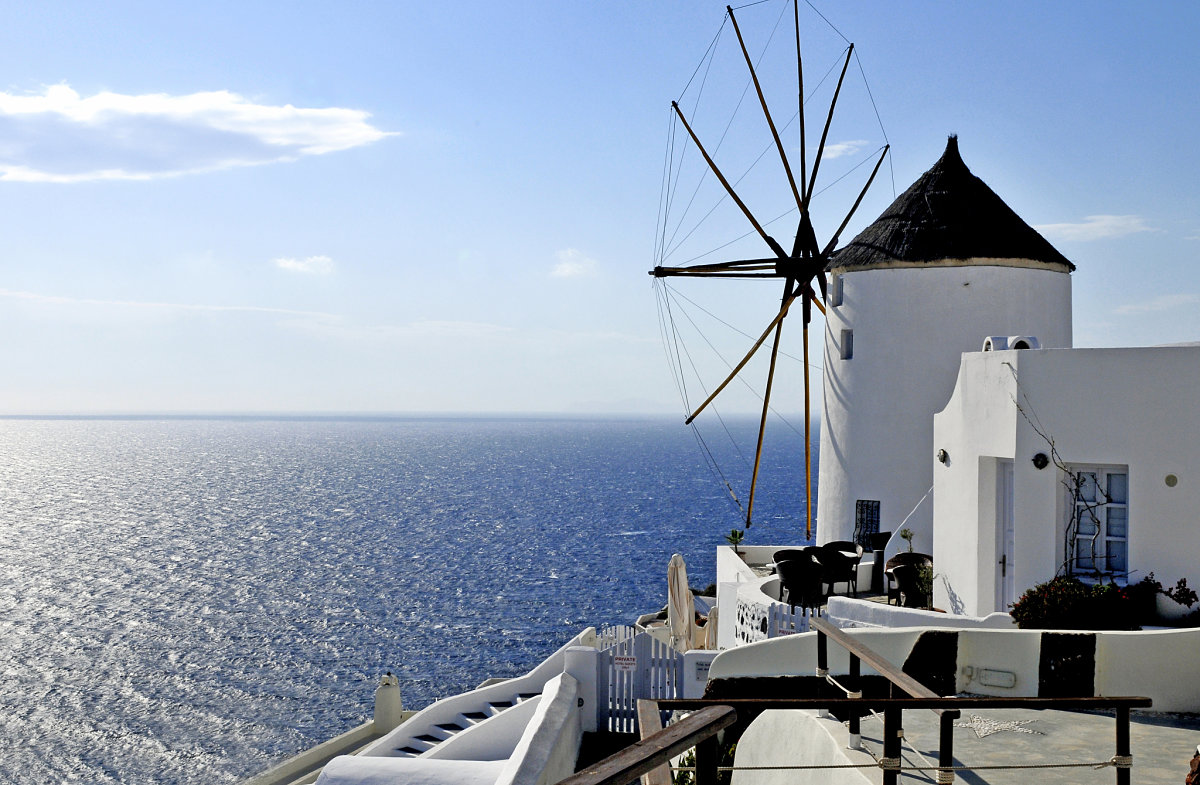 Now that you have a more in-depth understanding of the wedding process and fees, we can summarize the costs mentioned above and answer the question:
How much does a Santorini wedding cost?
In summary, the rough range of costs (€) for a Santorini wedding according to White Stories standards, are as follows:
Planner: 2000-7000
Wedding Organizer: 1000-2000
Wedding Coordinator: 500-900
Reception Venues: 1200-9700
Ceremony Venues: 500-1500
Wedding Villas (Event Fee): 1500-4000
Wedding catering: 1950-7800
Florists: 3000-30000
Sound & Lighting Companies: 640-10000
Musical Entertainment: 500-8000
Wedding Make-up Artists (Only for the Bride): 200-600
Hairstylists (Only for the Bride): 200-600
Bar Management Companies: 2100-7200
Wedding Photographers: 1800-4500
Wedding Cinematographers: 1900-5500
In summary, a wedding is a unique event. Our team at White Stories believes that each and every wedding should be tailored to a couple's needs and wants. We advise any couple considering a beautiful destination wedding in Santorini to contact us, to discuss more specific details!