The role of a wedding event company is to make the wedding process as smooth as possible for coupes. A wedding event company may plan weddings of different size and complexity. These can include:
Elopements. Very basic wedding type that usually involves just the couple. The wedding venue is usually a very private area just for the couple.
Typical weddings. These are the weddings that are done in the local area close to the couple. These involve a guest size of any number and usually a reception and ceremony venue.
Destination weddings. These are similar to typical weddings, however, they occur in a different country from which the couple is from. This will mean that they are of greater logistic complexity.
Below we will example the role a wedding event company plays in facilitating the wedding process.
COST CONSIDERATIONS
A wedding event company will plan several different wedding types, numerous types, throughout the course of its business. This means that the wedding event company is aware of the different costs each wedding type may entail.
Additionally, they will also be aware of the different factors that may affect the price of each wedding type.
For example, in Greece, a destination wedding has different costs depending on the region. As a rule of thumb, the two popular Greek islands (Mykonos, Santorini) are the most expensive. The rest of the islands then follow them, with Mainland Greece being the least expensive.
All in all, a wedding event company will be able to appropriately cost your wedding. This involves a rough estimate of the range of costs you are expected to pay as well as a budget. Once you are more certain about the services you will need the budget estimation can become more specific.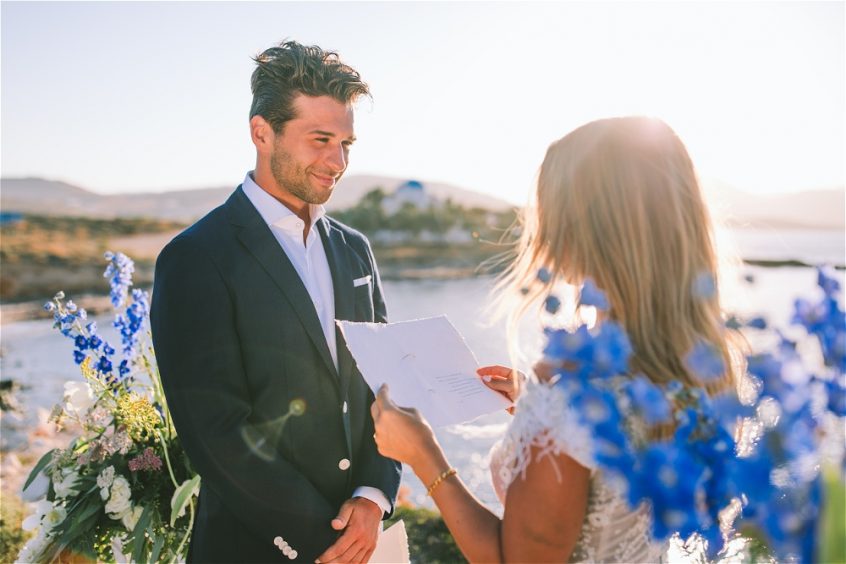 LOGISTIC PLANNING
Oftentimes, the wedding planning process of a wedding event company will involve logistic planning.
What exactly is that?
This is when you and your guests plan to stay for a few days before, during, or after the wedding day. Logistic planning is especially true in cases where a destination wedding takes place.
This is because when the wedding takes place in a different country, both the guests and the couple need accommodation as well as travel and transportation options.
Couples and their guests must be able to travel to the new country, transport to and from the wedding reception and ceremony, and stay in the appropriate hotels.
All in all, the above requires a great degree of logistic planning. Ideally, it requires the wedding event company to have planned this in the past. This will ensure that they are aware of the process and can price the services appropriately.
VENDOR RECOMMENDATIONS
A wedding event company will work with several vendors throughout their business course. As a result, they will have special relationships with some that will allow them to offer their clients better rates.
Additionally, as in the cases of destination weddings, the vendors the company works with will also be transportation companies and hotels. As a result, the wedding event company will be in a position to offer guests group discounts when available. This is beneficial to the couple since it will be able to offer their guests greater discounts.
All in all, vendor suggestions allow the company to offer both better rates and quality assurance to their couples.
CONCLUSION
A wedding event company is a company that specializes in wedding events.
As a result, they are able to provide great relief to the couples they assist since they can provide them with great discounts, vendor recommendations and specialized knowledge!
If you feel that you need help to organize your wedding planning, and you want to find the perfect wedding venue, feel free to contact us! We love to help couples who consider Greece as their destination wedding choice!