A wedding in Thessaloniki is a beautiful concept idea for Greek wedding planners. Even though Thessaloniki is the second-largest city in Greece, it is a relatively unpopular location for a destination wedding. If you are researching Greece as a destination wedding location for your own wedding and are viewing different locations such as a Cameo Island wedding or a Casa Playa beach Zakynthos wedding, then this blog post is just for you. We created this guide in hopes of presenting all the relevant information for a wedding here.
Our series "Discover Greece" show the less popular wedding locations available in Greece. This week, we chose Thessaloniki, so we are ready to provide couples with all the need-to-know information for planning a wedding in Thessaloniki! The mini-guide will present a brief introduction of Thessaloniki, getting around Thessaloniki, popular Thessaloniki wedding venues and others.
All in all, if you find yourself undecided about choosing the right location for your perfect wedding in Greece, feel free to contact us. We've organized several destination weddings all around Greece. We would be more than happy to assist you in making your dream come true!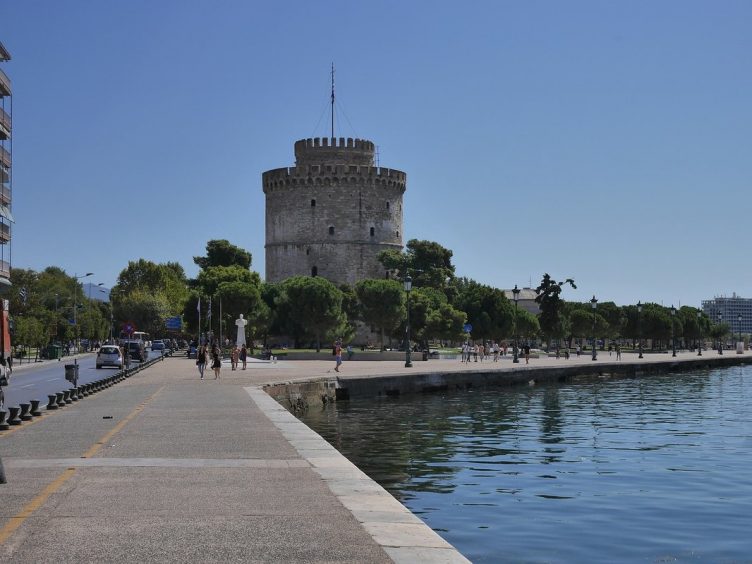 DESCRIPTION OF THESSALONIKI
Thessaloniki is the second-largest city in Greece, with an above 800000 urban and above 1000000 metro population. It is famously known for its festivals (such as the Thessaloniki International Film Festival). Internationally people know the city for its vibrant culture and refer to it as the cultural capital of Greece.
As a tourist destination, magazines such as National Geographic include it as a top tourist destination. The vibrant cultural lifestyle present in Thessaloniki has led its center to be amongst the most popular places for street photography in Greece.
The city itself has a rich cultural history. This includes Byzantine monuments and ancient Greek structures left by Greek civilizations.
Thessaloniki's vibrancy as a cultural center, the many events it hosts, and the popularity it receives from visitors means that it is a popular hub.
All in all, planning and coordinating your wedding in Thessaloniki means that you are aware of any events that may take place on your wedding date. This also means that you are aware of how they may affect you!.
The next step in planning a wedding in Thessaloniki is to consider the weather. We've included a weather widget below so you can check out the weather forecast of Thessaloniki 7 days in advance. This weather information will help you plan your wedding in Thessaloniki.
WEATHER AFFECTING A WEDDING IN THESSALONIKI
Perhaps the biggest factor affecting the weather in Thessaloniki is the sea as it is located right next to the sea.
The weather in Thessaloniki is typical of the Greek weather fluctuations. Warmer temperatures dominate the summer months and colder temperatures during the winter months. As such, the average sea temperature is much warmer from June to July than for any other months. Typically, during the summer season, the average temperature is around 24-25 degrees Celsius. The temperature drops sharply during the colder winter months, averaging around 4 degrees Celsius. November and February seem to bee the months with the highest average rainfall.
If you're considering winter months (and specifically the ones with the highest rainfall) then it is good practice to plan venues suitable for the rain. The same applies to transportation. Entering and exiting a vehicle can be a huge nuisance, particularly while wearing a wedding dress or a custom suit. As such, make sure to plan for appropriate measures. This could be a person helping the passengers in and out of a vehicle or having an inside parking lot.
All in all, if you're considering a summer month then you will have greater choices in more "open" wedding celebrations. The summer months of August and September seem to have the least amount of average rainfall. Depending on whether you plan for pre or post-wedding events, or venues with an open rooftop, weather information is very important.
VENUES FOR A WEDDING IN THESSALONIKI
After you consider weather options and the impact each may have on your wedding, its time to begin the venue research. Although wedding venues in Athens Greece tend to be more well-known, Thessaloniki has some equally stunning venues as well.
Let's begin by evaluating hotels.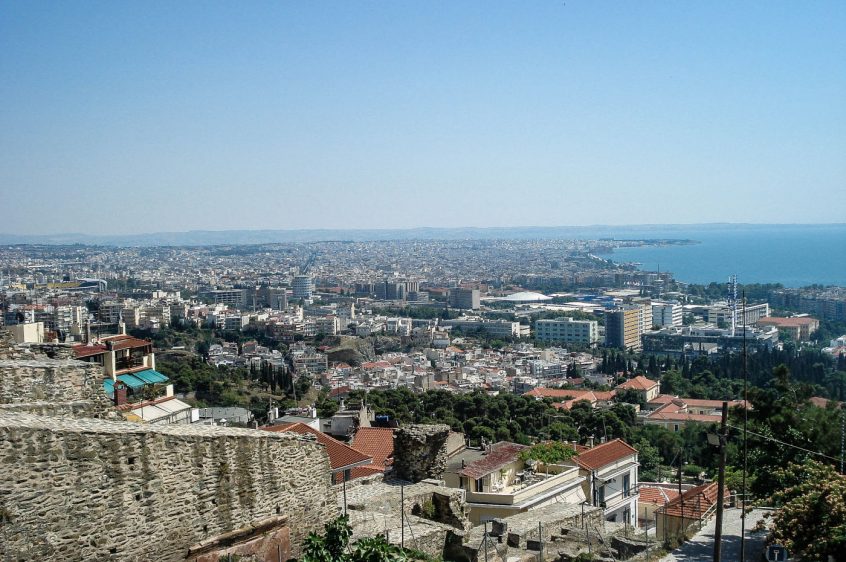 WEDDING HOTELS IN THESSALONIKI
A few great hotels in Thessaloniki.
HOTEL PANORAMA
Hotel Panorama is a four-star luxury hotel that offers stunning views over both the Thermaic Gulf as well as the city. It provides the couple's guests with excellent accommodation options, and the couples themselves with luxurious bridal suites.
What makes this a great wedding venue choice is that it also offers beautiful interior and exterior reception areas. Additionally, couples can plan to have all their guests living in the same area as the reception will take place, severely limiting the transportation costs and logistics needed.
It is also strategically located close to the city center, as well as just 15 minute's drive from the International airport. As such it is very easily accessible by international travelers, further reducing any extra transportation. For those that also want to experience varied forms of entertainment, the Regency casino is also merely 15 minutes away from Panorama.
All in all, couples that have their wedding in Panorama will get to stay at an excellent hotel. They can also combine their accommodation with their wedding reception. Really easy to have an after-party that lasts all night long when your bedroom is just a few feet away!
HOTEL MAKEDONIA PALACE
A beautiful and grand 5 start hotel located in Thessaloniki. The hotel holds 283 rooms and suites in total, offering luxurious accommodation options for all. Hotel Makedonia Palace sits directly in front of the Thessaloniki beach and offers a great view of the beach. Additionally, it is also a great area to take long walks alongside the beach. A few meters away is the world-famous White Tower of Thessaloniki, and just five minutes away one can find the city center.
All in all, Makedonia Palace has various areas for a wedding reception. This allows both small and medium scaled weddings to take place on the premise. They offer a personalized menu from their excellent chefs that will allow your guests to enjoy a great catering service.
The hotel additionally offers hot air balloon rides and private cruises. Couples can enhance their wedding in Thessaloniki with these stunning extras.
WEDDING CHURCHES IN THESSALONIKI
A few great churches in Thessaloniki.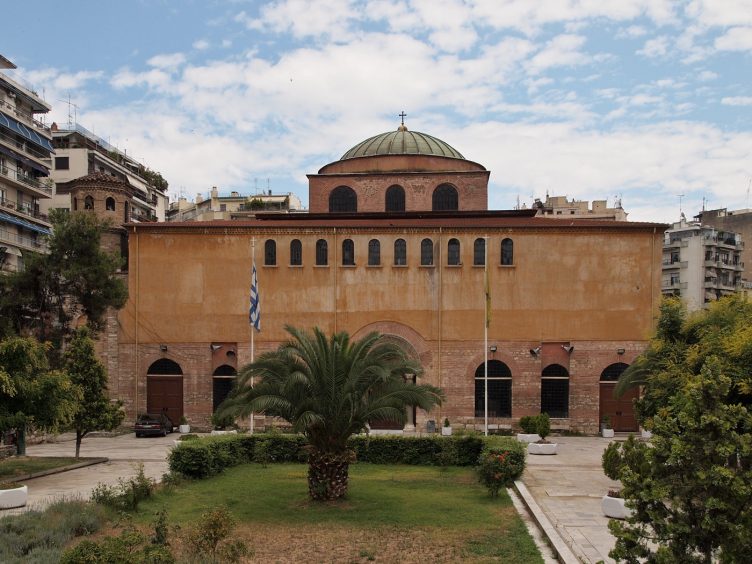 HAGIA SOPHIA
This Byzantine church is one of the most impressive churches found in Thessaloniki. It is centrally located in the city and contains beautiful wall paintings as well as stunning mosaics. Words cannot begin to describe the religious atmosphere that sets in once you visit the church. Hagia Sophia has a rich history of more than one thousand years. In fact, the wall paintings date back to the 11th century.
UNESCO has declared this church as a world heritage site, and Hagia Sophia is amongst the many monuments that make Thessaloniki a popular location for visitors interested in Byzantine Architecture.
All in all, couples that have their religious ceremony here will be left in awe by the amazing murals and overall church atmosphere. It really is a step back in time and gives the religious ceremony an extra touch of traditionalism.
VLATADON MONASTERY
The Vlatadon Monastery is located in the North City of Thessaloniki. It has a long history and is a long-standing building that is operating even to this day. Visitors that see the building from up close will also enjoy a stunning view of the Thermaikos.
It is built at an elevation of over 100 meters, which makes it visible from the center of Thessaloniki. It is also quite easy to reach from the city center.
The Vlatadon Monastery provides a very religious vibe, similar to Hagia Sophia. The monastery holds holy relics, including pieces of the holy glass from the Last Supper of Jesus Christ. It has a rich religious history that we suggest religious couples thoroughly read.
All in all, it is a great consideration for a religious wedding in Thessaloniki.
"ALTERNATIVE" VENUES FOR A WEDDING IN THESSALONIKI
A few great "alternative" venue choices for a wedding in Thessaloniki.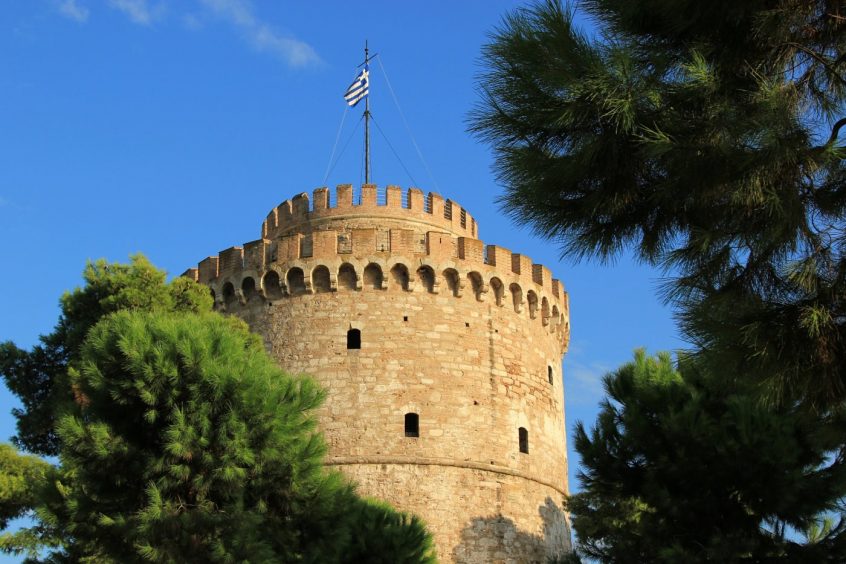 WESKG
There is no clear-cut way to describe WESKG- and that is certainly part of its beauty as an "alternative" wedding venue. It is a popular choice for more cultural event types. Its unique art is posted all around the venue and gives off a more freestyle, progressive vibe.
Was it designed to host luxurious wedding venues? Probably not.
Does that make it unsuitable as a venue? No.
You see, a wedding venue or a reception choice showcases the couple's personality and intent.
Does the couple want a less traditional, more party-lifestyle alternative venue that focuses on their afterparty? Then one can certainly consider WESKG.
All in all, it is a venue choice not typically considered for a wedding in Thessaloniki. It has its own style that is not fit for every wedding type, however, when it finds its match the result may be stunning!
MYLOS CLUB
Has been described as one of the greatest concerts and arts venue in Thessaloniki. There are several spaces for entertainment found here including the "bagoni orient express", the "woodworks" and others.
As stated previously, many consider Thessaloniki as a great cultural center. As such, it comes as no surprise that several of its venues reflect this artistic, cultural quality. Mylos club is similar to WESKG in this aspect.
All in all, it offers both interior and exterior spaces suitable for a wedding type of cultural or musical significance. Mylos is favored for the performances of several artists, whether they are painters or simply musicians.
TRADITIONAL WEDDING VENUES FOR A WEDDING IN THESSALONIKI
A few great traditional wedding venues for a wedding in Thessaloniki.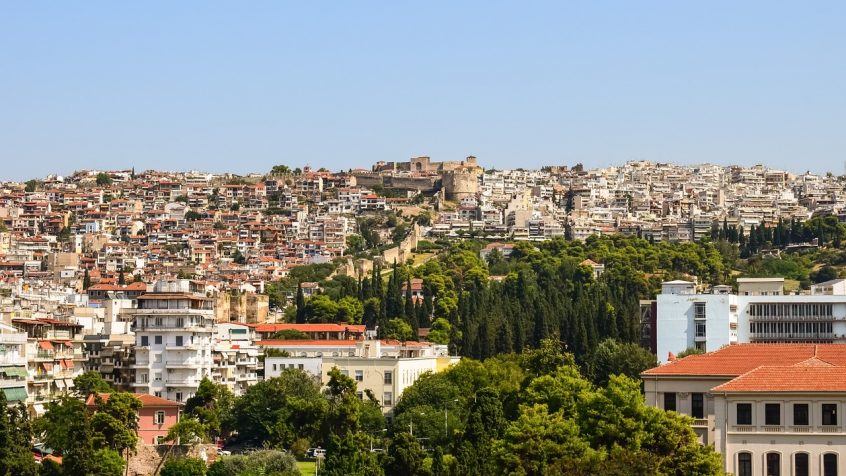 KTIMA CHRISTIDI
One of the most elegant and most popular wedding venues in Thessaloniki. It combines a vintage glow, and it provides a huge space of space and light. The venue is located in Ano Peraia of Thessaloniki and is a wide area full of olive trees overlooking the Thermaikos Gulf.
It is suitable for medium and large weddings as it has a maximum capacity of 1100 guests in total. The indoor area can host 300 guests while the outdoor area can host the other 800. This area has a pool bar and indoor bar, projectors, and musical infrastructure. This means that couples planning their wedding here do not need to include an external partner for the sound in their budget. Additionally, the venue also includes a parking lot that can hold around 250 cars.
All in all, couples that book this venue will enjoy the additional benefits of having the sound systems included in the venue cost as well as parking capabilities. This is a great incentive for a wedding in Thessaloniki when combined with the beauty of the venue itself.
KTIMA DEDA
This beautiful wedding venue is an excellent choice for a wedding in Thessaloniki. What makes it an excellent choice is that it provides a great view, it's surrounded by nature and it has an abundant parking area. Even though its more suitable for a summer wedding because it has a massive outdoor area, it also has an elegant indoor hall suitable for winter.
For couples considering a religious wedding, the venue also included beautiful chapels. Specifically, the chapel of Saints Konstantinos and Eleni is, two very beautiful chapels, are present on the premise.
The venue also offers a great catering service, with tasty dishes and high-quality menus.
All in all, couples who love grand outdoor green areas will be pleased with having their wedding in Thessaloniki here. Beautiful views, grand terraces, easy accessibility, and parking are but some of the positive features this venue offers.
CONCLUSION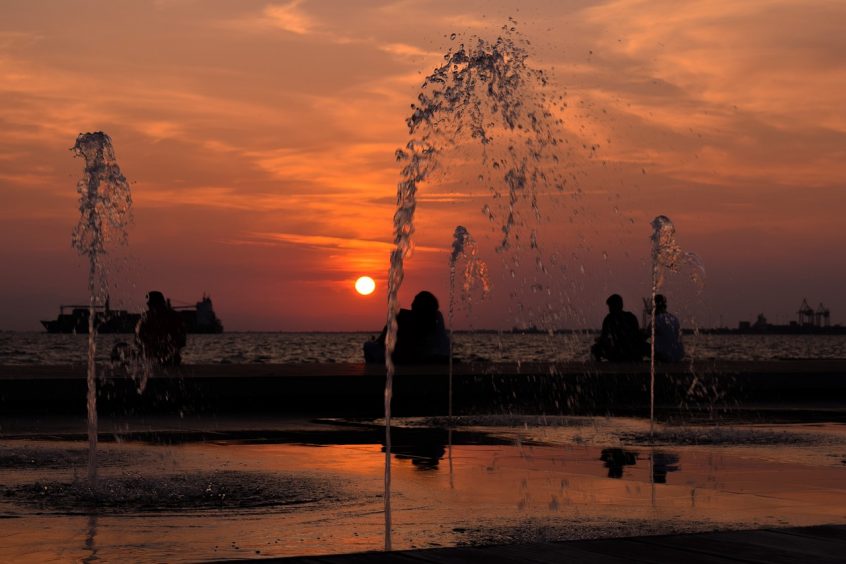 Wedding planners in Greece are the most diverse and experienced planners worldwide. This is because Greece has several different locations, each suitable for diverse wedding types (religious, beach wedding, civil & symbolic).
Different locations that offer different venues suitable for different wedding types means that a Greek wedding planner has an infinite scope of wedding concept opportunities.
A wedding planner in Thessaloniki, a wedding planner in Athens, and a wedding planner Santorini may all specialize in their area. Even though weddings in Greece Santorini may differ from a cameo island wedding in Zakynthos, most wedding planners are all equally capable of planning and organizing a wedding in every location in Greece.
Excluding the mentioned venues, a wedding in Thessaloniki is a great choice because it also offers great accessibility. Thessaloniki has an international airport located close to the city, easily accessible by car or bus. This means that couples that plan a destination wedding here can reduce unnecessary travel. Public transits and taxis are also plentiful in the city, which means guests can easily explore the city on their own.
CHARACTERISTICS OF THESSALONIKI
Thessaloniki also offers different hotel choices, suitable for guests for all budgets. There is plenty of both low rate and high rate hotels. Many of these hotels are within walking distance of each other. Couples can easily book one or two hotels for their guests to be grouped together in the same area.
All in all, a wedding in Thessaloniki offers a similar wedding experience to a wedding in Athens. The main difference being that it is a less well-known choice when compared to Athens.
If you want to find out more about booking a wedding planner for a wedding in Thessaloniki, feel free to click here to contact us! We love assisting couples who consider Greece as their wedding destination!