When people think of Greece, and a wedding in Greece, their minds do not think of Lindos weddings. Instead, what they often immediately think of, are two destinations: Santorini and Mykonos.
And who can blame them?
The beautiful white architecture of the buildings that combines beautifully with the view of the sun setting beyond the deep blue waters is an unforgettable Santorini image. Additionally, the image of the countless hundreds of thousands that visit the shores of cosmopolitan Mykonos to party is widely recognized.
Amongst those that immediately recognize those two popular Greek islands, few know about the beauty of Lindos, and even fewer experience the beauty of a wedding in Lindos. Yet, in the case of Lindos, its low popularity compared to Santorini and Mykonos does in no way indicate a lack of beauty.
In fact, Lindos is not included in our guide for getting married in Greece as a top wedding location. However, this does in no way reflect poorly on Lindos since we included only five Greek locations. Through this dedicated blog post on Lindos weddings, we want to share all the beauties this wonderful location could offer and why you should consider Lindos as your wedding's destination.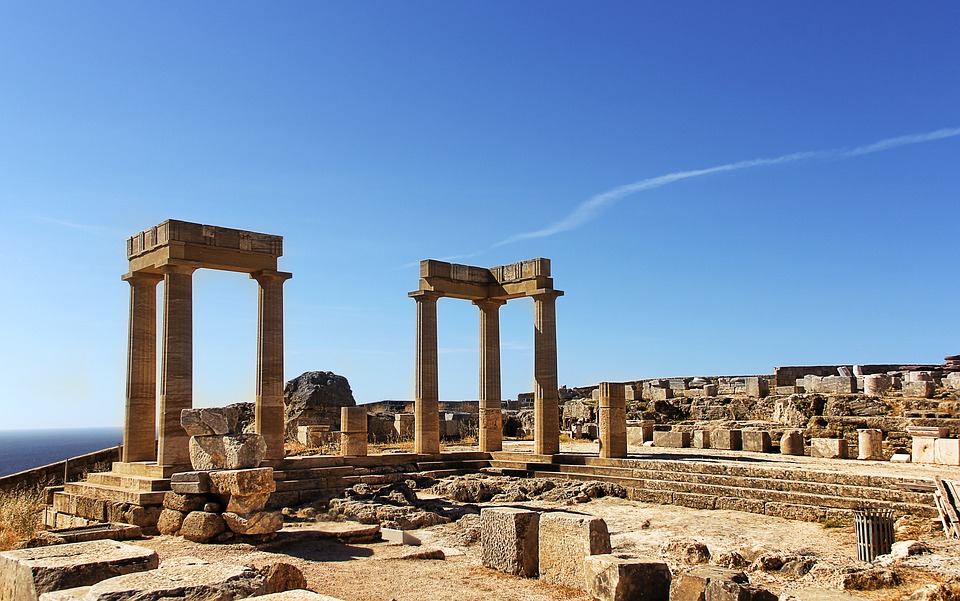 LINDOS WEDDINGS: THE NATURAL BEAUTY OF LINDOS
Excellent areas to explore.
ACROPOLIS OF LINDOS
Two Greek terms "Acro" and "Polis" make up the term "Acropolis". The literal English translation is "The edge of the town". This term refers to the elevated terrain that reveals a view many kilometers in each direction. The Acropolis of Lindos is no exception. In fact, it provides such a natural military advantage that every military force that occupied the area would fortify it. This includes the Ancient Greeks, Romans, and Byzantines amongst others.
Today it offers great sightseeing material. Guests that walk through the Acropolis of Lindos take a trip back in time.
They view:
A Rhodian warship cut into the rock at the base of the steps that lead to the Acropolis of Lindos
Hellenistic stairs that lead to the archaeological site
Parts of a Roman temple
The Doric Temple of Athena Lindia.
The castle of the Knights of St. John
Prepare to have plenty of water bottles and good hiking shoes since you will walk a lot. This is a great pre-wedding activity to organize with your wedding party. You will get the chance to experience Ancient Greek history, while you bond on your mini-field trip. Lindos weddings offer this incredible sightseeing opportunity. Additionally, you can inform your wedding photographer to conduct a unique wedding photoshoot there.
THE CASTLE OF THE KNIGHTS OF ST. JOHN
We find this medieval castle within the site of the Acropolis of Lindos. The castle was originally built by crusaders during the 14th century, fortifying immensely the strategic advantage this location offers. In fact, the towers built during that period still stand today at approximately 500 meters in height. A trip through this medieval caste will show guests the magnificent architecture, as they will see the two towers that still stand.
To sum up, it is located right at the heart of the village of Lindos and is an excellent location for sightseeing. As mentioned previously, the couple can organize a mini field trip for their wedding party here as a pre or post-wedding event. Additionally, we highly recommend discussing with your professional photographer for a photoshoot, as part of a unique opportunity that Lindos weddings could offer.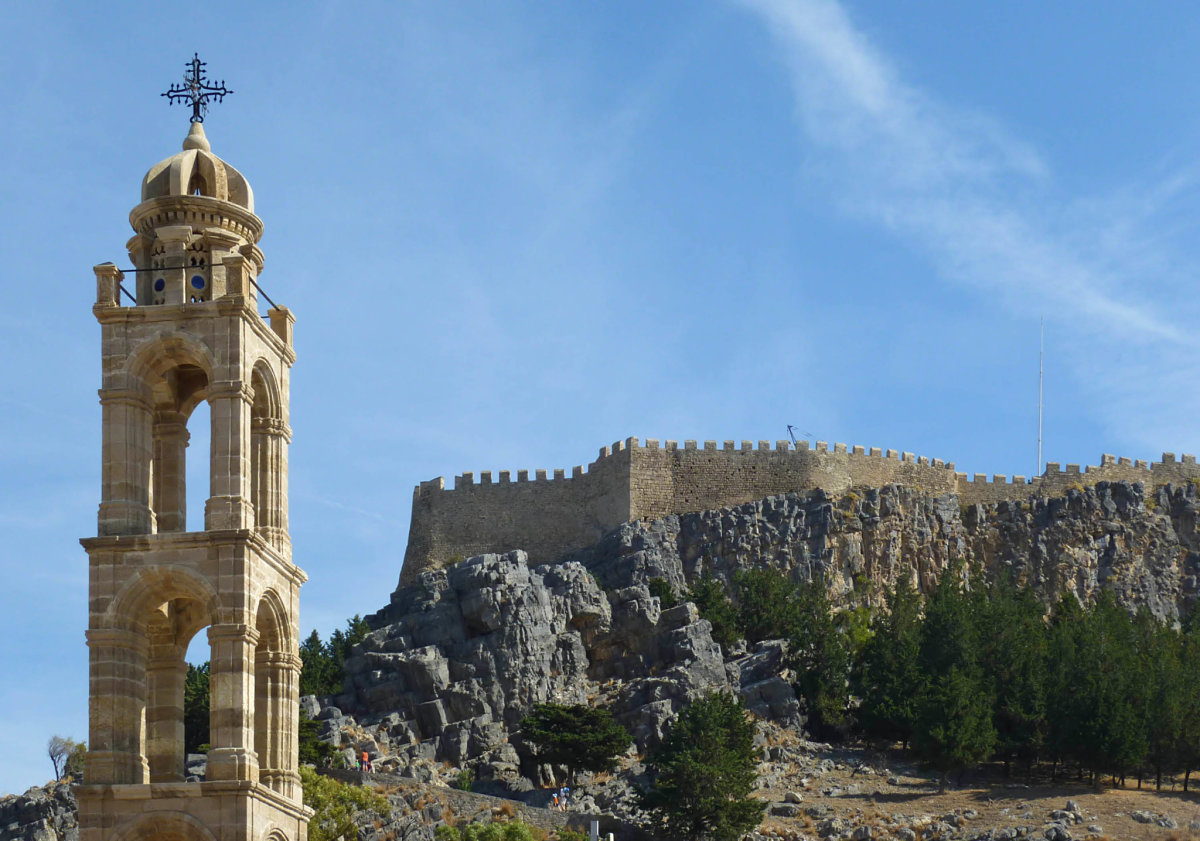 WEDDING VENUE CONSIDERATIONS
Excellent wedding venue choices.
THE CHURCH OF THE PANAGIA
The name "Panagia" is one of the most common Greek Orthodox names used to refer to the Mother of God. This holy church is found on the left of the Acropolis of Lindos and offers a mesmerizing sight to visitors and worshipers alike. Believed to have been constructed in the 1300's, the Church of the Panagia has a red-tiled roof and white walls, a small courtyard, and a stone build bell tower.
The inside of the church is decorated by the typical pebble mosaic found in many Orthodox churches and features a fully decorated marble wall full of religious paintings. Guests will find it impossible to avoid experiencing the religious atmosphere present in this holy site. This is especially true once they gaze at the roof towards the frescoes of the Virgin Mary, Jesus Christ and the Saints of the famous Gregorios of Symi.
This is an excellent wedding ceremony venue choice for deeply religious and traditional couples. In fact, the entire religious, almost "biblical" atmosphere perfectly complements a religious wedding typesetting. All in all, it is a great choice for couples who would like to experience a Greek traditional wedding as part of their destination wedding experience.
ST. PAUL'S BAY CHAPEL LINDOS
This is one of the most popular wedding venue choices for Lindos weddings, if not the most popular one. A deeply historical and cultural area, across from the Acropolis of Lindos and right beside the sea. The beautiful small chapel is available only for Greek Orthodox weddings; however, any wedding type is possible on a wooden platform above the sea at St. Paul's Bay.
All in all, this type of ceremony is suitable for couples who love the sea element and for those who want to have a private elopement. The small size of both the chapel and the wooden platform atop the sea is ideal for Lindos weddings of lesser size.
MYTHOS ALL-DAY RESTAURANT
is centrally located between the Acropolis of Lindos and the Harbour of Lindos. It offers a great sea view, and it can be found in the middle of Lindos square.
This wedding reception venue prides itself on its exquisite menu, elegantly crafted to satisfy every taste bud regardless of culture or taste. This romantic venue with a beautiful view can accommodate between ten and one hundred guests.
All in all, Mythos All Day Restaurant is a suggested choice for couples that look for authentic Greek dishes with a great view, and a restaurant reception setting. The couple's guests will be sure to enjoy dining in the entire Greek destination wedding experience.
KTIMA LINDOS
A venue choice available during the Greek summer season (May-October). Ktima Lindos is just one kilometer away from the village of Lindos.
This wedding reception choice has several indoor and outdoor amenities to enjoy. In fact, the outdoor pool, restaurant, and indoor bar seem to mix effortlessly with the stunning sea view available.
A great reception venue choice for couples who like to have several amenities available to them. Additionally, it is a great choice for couples who prefer something alternative to a typical restaurant setting for their reception.
CONCLUSION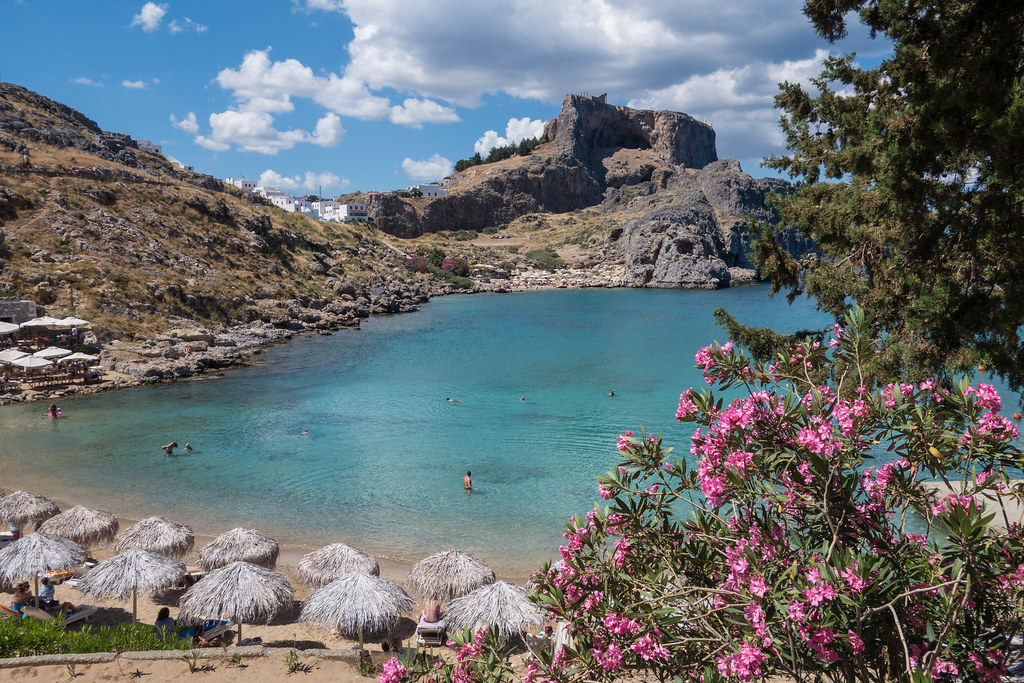 This blog post looks at popular locations found in Lindos to asses them through the lens of a wedding planner. In fact, the entire purpose of this Lindos wedding blog post is to evaluate wedding options in Lindos. Pre or post-wedding activities, unique wedding shooting locations and different venue options for different wedding types are found in Lindos. To sum up, Lindos is a lesser-known Greek wedding location. Yet, it contains very beautiful historic landmarks and we suggest this option for couples that look for a less popular, alternative location to marry.
If you want to find out more about how to setup a wedding in Lindos, feel free to click here to contact us! We love to assist couples who consider Greece as their wedding destination!