A wedding in Hydra creates a stunning wedding experience. In fact, wedding enthusiasts globally can attest to the beauty of the island itself. It may not be as well-known or popular as Mykonos or Santorini, but we consider Hydra Greece in the top 5 for "best wedding islands in Greece".
One of these top 5 locations is the dreamy Santorini, which offers gorgeous amenities for a Santorini wedding to take place. However, these islands are quite different.
Hydra is located on the Aegean Sea and is part of the Saronic islands. It is a beautiful island, full of history, where cars are forbidden. However, the island also receives heavy visitor attention. This is undoubted because of the island's beauty and because venues such as the Sunset Bar (voted 3rd best sea view venue; not to be confused with sunset restaurant Oia) are stunning.
WHY HYDRA FOR A WEDDING?
Recent years have seen a great spike in the weddings that take place here. Couples that love a traditional, cultural vibe fit right in since the island is surrounded by hilly terrain and rocks.
Hydra is known for its more soothing weddings. Undoubtedly this is because the island forbids automobiles, meaning a reduction in noise pollution. As such this fact helps enhance a more relaxed feeling.
This guide aims to break down every single aspect of a wedding in Hydra, from the ideal locations, to the best venues, and to the best wedding planning tips!
If you're considering Hydra for your destination wedding location but feel like the wedding planning process is too daunting, feel free to contact us for assistance. We love assisting couples that consider Hydra Greece as their destination wedding location!
BRIEF HISTORY
Although little is known about Hydra before the Ottoman era, the original inhabitants of the island were believed to be Mycenaeans. After the fall of Constantinople to the Ottoman empire, the inhabitants started seeking refuge further on the island and higher up the mountains. This was because of the numerous pirate attacks on the island.
Hydra's emergence at the forefront began roughly after it developed strong naval commerce. Its strong fleet would allow it to prosper and develop into a very rich harbor.
This would prove vital in the Greek War of Independence, where the inhabitants were able to both fortify the harbor and provide funds to the Greek side. In fact, Hydra was the first island that was liberated from the Turkish forces. This is also the reason why the flag of Hydra marches before the Greek flag during the Independence Day parade of Greece on the 25th of March.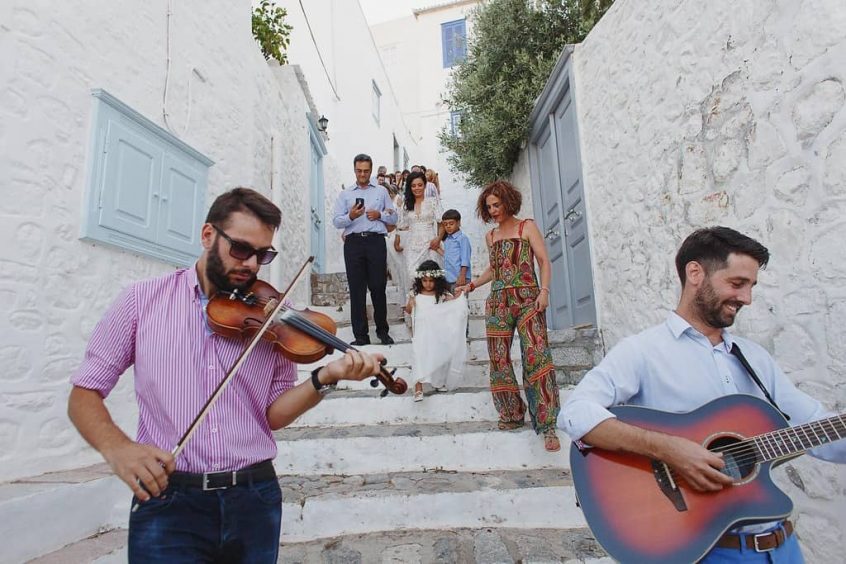 HIRING A GREEK WEDDING PLANNER
An important question you should ask is the following: Do I really need a wedding planner for a destination wedding?
Well, the answer comes down to you. For instance, do you value having great control over every wedding detail for your wedding in Hydra? Making sure everything gets done in time? Reducing unexpected surprises to a minimum? Do you want to have your budget under control?
Then yes.
First, wedding planning is a huge time commitment with immense responsibility. Having work and family obligations places great stress on the wedding planning process. The pressure furthermore increases when a lack of experience comes into play. For example, your budget spikes because you underestimated the cost of a venue. Or the venue quote given to you did not contain the sound & lighting company.
The reality of the situation is that couples often decide to forego the wedding planner's fee. They take it upon themselves to plan a magnificent wedding. More often than not this backfire.
REACHING THE ISLAND
Please note that Hydra Greece does not have an airport. As such it is only accessible by ship. The easiest way to reach the island is by catching a ship at Piraeus harbor. Piraeus harbor is also close to Athens International Airport so you will be able to reach it via taxi or shuttle.
Another alternative (should your budget allow it) is riding in a helicopter. The helicopter ride till Hydra will land in the islet of Kivotos. Afterwards, you will be able to take a sea taxi to reach your desired coast/harbor.
EXPLORING THE ISLAND
Another special note for Hydra is that they do not have automobiles. You will not be able to rent a car or a bike. The only vehicles on the island are government vehicles (for example sewer trucks).
There are numerous fun traditional ways to get around the islands:
These include:
Mules
These are by far the most common means to transport baggage. Usually, accommodation prices do not include mule transportation similar to a hotel not including cab fares. Since Hydra has several steps, and your accommodation option or wedding venue may be quite some distance away, it is good practice to hire someone. Remember that Hydra does not have vehicles and has plenty of steps.
Handcrafts
Unfortunately, you are not able to personally travel on a handcraft. However, these handcrafts for hire will be able to carry your luggage to your destination. Once again, there are no vehicles in Hydra so if you have several wedding accessories that need to reach your venue you will need a handcraft or a mule. Your wedding in Hydra will depend on being able to properly transport equipment to the appropriate venues.
Sea Taxi
The ability to explore the island by sea is one of the most wonderful ways to experience Hydra! Note that sea taxis can take passengers only on one-way trips.
Beach Boats
These are used to ferry people to and from the organized beaches. These are different from sea taxis whose purpose is to transport passengers to set areas (not necessarily beaches). Beach boats are another great way to experience the island since you'll be able to combine your walks with great sea adventures!
HYDRA WEDDING STYLES
As mentioned before, Greece is an excellent country for a destination wedding since it offers many different locations for many different wedding types. For a wedding in Hydra, however, two wedding types are most suitable:
Organic themed wedding
Elegant weddings
The island has a rocky, green feeling to it. This makes it very suitable for an organic themed wedding that will have elements of green, rocks and the overall "earth". Additionally, the many great venues on the island, such as Sunset Restaurant, are suitable for grand elegant weddings.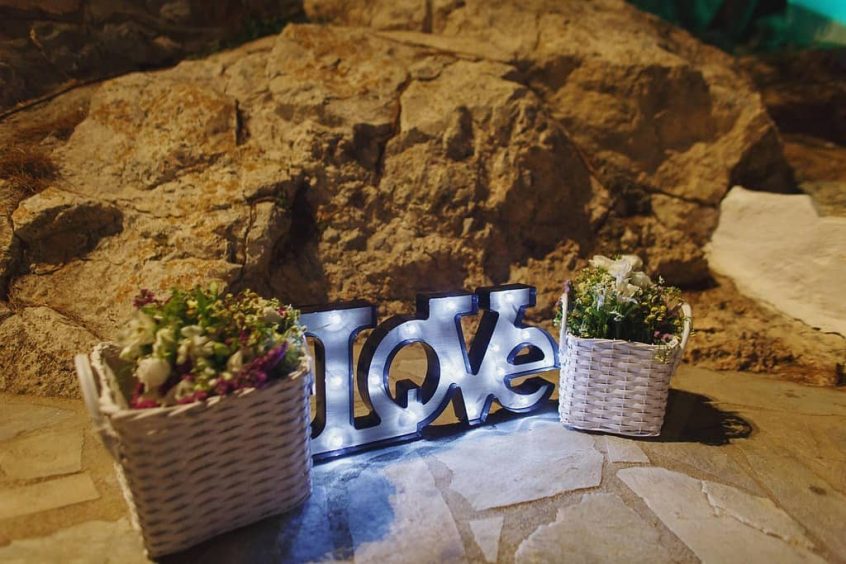 IMPORTANT PRE-WEDDING CONSIDERATIONS
These are important wedding considerations for all weddings, not just for Hydra.
VENUES
Wedding enthusiasts consider this the "bread and butter" of a wedding (after the location). This is an extremely important aspect of a wedding since the entire ceremony and/or reception will take place there. Floor plans, decorations, seating arrangements, catering and bar management companies and more will involve themselves to execute the perfect wedding.
MAKEUP & HAIR STYLE
The hairstylist and makeup artist's role is on the wedding day. However, the couple should do proper research and select their professionals well before the wedding day. Like all wedding professionals, experienced ones will be in high demand. The earlier you select them the better off you will be.
SOUND AND LIGHTING
The sound and lighting company will give "life" to your wedding event. Being able to ensure the acoustics in your venue is in proper order, and the lighting is just the right intensity can instantly transform a great venue into a stunning one. Even though the sound and lighting companies will work only on your wedding day, couples need to select them well beforehand. All in all, couples need to remember that they will likely incur the transportation costs of the company if they need to travel to a couple's wedding.
PHOTOGRAPHERS AND VIDEOGRAPHERS
One of the most important elements of the actual wedding day. Photographs will ensure your wedding memories will always be alive. Cinematographers, on the other hand, will be able to transform your entire wedding day into one stunning film. All in all, we suggest that couples select both as they will regret rejecting either professional!
FLORISTS
These wedding professionals provide live decorations, that will entice your senses. Any already beautiful venue can and will be instantly transformed by the presence of flowers in the wedding area. Photographs will instantly be enhanced by the presence of flowers, and the entire wedding area will be "lit up". All in all, flowers are the most important wedding decoration consideration.
BAR MANAGEMENT COMPANIES
What is a dining experience without the appropriate soft drinks and/or alcohol? Drinking often goes hand in hand with celebration. As such, what better way to celebrate such a joyous occasion? Just make sure you properly communicate your request to the appropriate bar management company. For example, if you want to plan to have an all-night party after your wedding then you should consider an open bar.
CATERING COMPANIES
Wedding professionals will be responsible for your superb dining experience. Be that a private villa gathering, or a grand luxurious venue sitting, these professionals will make sure your meals are delivered up to standard. A thorough food tasting and menu brainstorming will be required by the wedding couple and/or the wedding planner to ensure wedding type consistency. All in all, one of the most fundamental factors of a wedding.
In summary, if you want to learn more about important wedding considerations, we recently wrote an ultimate guide to getting married in Greece. This 12000-word guide contains all the important wedding details and timelines needed to plan your wedding. You can definitely use it for your wedding in Hydra.
VENUES FOR A HYDRA WEDDING
Here we will look into various hotels, restaurants, and beaches in Hydra. Some are great choices for accommodation, while others are best suited as a wedding venue for a Mykonos wedding.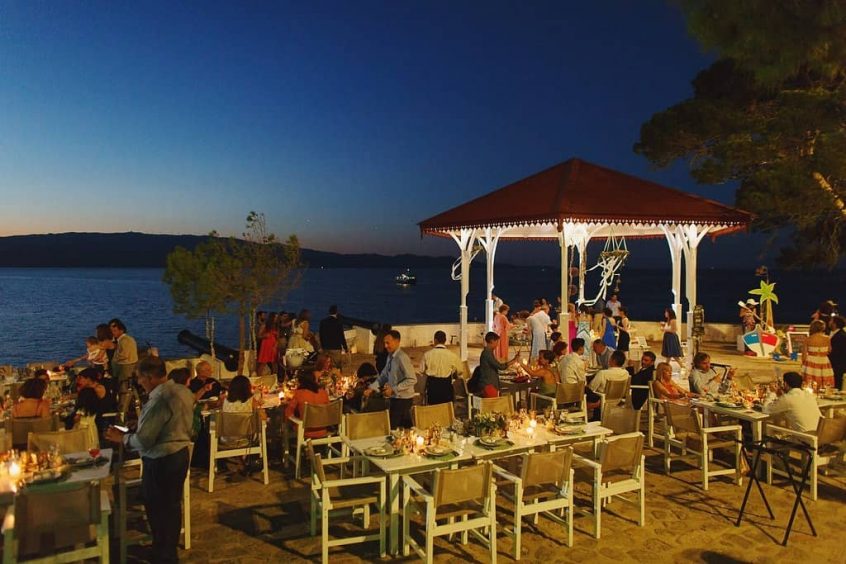 HOTELS IN HYDRA
Great hotel options.
BRATSERA
Bratsera Hotel is the only hotel in Hydra with a pool. If you love the hotel pool experience, you will love this beautiful little establishment. It's right next to the harbor (less than 100 meters) so you will get to avoid walking up and down steps.
All in all, it is a 4-star hotel that retains the traditional quality and architecture prevalent on the island. In fact, its very name is a reference to the "bratsera" or mother ship used by sponge divers. The building still retains reminders of the sponge diving industry. Private ceremonies for a wedding in Hydra are best suited here due to the small establishment size.
MISTRAL HOTEL HYDRA
An intimate, semi luxurious, traditional stone mansion that has been expertly transformed into a hotel. It is medium-sized, with 17 cosy rooms, and a mere 3 minutes walking distance from the port.
Their beautiful garden is a wonderful area to enjoy your breakfast. Additionally, it is a wonderful small area to transform into a beautiful private ceremony area. All in all, a great accommodation choice for hydra.
CHURCHES IN HYDRA
The following churches/small chapels can be found throughout the island:
St Georges-Hydra Town
Agios Haralambow-Vlychis
Agia Barbara – Hydra Town
Church of the Prophet Elias
Agios Gedeon Church
and others
Most churches/small chapels in Hydra have a small guest capacity. This means that couples that desire a religious wedding should carefully consider their guest number.
All in all, it is better to thoroughly discuss your plans with both your wedding planner and the priest. This will allow you to find the perfect church, that can accommodate your ideal guest number.
BEACHES IN HYDRA
Wonderful beaches in Hydra.
Kamini Beach
One of the closest, if not the closest, beaches to Hydra Harbor. Its close proximity to the harbor makes it an excellent choice for those that prefer not to travel too much.
The beach can be accessed by horseback ride, water taxi, and on foot.
The amazing restaurant of Castello overlooks the entire sea. It offers great leisure to sun-loving visitors and great cocktail choices.
All in all, it is a pebbly beach that's relatively close to Hydra harbour.
Vlychos Beach Hydra
One of the "sandiest" beaches on the island, Vlychos stretches for around 1 kilometre. There are several sunbeds as well as empty patches of sand where sun-lovers can get their tan on.
The beach is a beautiful little haven, with several restaurants ready to serve thirsty and hungry swimmers.
Visitors can access the beach both by foot and by water taxi for those that enjoy the sea ride. All in all, its close distance to Hydra harbour (around 1 km) is perfectly suitable for those that don't want to travel too much!
RESTAURANT FOR A WEDDING IN HYDRA
Wonderful restaurants in Hydra.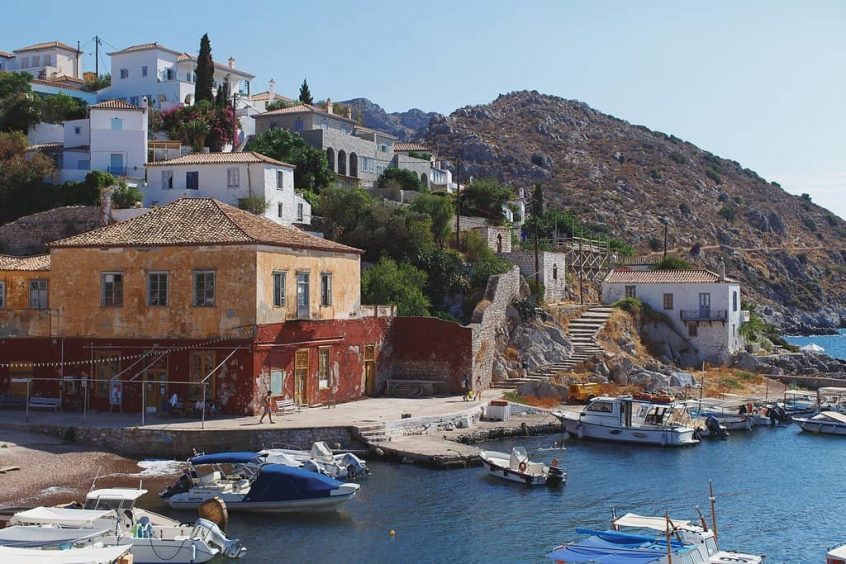 CASTELLO
This wonderful modern restaurant sits on top of Kamini Beach. It offers a spectacular sea view, tasty Mediterranean dishes, and a comfortable seating area.
Castello Hydra is an amazing wedding venue for prospective couples. You can combine your wedding in Hydra ceremony with your wedding reception. This means that couples can exchange vows right next to the sea in a wonderful Seaview area.
SUNSET RESTAURANT BAR
The location of this restaurant (right next to the sea) makes it an excellent choice for both dining and hosting your event. Couples will be able to serve their guests amazing meals, and marry while observing a wonderful sea view.
Although its menu places a heavy emphasis on Mediterranean cuisine, the couple is free to customize it to their wedding.
All in all, it is an amazing venue, that has fragments of the past (for example cannons and architecture), and it combines them with modern touches (for example decorations and furniture). Additionally, it has a capacity of 500 guests.
OMILOS RESTAURANT BAR
A truly stunning venue where the sea is literally on the tip of your toes. The venue places several tables on an elevated platform above the same and has an equally stunning indoor area.
Whitestone dominates the exterior walls and furniture, and the elevated glass candles give Omilos Restaurant a romantic vibe.
All in all, it is a great restaurant venue to host your wedding reception for a wedding in Hydra. Especially during the night, the moonlight reflecting on the ocean floor and the night sea lights produce a stunning view.
WHITESTORIES FOR A WEDDING IN HYDRA
A Greek wedding planner takes care of an immense number of A-Z services. Namely, it is a stamp of guarantee. Put another way, Greek wedding planners are an act of insurance. They organize and plan every detail so that your budget is not burdened with avoidable costs.
In White Stories, we place the emphasis on every detail in order to achieve an exceptional event and write with you a story that creates beautiful moments and unforgettable memories.
Our philosophy is to make every moment special, unique and long-lasting. At WHITE STORIES, we consider the journey as the most important part of every event. As a result, our purpose is to make this journey as calm, pleasant and as magical as possible.
In the end, it is so much more than just one day!
CONCLUSION
A wedding in Hydra is no small deal by any means. It is a relatively expensive Greek island to have a destination wedding.
If you find that you have the appropriate budget and flexibility in your requests, then you should communicate with a planner. This will help you get indicative costs, so you can choose the services you would like for your wedding.
A wedding is a very special occasion and you should treat it as such. If you've visited Hydra Greece previously and find that you want to have a wedding in Hydra then you absolutely should!
If you choose a civil wedding in Hydra, then the beautiful town hall will be more than ready to officiate your ceremony. Just be sure you have all the paperwork ready, and that you have contacted the appropriate authorities (for example, marriage court, local representatives, etc).
OUR PURPOSE
Our purpose for this Hydra mini-guide was to create an informative, all-encompassing Hydra wedding post. From transportation information to and from the island to areas, you should visit as well as recommended venues. To read more about the destination wedding planning process you can also read our ultimate guide for a wedding in Greece which contains all the useful information needed to plan your wedding!
All in all, Hydra is a great experience that you should absolutely live with your family and friends. You can even decide to extend your stay in Greece and combine your honeymoon here as well.
If you end up combining your wedding with a honeymoon here, just be prepared for many unforgettable memories!
If you feel that you need help to organize your wedding planning, and assistance with your paperwork, feel free to contact us! We love to help couples who consider Greece as their destination wedding choice!