Popular Wedding Venues in Athenian Riviera
There are numerous wedding venues in Athenian Riviera for couples to choose from for celebrating their special day. The Athenian Riviera is one of the main attractions of Athens and offers many different locations.
First of all, it worths mentioning that this really impressive setting consists of picturesque beaches popular for their endless hours of fun, beach nightclubs, and green parks. Furthermore, the area can offer several activities, such as long walks next to the sea, cultural landmarks, water sports and golf clubs, but also famous restaurants and luxurious hotels for unforgettable experiences.
Additionally, the main areas of the Athenian Riviera are the marine of Floisvos, Glyfada, Voula, Vouliagmeni, Varkiza, Lagonisi, Saronida, Anavyssos, and Sounio.
People often say that the Athenian Riviera is the most beautiful part of Attica. This is also the reason why so many couples choose to get married in Coastal Athens. For example, the ideal sunny weather, the short distance from the city center, and the magnificent view that looks like that of an island, make it the perfect location for a wedding celebration. At the same time, the fact that couples can find several wedding venues which offer high-quality services makes the Athenian Riviera one of the most popular wedding destinations in Greece.
This week we dedicate our blog post to the Costal Athens…so please relax and take a look at some beautiful wedding venues located in the Athenian Riviera.
HATZI MANSION
Hatzi Mansion is in Keratea region of Attica. The venue has an impressive amphitheater view of the Saronic Gulf. This imposing mansion with an ornate tower and the flower garden is one of the most luxurious venues in Athens.
The owners, strongly influenced by Tuscan architecture, insisted on natural materials from the wealth of the Greek land such as marble, stone, and wood. And the result is amazing!
Furthermore, it is inextricably linked to the high quality of services and the aesthetics of the landscape.
The main characteristics of this venue are the art and tradition, but mainly their love and passion for something special.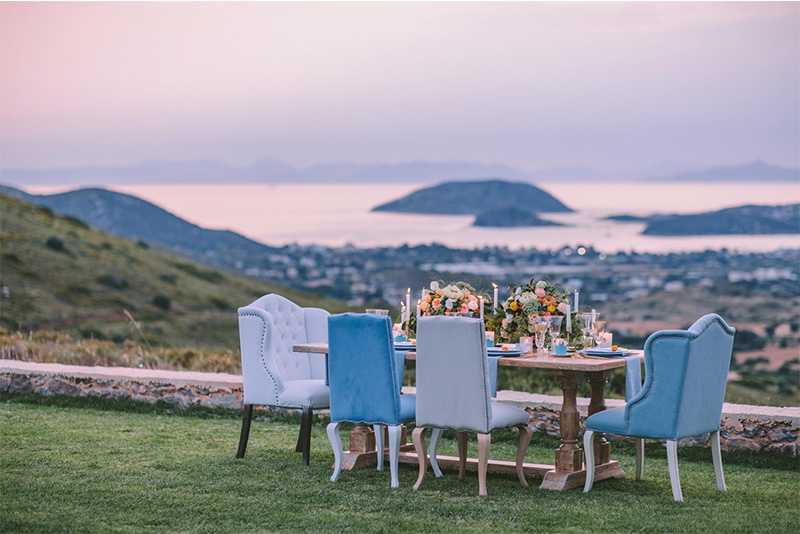 ISLAND ART & TASTE
The venue is located in the Athenian Riviera and is amongst the most beautiful wedding venues in Athens. It is certainly famous for its elegant and luxurious aesthetic and hosts a significant number of destination weddings every year with couples from all over the world.
One of the advantages that Island Art & Taste has, is that it consists of 5 venues in one. Each of them is different in terms of style and size, so that can be hosted different kinds of events! These 5 venues share a memorable view of the beautiful Athenian Riviera and are mentioned here below:
Private House
Residence
C-Lounge
Gallery
Grand Ciel
Island Art and Taste venues offer a modern design and a Mediterranean touch at the same time. Others are designed in a way that gives the feeling of being on a Cycladic island, others are full of greenery combining the sea with the green and others are of modern design and aesthetics. Therefore, it is an excellent choice for couples seeking a culturally and traditionally beautiful venue.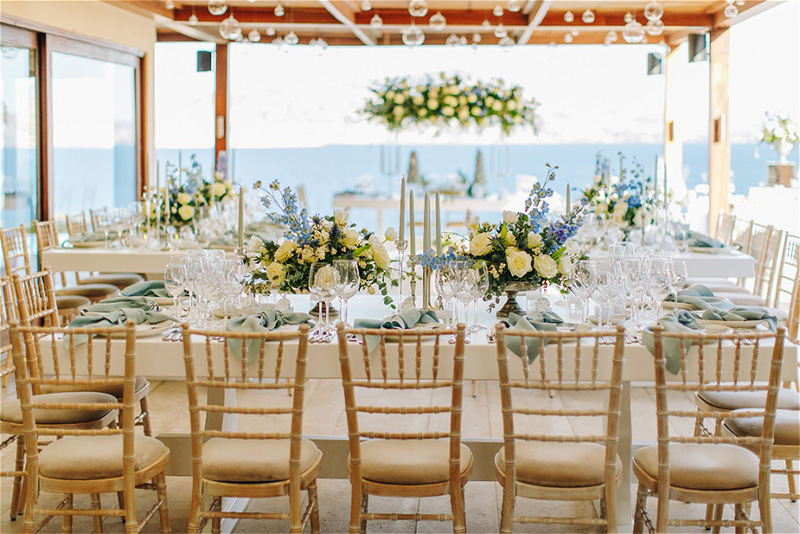 KTIMA 48
The admirable location combined with a beautiful building is what makes Ktima 48 one of the most interesting and beautiful wedding venues in the Athenian Riviera. Ktima 48 is located on the coastline of Anavyssos near Sounio.
Additionally, the estate is the ideal wedding venue for couples that look for an outdoor wedding reception with a breathtaking view, in a spacious area. Moreover, it's beautiful setting and excellent amenities make it stand out from other types of venues such as resorts and hotels. The facilities include:
A shaded lounge
Garden reception area
Bar
Pool deck
Honeymoon suite
Firepit
Additionally, religious weddings can be held at the chapel on the premises. However, for the religious couples who would rather a larger church, St. Nicholas of Anavyssos is only 1 km away.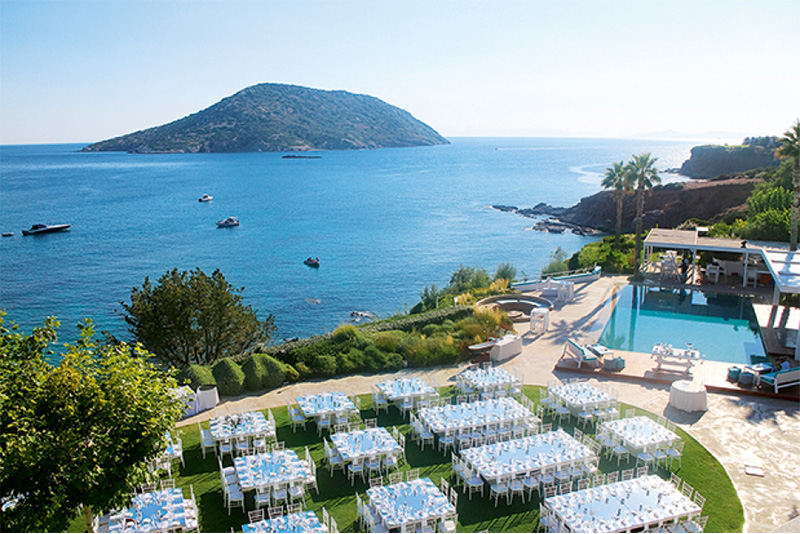 REEF THE BEACH CONCEPT
Reef Concept Beach bar is just a few kilometers from the city center of Athens. It is a special modern venue, of aesthetically pleasing vibes, with soft earthy colors. What makes it a significant venue is the fact that it is right next to the beach and couples can have their wedding ceremony on the sand, under the beautiful gazebo that the venue offers. It is the perfect venue for those who dream of a beach wedding in the Athenian Riviera.
The entire venue covers approximately 1500 square meters. Therefore, this means that the estate is perfect to host more than 300 guests for dinner, and up to 900 individuals for a cocktail. Moreover, the venue offers a luxury suite that can be used by the couple during the event.
This beautiful seaside choice is conveniently located close to both Athens city center and Athens international airport.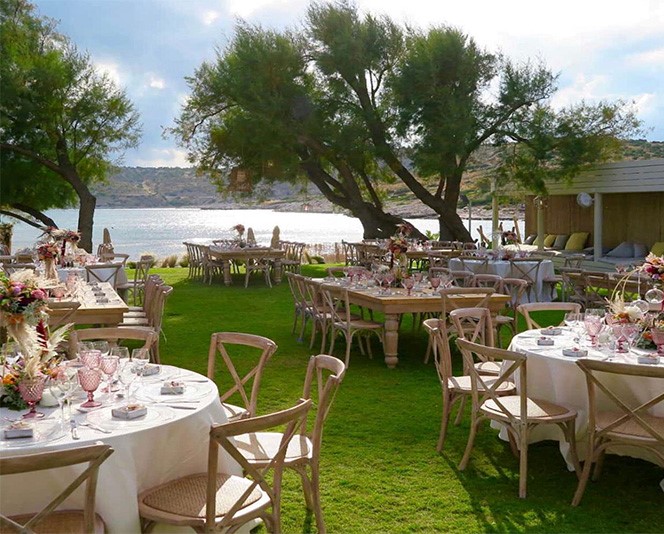 FOUR SEASONS HOTEL
Four Seasons hotel is one of the most luxurious wedding venues in Greece and more specifically, in the Athenian Riviera. It is ideal for couples who want to get married in an elegant hotel and stay there with their guests.
Furthermore, it offers a leisurely escape to the sea just 30 minutes from the historic center of Athens.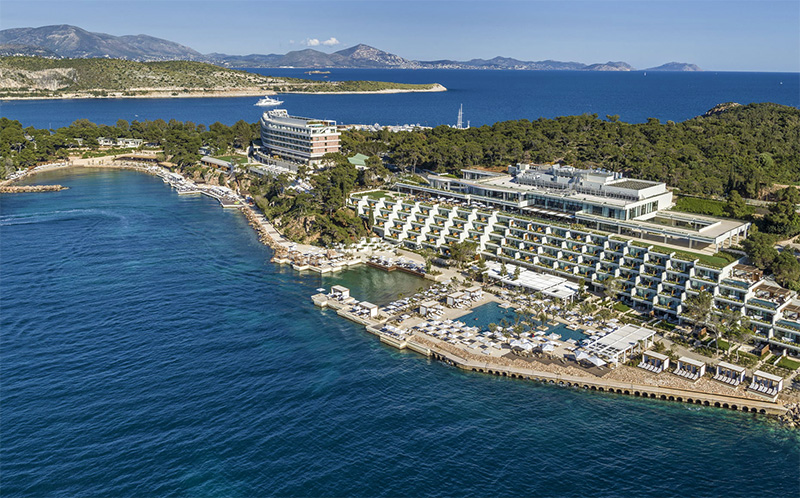 It is on a premise of 75 acres and its facilities include luxury rooms, suites, and bungalows. As well as, swimming pools, 3 private beaches, 8 restaurants, lounges and bars, tennis academy, basketball court, water sports, kids club, spa hydrotherapy, and many more.
All in all, couples who choose to marry in the Four Seasons will experience an assortment of different areas suitable for a luxury wedding and vacation.
CAPE SOUNIO GRECOTEL RESORT
Cape Sounio Grecotel Resort is set in a pine forest of the Athenian Riviera. It offers a view of Sounion, private sandy beaches, a state-of-the-art spa, and a gourmet dinner in a luxurious setting. Above all, it is a unique beachside location that faces the temple of Poseidon (one of the most famous archaeological sites in the world). It also has access via ferry, airplane, and yacht.  This superb resort offers two private beaches: one that has sand and the other with pebbles.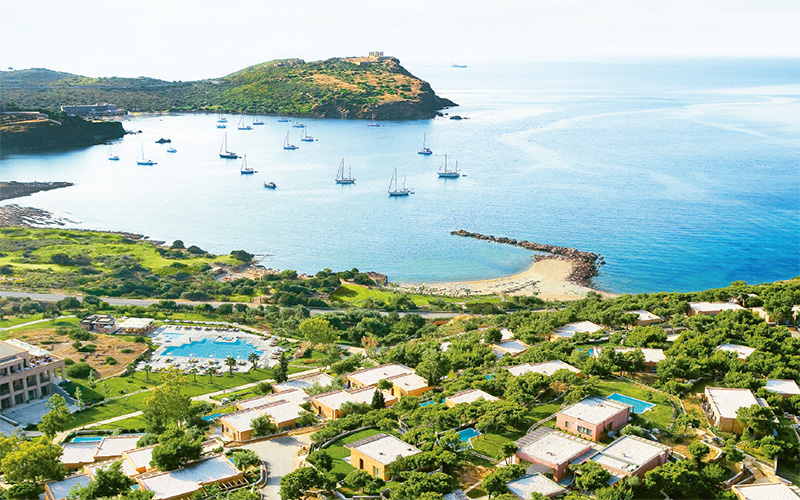 Cape Sounio Grecotel resort offers several different facilities and amenities that a couple and their guests can experience! Such as luxurious bungalows, lavish villas, a 360 spa resort retreat, 5 fine dining restaurants, 3 open-air Spa pools, several pools including a seawater pool.
Orthodox weddings can take place at the church of Panagia Eleoussa in Legrena village (1.5 kilometers from the hotel).
Indeed, this is an excellent luxurious resort to both plan a wedding, as well as have an ultimate accommodation experience.
BLE AZURE
On the beach of Alimos, there is a green peninsula where everything seems magical…
Ble Azure is a beautiful place surrounded by the sea. It is an idyllic setting with a spectacular sea view, where it always feels like summer.
The natural scenery combined with the attentive and romantic lighting gives each event a unique feeling. The combination of the water along with the trees of the venue is unique and definitely impressive.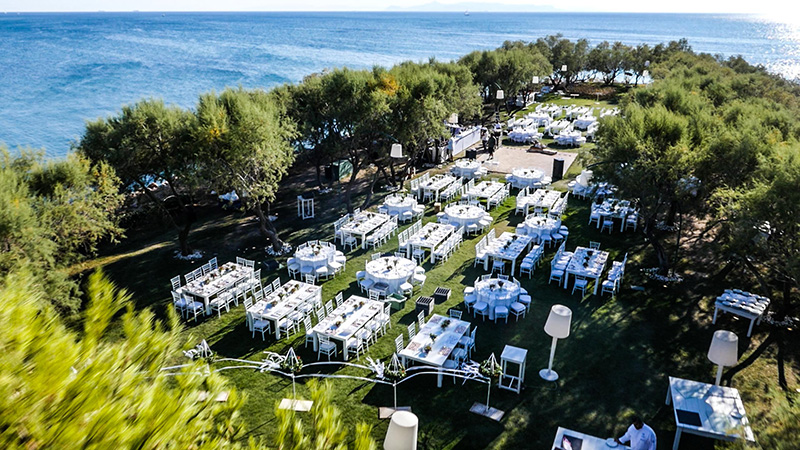 This venue has enough space to host bigger events and the potential for great setup designs among the trees! Always with a sea view no matter where one stands at the venue.
SEA SOUL
This venue offers a breathtaking view, making it one of the most iconic wedding venues in the Athenian Riviera. In fact, it's conveniently located right next to the beach and gives a sense of being in a big boat.
Guests who attend a ceremony here will notice a beautiful traditional chapel, as well as witness the endless blue sea.
There is luxury furnishing that produces a fairytale setting along with the dreaming view.
All in all, individuals can find this emblematical venue right on the beach of Agios Andreas in Nea Makri. More specifically, Sea Soul is split into two venues: Nimenia and En Thalatti. A couple can choose between these two venues according to the size and style of their wedding. Both are lovely and of high-quality design.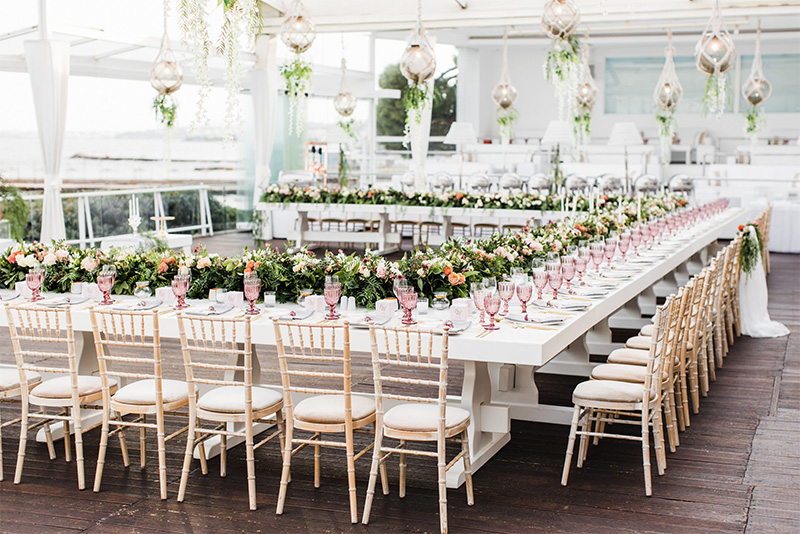 CONCLUSION
This blog post aimed to introduce and propound some of the most wonderful wedding venues in the Athenian Riviera. Our objective was to give our readers a taste, and some information, of the wedding venues in the Athenian Riviera, so they can further explore options that interest them.
It is popularly believed that the Athenian Riviera is one of the top wedding destinations. Addressed to those couples who want to have their wedding next to the sea, and at the same time limit their wedding logistics and transportation expenses. Above all, there are several different wedding venues that depend on the couple's budget, the number of guests, and wedding type (Orthodox weddings, civil weddings, exchange of vows – symbolic, etc.).
To conclude, there are wonderful wedding venues in the Athenian Riviera that are suitable for any wedding type and style. Their proximity to the center of Athens will additionally help couples, tremendously, when it comes to travel and transportation costs. Our private transfers and luxury tours partner Hellenic Tours & Transfers can help further with that. At the same time, the high quality of wedding services offered from these venues and the several options in accommodation and activities that the Athenian Riviera offers could result in an unforgettable experience!
Do you want to marry in Athenian Riviera? Do you need help choosing from the great variety of wedding venues in Athenian Riviera? Feel free to contact us!  We love to assist couples who consider Greece as their wedding destination!