There are plenty of wedding venues in Athens, and the Attica region, that help create wonderful weddings.
In fact, Greece as a whole is a great country for destination weddings. This is because it has tens and hundreds of beautiful locations that can help create a magical event for any wedding type.
There are beautiful iconic hillsides for mountain weddings, secluded lakes for elopements and of course awe-inspiring beaches for beach weddings.
Couples will certainly enjoy the chance to choose amongst different beautiful locations.
One such excellent location is none other than Athens, the "birthplace" of democracy. Athens makes for an excellent choice for a wedding since it requires less travelling than other locations.
This week we dedicate our blog post to the city of Athens, and take a look at several wedding venues in Athens.
ISLAND ART & TASTE
It is located in the Athenian Riviera and is amongst the most beautiful wedding venues in Athens.
Island Art & Taste consists of 4 venues in one. These sit on the beautiful Athenian Riviera and are:
Private House
Residence
C-Lounge
Gallery
It is one of the most popular wedding reception choices in the Athenian Riviera.
These venues offer a modern design and a breathtaking view of the Aegean. Additionally, ancient olive trees and a well-maintained garden decorate it. It is an excellent choice for couples who seek a venue that is both culturally beautiful and traditionally.
The amenities here include:
A lounge
Restaurant
Outdoor pool area
All in all, as far as seating capacity goes:
Island Art & Taste has a seating capacity of 1000 guests
Private House has a seating capacity of 400 guests
Gallery venue has a seating capacity of 400 guests
C-Lounge has a seating capacity of 140 guests.
Amongst the best wedding venues in Athens for couples that seek to marry in Greece.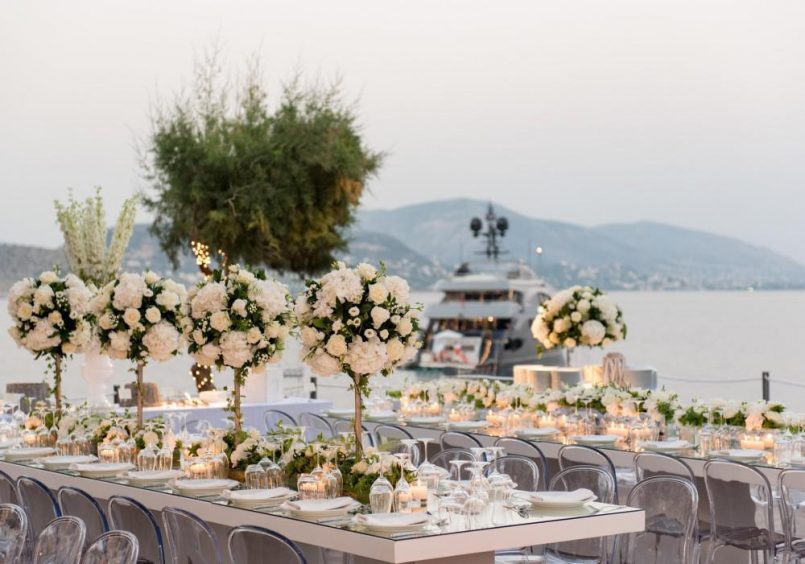 PYRGOS MELLISOURGOU
Pyrgos Melissourgou is a castle, expertly transformed into a wedding reception venue. This is what makes it amongst the most unique wedding venues in Athens.
One can find it in Lagonissi (south of Attica), just twenty minutes away from the Athens International Airport.
This wedding reception venue is an immersion into tradition and history. Specifically, it situates on a 15-acre land amongst water wells, stables, an old oil factory and other traditional houses.
It offers a complementary combination:
a hilly, mountainous location full of olive trees and green grass
less than a kilometre away from salt and sand.
All in all, we suggest that couples that look for a deeply traditional wedding setting to marry in, seriously consider this venue. To sum up, its vast space allows planners to produce a unique wedding ceremony customized to each couple's needs and wants.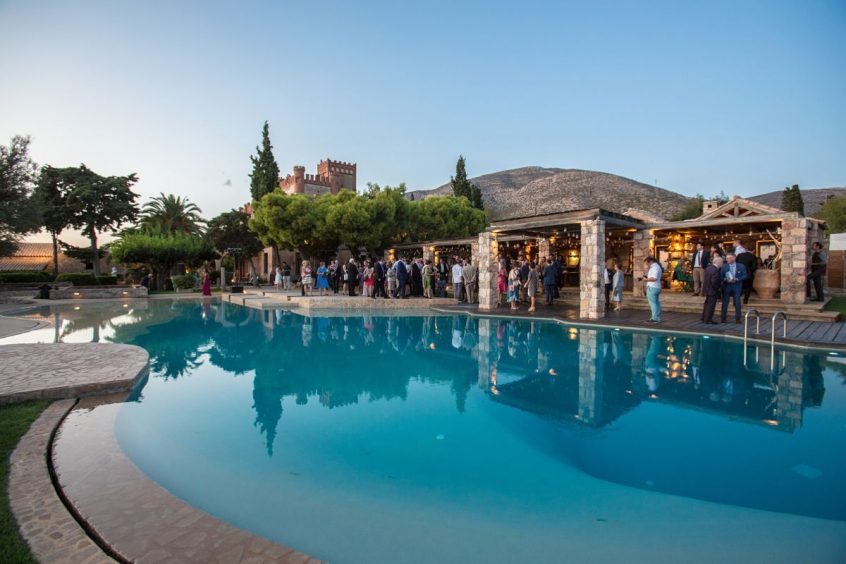 Ktima 48
The exquisite location that combines with the beautiful building is what makes Ktima 48 one of the best wedding venues in Athens. One can find Ktima 48 right next to the coastline of Anavyssos in Sounio.
Couples that look for an outdoor venue will thoroughly enjoy Ktima 48. Its beautiful location, excellent amenities and boutique nature is a great alternative to resorts and other hotels. The facilities include:
A shaded lounge
Garden reception area
Bar
Pool deck
Honeymoon suite
Firepit
Additionally, religious couples will also enjoy the chapel on the premise. For those religious couples who prefer a larger church, St. Nicholas of Anavysos is only 1 kilometer away.
All in all, the reception can accommodate more than 300 individuals.
Pyrgos Petreza
Visitors can find Pyrgos Petreza in Spata. This is one of the greatest wedding venues in Athens because it combines natural beauty with unique stylistic local architecture.
The designers of this venue were careful to not upset the natural beauty of the environment. A detailed mosaic of colors combines with the sweet odour of flowers. The result ends up being a multisensory experience, characteristic of the Mediterranean theme.
The stone walls offer a great indoor wedding experience almost "sacred like".
The outdoor area allows for a variety of wedding ceremony locations.
All in all, couples who choose this wedding venue will thoroughly enjoy it.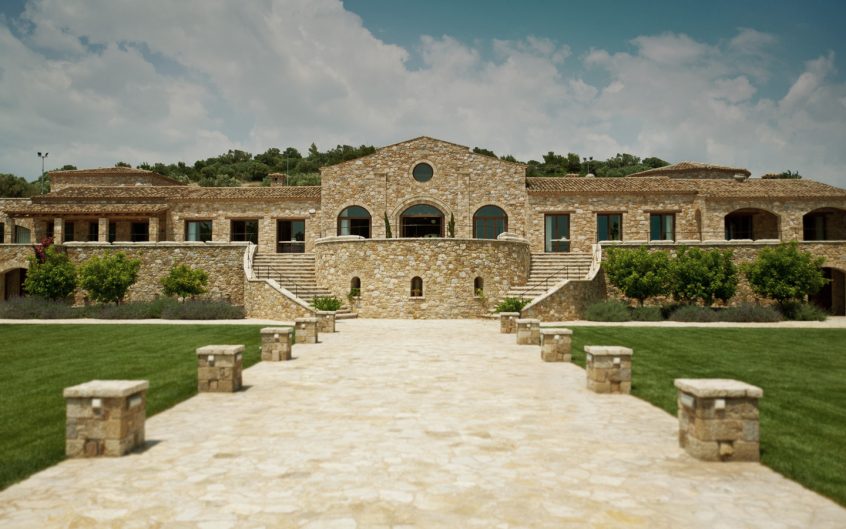 Reef concept beach bar
Visitors may find Reef concept beach bar just a few kilometers from the city centre of Athens.
Individuals best describe it as:
a modern design
with aesthetically pleasing vibes
and appealing greenery.
The entire venue covers approximately 1500 square meters. This means that the estate is perfect to host in excess of 300 guests for dinner, and up to 900 individuals for a cocktail.
Additionally, a luxury suite is also available on the premise.
In summary, the facilities and amenities which make it one of the greatest wedding venues in Athens include:
An outdoor venue of 1500 squared meters
750 squared meters of outdoor grass
A fire pit
Bar
Private Parking
2 lounges that can each host 140 guests.
All in all, an excellent seaside choice that conveniently sits close to both the Athens city centre and Athens international airport.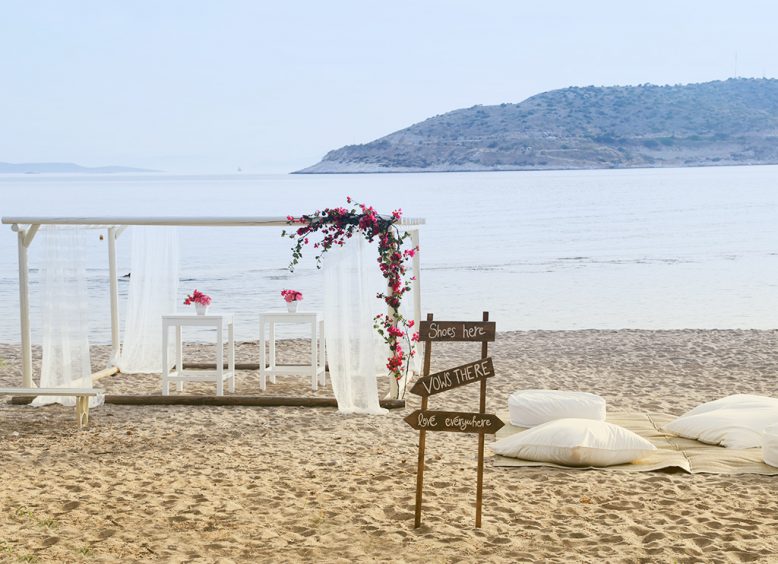 Four Seasons Hotel
Four Seasons hotel is one of the most luxurious wedding venues in Athens. It is an ideal choice for couples who want to marry in an elegant hotel, and stay there with their guests.
Additionally, it is just a 40-minute drive from the city centre.
Take a magical trip through time and experience the awe-inspiring world of Astir Palace.
It is on a premise of 75 acres and its facilities include:
luxurious banquet halls
three ballrooms
balustrades
three private beaches
eight restaurants
an assortment of bars and lounges
a spa
All in all, couples who choose to marry in the Four Seasons will experience an assortment of different areas suitable for a wedding.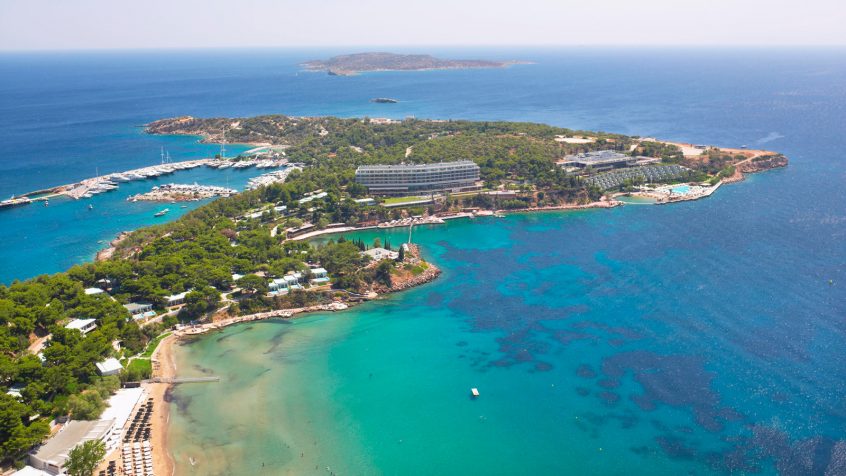 Sea Soul
The breathtaking view Sea Soul offers makes it one of the most iconic wedding venues in Athens. In fact, it is conveniently located right next to the beach.
Visitors who attend a ceremony here will notice a beautiful chapel, as well as witness the endless blue sea and its wonderful aesthetics.
The decorations here are really beautiful. There are luxury furnishing that produces a very fairytale setting.
All in all, individuals can find this iconic venue right on the beach of Agios Andreas in Nea Makri. To be more specific, Sea Soul is split into two venues: Nimenia and En Thalatti.
On the one hand, Nimenia has a capacity of 380 individuals that can sit down, and 800 individuals for a standing cocktail party. On the other hand, the larger En Thalatti has a sitting capacity of 650 guests and a standing capacity of 1500.  

The Margi
The Margi is an exquisite accommodation option within Athens, that offers luxurious and elegant reception options.
There are a number of different reception options available here. These depend on the number of guests the ceremony will host and include:
The Margi Villa
M hall
J hall
J lounge
Malabar Inhouse
Pool area
The Margi farm
The fact that it has its own organic farm for its restaurant makes it one of the most unique wedding venues in Athens. In fact, the fruits and vegetables from the farm produce tasty breakfast buffets, meal options, and juices from the bar. Additionally, an award-winning chef is responsible for both Greek and International menus that guests can enjoy here.
All in all, it is a wonderful reception option for weddings in Athens.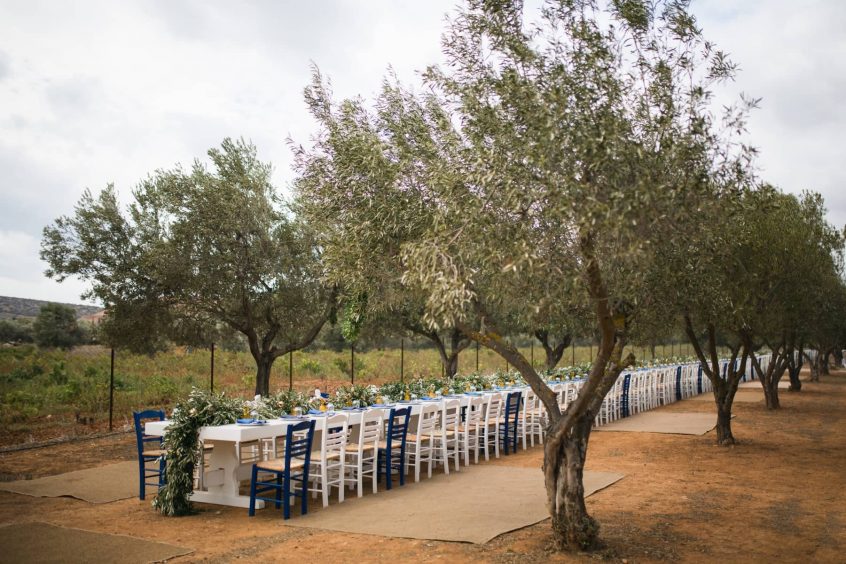 Cape Sounio Grecotel resort
This exquisite accommodation and reception option is located in Cape Sounio, close to Athens. It's a unique beachside location, right on the edge of a nature serve, faces the temple of Poseidon (one of the most famous archaeological sites in the world). It has access via ferry, airplane and yacht.  
This exquisite resort offers two private beaches: one that has sand and the other with pebbles. Both beaches are equipped with beach towels, changing cabins, toilets, and padded mattresses.
Cape Sounio Grecotel resort offers several different facilities and amenities guests can experience:
Luxurious bungalows
Lavish villas
A 350 spa resort retreat
Five fine dining restaurants
3 open-air spa pools
Several pools including a seawater pool.
All in all, this is an excellent luxurious resort to both plan a wedding in as well as have a wonderful stay.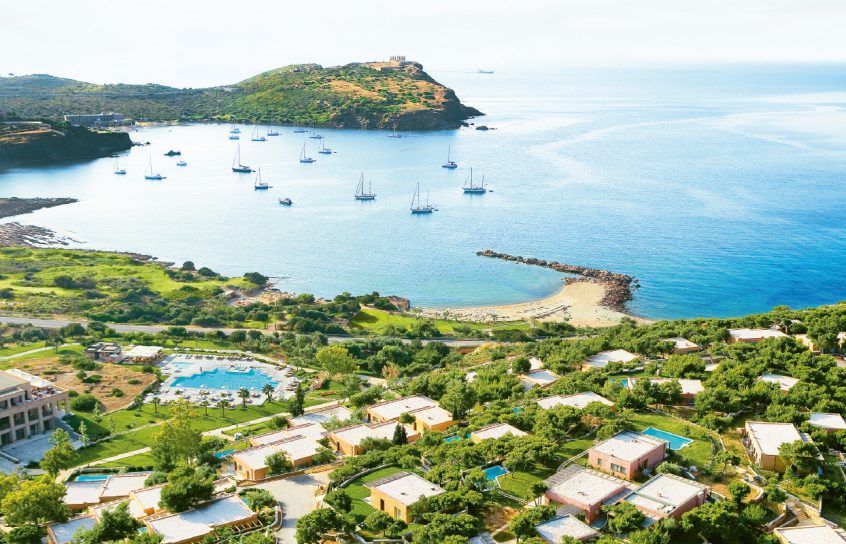 Conclusion
This week our focus was on showcasing a few wonderful wedding venues in Athens. Our aim was to give readers a taste of the options available in Athens, so they can further explore options that interest them.
Athens has a number of different wedding venues that depend on the couples budget, guest number and wedding type. Ideally, couples should try experience the venue as much as possible before they proceed to book it. This includes visits to the venue in person, photographs, and video material.
All in all, there are wonderful wedding venues in Athens that are suitable for any wedding type. Their close proximity to Athens will additionally help couples tremendously when it comes to travel and transportation costs.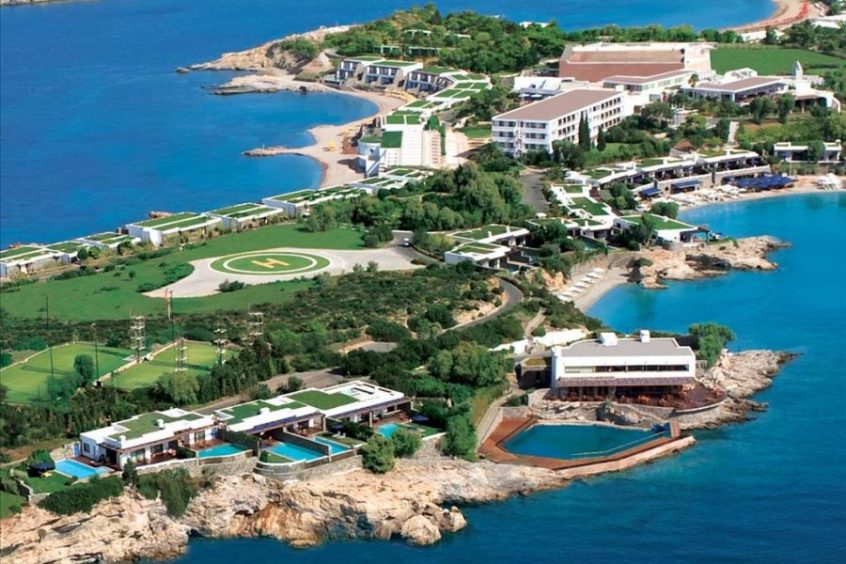 Do you want to marry in Greece? Feel free to contact us!  We love to assist couples who consider Greece as their destination wedding location!