Wedding dresses for Greece come in all shapes and sizes. Have you already chosen your wedding destination and are now wondering how to choose a wedding dress for Greece?
WEDDINGS IN GREECE
Weddings in Greece are definitely dreamy and that means your wedding dress can be as well! Whether you are getting married on a stunning Greek island, on the Greek mountainside, or in a vibrant city, here are some tips. These tips will help you consider various options for Greek wedding dresses.
We know that every bride wants to be the most beautiful on this special day!
Remember that your venue sets the tone for everything, even for your wedding dress. The weather, as well as the style of your wedding ceremony, will also play a role in your wedding dress choice.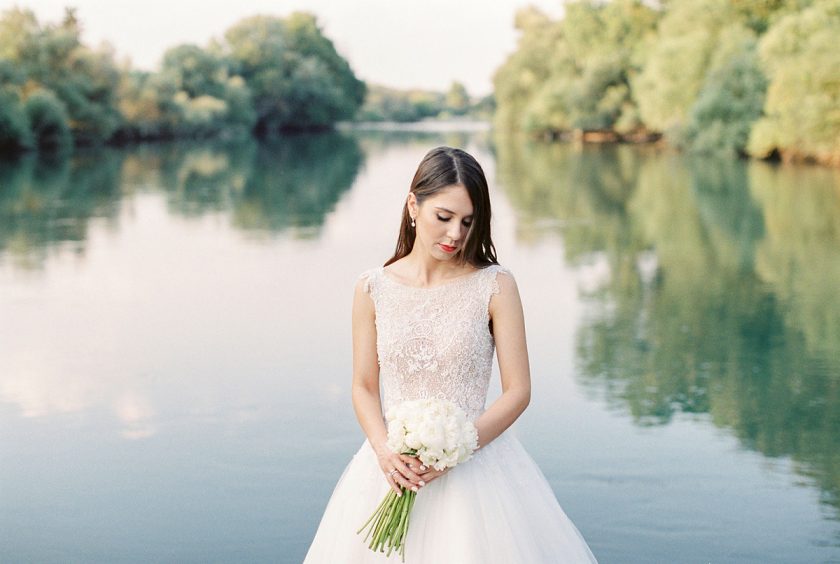 WEDDING AT THE BEACH
As you might know, Greece is a holiday and wedding destination. It is a country with almost 300 sunny days. So it is a perfect location for outdoor events.
In case of a beach wedding, the bride needs to consider a few things when it comes to her dress.
It is surely a romantic case and as such, the dress should be suitable for the sun the sea and the breeze. So the first thing to keep in mind is that it should be casual, comfortable, and easy to move.
Specifically airy and ethereal fabrics, free from excessive details and extravagant style! A classic white dress can be ideal for your sandy ceremony clear of overly designs.
In this way, you totally adjust to and embrace your calm surroundings. However, you can even think of blush tones for the dress to mirror the colors of the sunset.
WEDDING DRESSES FOR GREECE FOR A SUMMER WEDDING
Generally speaking for summer wedding dresses for Greece floaty, lightweight dresses and cool fabrics should be kept in mind! Consider silk as an option as it is breathable and will keep you cool if the weather gets hot and humid.
Some days in July and August the level of humidity goes high and creates the "sauna" effect. As such, you can create a weather timeline just like we did for Santorini!
Additionally, look for a dress that has the option of a bolero to cover your shoulders. This can be useful to keep the sun from burning your shoulders and offer protection if the weather gets chilly.
Last but not least eyelet is the summer fabric, so why not consider it as a summer wedding option? You will look fabulous in an outdoor ceremony!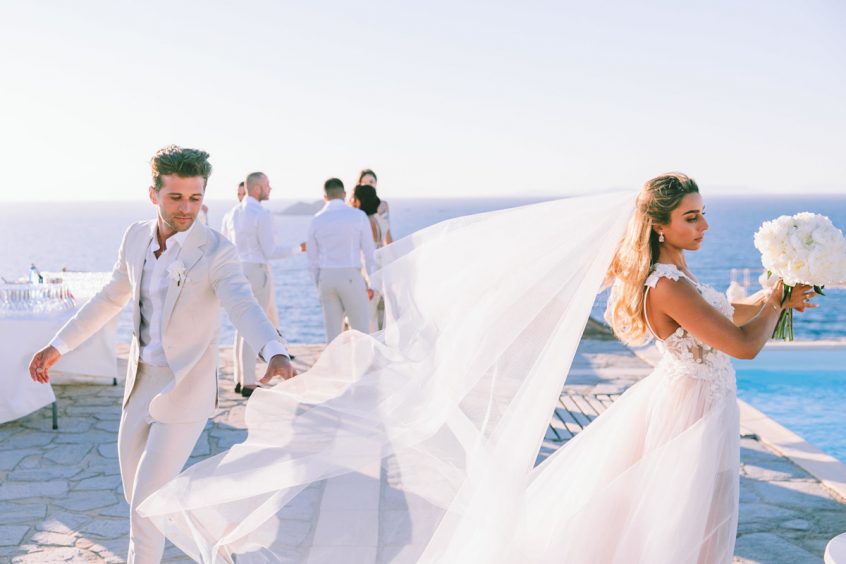 WEDDING DRESSES FOR GREECE FOR A WINTER WEDDING
If the ceremony takes place in the winter it means cooler temperatures, holiday celebrations, and festive attire. The trends for wedding dresses for Greece in the winter are the following: the sleeves are very popular, luxurious, and suitable for every winter Greek wedding. The tulle and lace on the sleeves give a perfectly graceful, timeless wedding feel.
Lace, while sometimes old-fashioned, quickly makes a comeback to today's Greek bridal dresses and is a beautiful and classic element of the wedding dress. Long sleeves as we mention above and a deep neckline can decorate and combine with the lace for a perfect look.
Last but not least, instead of choosing a classic white dress think of a more milky shade that is perfectly combined with the romantic feeling of a winter wedding.
If your wedding takes place in the mountains, we advise that you take a jacket with you as it might be chilly in the evening. Also, think of heavy beading and chic shrugs.
If you want to find out more about other styles for wedding dresses for Greece, and want to incorporate them into your own Greek wedding, feel free to click here to contact us! We love to assist couples who consider Greece as their wedding destination!