A wedding in Milos is an exciting adventure.
This is because Milos is a relatively unknown destination wedding location. As a result, any destination wedding in Milos will have a "uniqueness" factor to it.
Milos is one of the Greek islands that make up the Cyclades.
Like Santorini, it has beautiful, diverse landscapes. This is because like Santorini it has volcanic activity. There are tons and tons of landscapes to explore as you will probably not view the same landscape anywhere around the island. There are amazing fishing villages you will discover, amazing beaches such as Sarakiniko, and traditional tasty Greek food.
Not many couples can boast that they got married on such a relatively unknown -yet beautiful- Greek island. Those that do are couples who enjoy romantic settings as the island is well known for its beauty, and as such attracts romantic couples.
Adventurous couples that seek an adventure for their wedding in Milos will delight themselves with the many landscapes Milos has to offer. From plenty of caves to hidden catacombs, the couples will have a handful!

BRIEF MILOS WEDDING HISTORY
In older times, wedding arrangements would be made through the works of a matchmaker. The matchmaker would first visit the bride's parents and negotiate for the bride to have a certain amount of cash or property. Afterwards, the matchmaker would visit the groom's family and if they agreed to the wedding, the brides and grooms family would then meet. Until the day they got married, the groom was allowed to accompany the bride to the church and even visit her house till late at night.
The wedding day would always be on a Sunday afternoon. Initially, the guests would embark from the best man's house with violins and travel to the groom's house. From the groom's house, everyone involved in the wedding would start walking towards the church. Cottonseed would be thrown on the journey to the church as well as during the wedding.
To seal the wedding, the groom would crush a pomegranate to signal a great life to come. The relatives of the bride and groom would additionally bring twelve pieces of bread, one bottle of sweet wine, and one lamb as part of the Greek wedding traditions.
ACTIVITIES IN MILOS
Even though couples may choose to have their wedding in Milos, there are also plenty of other activities they can do.
Should couples choose to arrive 1-2 days before their wedding day, or stay here for their honeymoon, they can enjoy the following activities:
Jeep touring
There are numerous dirt roads that lead to private beaches where participants can have a private swim. Additionally, there are several abandoned buildings such as churches where visitors can explore. Of course, there are also numerous hills and sites that offer a tremendous sea view.
Scuba diving
The natural landscapes prevalent on the island also include beautiful sites within the crystal clear waters themselves. There are a number of areas where visitors can scuba dive around the island, which allows them to explore beautiful reefs as well as wrecks. Although couples may not think of scuba diving as a romantic activity, the very fact that you are exploring underwater sites together has a romance factor to it!
Windsurfing
Although the island is not really known for its windsurfing, recent years have seen a spike in windsurfing activity. This is because the island has favorable winds for windsurfing, but didn't really receive attention compared to other locations around Greece.
All in all, couples that plan for a wedding in Milos should definitely check out these pre or post-wedding activities.
This will allow them to explore a beautiful Greek island in a unique way!

MILOS WEDDING VENUES
The island, although romantic and "privatesque" in nature, has several wedding venues should couples choose to have a grander ceremony.
PROVATAS BEACH
Provatas beach is a perfect setting for a beach wedding in Milos. This is because it's a beach that has golden sand instead of pebbles, which makes it much easier to set up a wedding reception.
There are several accommodation options nearby, from hotels to private residences. This means that couples who wish to have their destination wedding here do not have to worry too much about the transportation of guests to and from the venue. However, should their guests be further away, there are constant busses during the summer months for this location.
All in all, Provatas beach has everything one will like about beach weddings. Crystal clear waters, sand instead of pebbles, and ample space to set up a wedding reception.
ARTEMIS HOTEL
Artemis hotel in Milos is strategically located right on Panochori beach. It offers guests quick access to the beach, as well as rooms with an amazing sea view. The entire hotel is decorated with beautiful, easily- recognized, Cycladic architecture. This involves whitewashed buildings with stone pathways, with the interior design being of minimalistic nature.
There are numerous comfortable, sunlit spaces where guests can enjoy their space. Hanging out right beside the pool while enjoying a cocktail, or enjoying a delicious meal right in the garden. The choice is up to the guests!
All in all, it is a wonderful hotel to have a wedding in Milos as well as stay in. The poolside bar area, and the spacious garden area allow for a beautiful wedding ceremony!
VIVERE A PLAKES
Vivere a Plakes at Milos is not a commonly known wedding venue. This is because the establishment is a series of apartment complexes of traditional Cycladic architecture. These apartments offer a great view to guests as well as relaxing outdoor areas.
Vivere a Plakes in Milos also has a spa that allows guests (or the couple ) to enjoy a relaxing session before the big day.
All in all, these apartment complexes are best suited for more private and small wedding sizes. This is because the outdoor areas are smaller in size, which means that this non-traditional venue does not have the capacity to host many guests.
PSAROVOLADA MILOS RESORT
Guests and couples can find Psarovolada Milos Resort right on the south side of the island. The resort neighbours the beach of Agia Kyriaki, which is a beautiful sandy beach located in Milos. Additionally, Psarovolada is located right on Psarovolada beach (from which it also takes its name!)
The entire resort is more than 25,000 square meters. It blends the island's beautiful natural landscape with the expertly designed building and loggings. Small stone build fences and stone pathways give a traditional vibe to the entire resort.
All in all, the resort contains tons of areas where individuals can plan their wedding. There are numerous outside areas as well as an expertly built restaurant that allows for a magnificent sea view.
CONCLUSION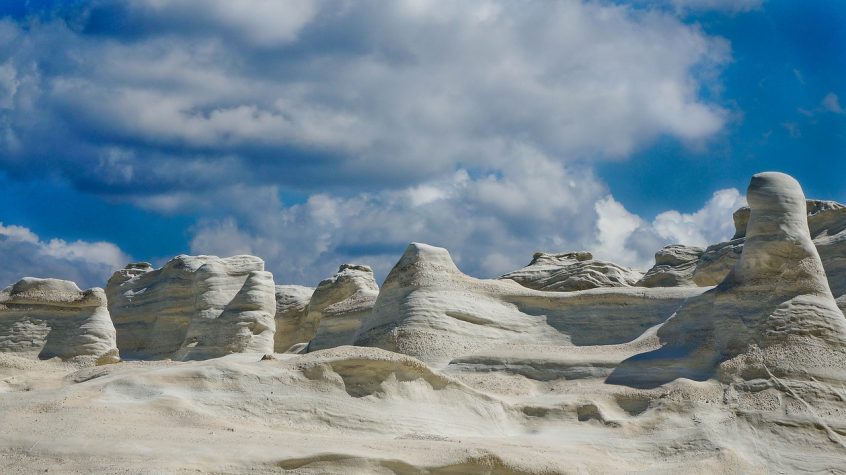 A wedding in Milos is a very exciting event. As we noted above, individuals who plan on getting married on a Greek island for their destination wedding will live a once in a lifetime experience.
Each Greek island offers guests and couples something different, and Milos is no different!
All in all, if you seek a romantic setting with numerous activities to engage in, then seek no further!
A wedding in Milos will certainly please you and your significant other!
Are you interested in getting married in Greece? Feel free to contact us! We love to assist couples who consider Greece as their destination wedding location!