Greece is known as the place that fits every travellers' desires and needs. Additionally, Greece can offer the "perfect summer" vacations to everyone! Greece could charm its visitors' heart regardless of the month of their visit.
Thanks to its geographical location, the country is endowed with excellent climatic conditions. Its high temperatures, the incredibly low chances of rainfall and its refreshing breeze, consists Greece to be a great place for those who love sailing and windsurfing.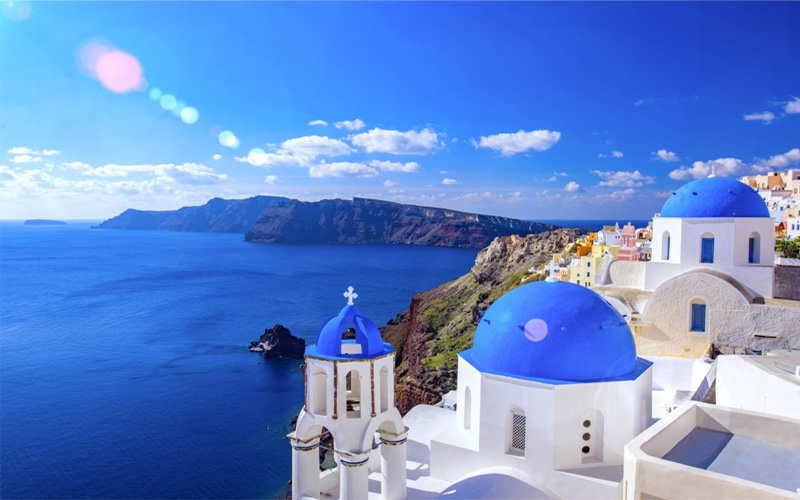 Furthermore, Greece could offer as well unlimited long-lasting memories! There are thousands of people around the world who consider Greece as their wedding destination.
A Unique Experience
It is not only the green waters and the idyllic beaches that have made the holidays in Greece a coveted dream. Neither the light that bathes the sea, or the special architecture or the genuine nature. It is the unique experience that everyone personally experiences in these small oases that you will find in Greece.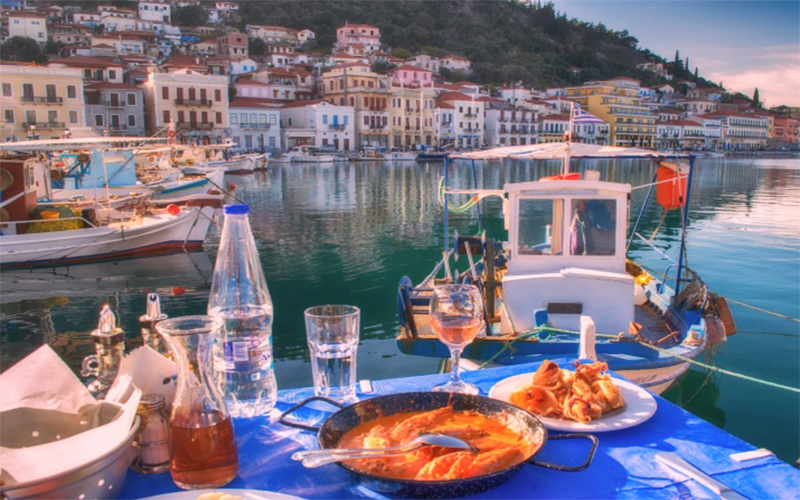 Additionally, Greece has spectacular gastronomy. The Greek cuisine is mainly Mediterranean and the traditions of the Greeks in food have made history. Wherever you travel in Greece, you will taste foods that you have never eaten anywhere else. After all, what better way than to learn the habits and traditions of a place than by eating.
Above all, there are plenty of reasons why a couple might choose to celebrate their love in Greece.

What Is a Yacht Event?
Have you ever thought about getting married onboard a luxury yacht?
Rental boats offer a unique way to enjoy every occasion and special events in a yachting atmosphere in the most luxurious but affordable way.
A yacht can host multiple types of events for a couple that dream of a special celebration of love. These type of events could be a:
Wedding Proposal
Elopement
Private dinner
Bachelor Party
Baptism Reception
Wedding Ceremony & Reception
Honeymoon

WEDDING PROPOSAL
Designing a wedding proposal is a very exciting moment, which will be unforgettable for any couple. This moment happens once in your life. Most of the time at least. Moreover, marriage is a relationship between two people who want to spend the rest of their lives together. The unique marriage proposal that you will make must also meet this special importance. All in all, what could be better than a wedding proposal on a yacht under the stars?

ELOPEMENT
There is something truly magical when it comes to elopement! It is about two people leaving everyone and everything behind. It is just so romantic! In addition, it is about a bride and groom that only want to be together and spend time somewhere beautiful. What is more an elopement on a yacht gives the freedom of getting married under the stars in the open sea.

PRIVATE DINNER
A private dinner could consist of sitting around a table and enjoying good wine and a hearty meal. Otherwise, it could be people who socializing while drinking cocktails and nibbling on finger food under the sails of your privately sailing yacht. Anyhow, a private dinner or gathering on a yacht can be the most unique dinner affair.

BACHELOR PARTY
A bachelor or bachelorette party is undoubtedly a once in a lifetime experience! Specifically, the groom's bachelor party or the bachelorette can take place at Athens Riviera or around the famous Greek islands. It is actually a very special moment for the bride and the groom and they deserve to be spoiled with fun, champagne flowing and spirits well-stocked. Otherwise, the party team can swim in secluded beaches or visit a beach bar on the coast for an endless night party!
BAPTISM RECEPTION
Baptisms are an important celebration for every family and it is the first important event in their child's life. Additionally, christenings are a lovely opportunity to try out unique and creative concepts. Therefore, an exceptional idea would be a baptism in a chapel and later on a baptism reception on a yacht along with the family and friends.
WEDDING
What else than a wedding ceremony in style, stunning views and a real eye-catcher to your guests? The ultimate, rare choice for a different wedding celebration is to have a yacht wedding in Greece during an unforgettable sunset.
Couples have the opportunity to arrange a luxury yacht rental and share the happiest day of their lives along with their closest relatives and friends. This could be an elegant yacht wedding party or a more informal loose mood wedding reception.

Elegance Overloaded
We believe that a yacht wedding in the sea is one of the most romantic locations for a wedding celebration as they watch the colors of the sunset on the horizon.
A wedding ceremony or a wedding reception on a yacht offers multiple experiences. It allows the couple to travel, live, rejoice and make an impression by offering their guests a planned cruise. This experience will accompany the couple's most beautiful moments is also perfectly adapted to the character they want to give.
HONEYMOON
Newlyweds can choose to relax and celebrate their love on an absolutely romantic honeymoon cruise around the Greek Islands. The options are actually countless! Wherever they are … in Santorini, Mykonos, Zante, Crete, etc., they can never be disappointed by the view of the Greek islands.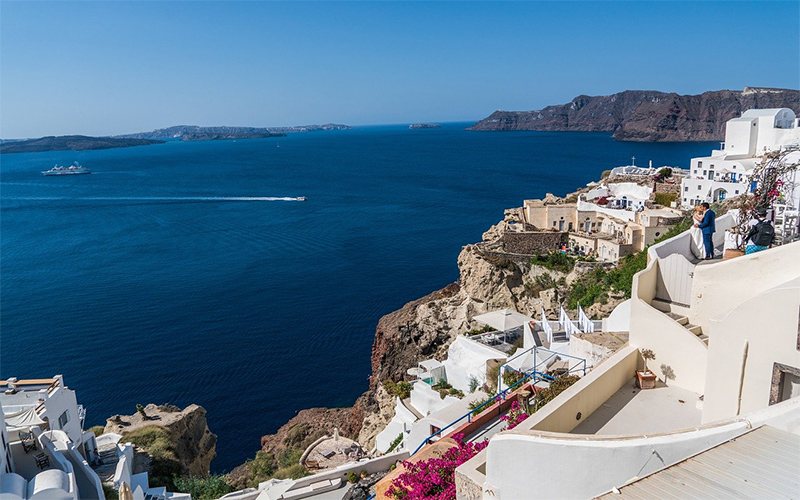 Why Have a Yacht Wedding in Greece?
Greece is a country that is blessed with wonderful weather and a maritime tradition. As a result, we consider a wedding event on a yacht the ideal choice for every couple who want their marriage to be completely connected to the sea.
On such an important day of your life as that of your wedding, a yacht in combination with the clear blue waters of the seas will offer you the ideal combination for a magical wedding.

PRIVATE CEREMONY
One of the advantages of a yacht wedding in Greece is the ultimate privacy. The couple doesn't need to worry about unwanted spectators popping up and taking a peek at their special moments. Only family, friends and a selected few will attend their wedding. In other words, it is a kind of arrangement that a couple can set the rules of their special day.

SETTING OF YOUR CHOICE
People who decide to have a yacht wedding have the freedom to choose the ceremony setting of their choice. A sunset view, a secluded beach, magnificent cliffs or the endless blue sea. The couple doesn't need to worry about the umbrellas and the people on the beach as such in a beach wedding. Additionally, with hotels and venues, couples should take into consideration the availability but also the aesthetic of the environment.

ONE-OF-A-KIND AFFAIR
A yacht wedding is definitely a luxurious event for both the couple and their guests. Everyone on board will have the opportunity to admire the landscape that changes while they cruise. Imagine a ceremony and a wedding reception on a yacht surrounded by the turquoise color of the Aegean Sea. Or the lights of a white stone village while the sun is setting. All these pictures in only one day!

FLEXIBLE BUDGET
A yacht wedding in Greece is possible and affordable in whatever budget you may have. For intimate weddings with a limited number of guests, you can rent a motorsailer that can accommodate up to 50 people. On the other hand, if you dream of a large and luxurious wedding you can rent a superyacht based on your desires. There is a variety of superyacht's sizes to host your ceremony, your dance floor and also your wedding buffet. All in all, several prices are depending on the season, the size and its features.

FREEDOM OF ITINERARY
On such an important day as your wedding day, you have the right to spoil yourselves however you want. With a wedding on a yacht, you have the opportunity to choose the ideal itinerary for the cruise. The only thing you and your partner have to consider is the stops you want to take during your wedding cruise. For example, if you are willing to have an orthodox wedding you can have a ceremony at a chapel, a wedding reception onboard and a party on a secluded beach. How can you not be excited?!

MINIMALIST YET LUXURIOUS WEDDING
On a yacht wedding, there is no need for elaborate decorations which may attract your guests' attention. The Greek surroundings will work as your backdrop. This way you and your wedding planner can focus on complementing details. These could be the art de la table elements, furniture style or other special services.

WHERE TO GO FOR A YACHT WEDDING IN GREECE?
Greece is a common, and not unjust, choice of many couples who want to get married. The beauty of the Greek scenery is the perfect location for enchanting photos and an unforgettable wedding.
Specifically, Greek islands are characterized by their magical views and beautiful landscapes. Aegean and the Ionian Sea have plenty of choices for a cruise during a yacht wedding. Couples can choose their ideal location among the following:
Argosaronic Gulf Islands
Cyclades Islands
Sporades Archipelago
Ionian Sea Islands
Dodecanese Islands

Argosaronic Gulf Islands
Between Attica and the northeastern coast of the Peloponnese, lies the beautiful archipelago of the Argoaronic Gulf. The geographical area includes the Saronic Gulf, the Argolic Gulf and the southern Argolic coast. Moreover, the Argosaronic Gulf consists of 20 islands. Some of the main islands are Spetses, Hydra, Salamina, Aegina, Poros and Agistri. Additionally, they have a short distance from Piraeus port in Athens. Especially the Saronic Gulf is ideal for sailing for its mild weather conditions. All in all, Argosaronic Gulf Islands are ideal for a yacht wedding as well as summer excursions.

Cyclades Islands
The Cyclades is a complex of islands located in the heart of the Aegean and includes some of the most famous Greek islands. What is more, Cyclades consist of 33 Islands! Some of the most popular islands are Santorini, Mykonos, Paros, Naxos, Andros, Serifos, Sifnos, Ios, Milos, Kea and others. Each island of the Cyclades has its own unique charm, offering a magnificent setting and an unforgettable view that stretches over the Aegean. Moreover, several secret coves and beaches are only accessible by boat.

Sporades Archipelago
The Sporades are a beautiful group of islands in the northeastern part of the Aegean and are also part of the Prefecture of Magnesia. In addition, the Sporades consist of Skiathos, Skopelos, Alonissos and Skyros. In all the above islands there is dense vegetation which in combination with the clear blue sky and the sea create an earthly natural paradise. What is more, the crystal clear, turquoise waters of the Aegean Sea, the fantastic sea caves and the hot summer sun make the holidays in the Sporades truly unforgettable.

Ionian Sea Islands
The Ionian Islands or islands of the Ionian Sea consist of Corfu, Zakynthos, Ithaca, Kefalonia, Lefkada, Paxos and Kythira. These are beautiful islands with wonderful natural landscapes drowned in lush and rich vegetation. Furthermore, the enchanting beaches with crystal clear waters, the huge imposing buildings, the Venetian castles and the traditional stone paths, all compose a fairytale and romantic setting that transports travellers to the old days.

Dodecanese Islands
The Dodecanese is a complex of islands with unique beauty and great history which every visitor falls in love with. Many of the islands keep their traditions intact, which is why even today, one meets women on the street dressed in their local costumes. Moreover, the Dodecanese are famous for their endless sandy beaches with the sea's crystal clear waters. The beaches of the Dodecanese are among the cleanest and most beautiful in Greece where bathers can rest under the hot sun of the Aegean.

CONCLUSION
A yacht wedding in Greece offers unique moments with your loved ones, on a cruise in the clear blue waters of the Aegean. Additionally, yachts can usually cater for wedding events such as bachelor's parties, pre and post wedding events, christenings and weddings from 2 to 150 people.

Couples can also choose the cruise that suits them in duration and route, based on their wishes. What is more, after the reception the couple can continue enjoying their honeymoon in the seas.
All in all, should your dream be to have a yacht wedding in Greece, we suggest you employ the services of a wedding planner. Their experience will be invaluable in creating the perfect dream wedding, exactly as you had envisioned it.
Are you interested in getting married in Greece? Feel free to contact us! We love to assist couples who consider Greece as their destination wedding location!