Elopement photography is one of the wedding practices that produce amongst the most stunning photoshoots. Perhaps this is because of the nature of elopements: more secluded, private affairs. Usually, the couple will place a great emphasis on the location being scenic. Awe-inspiring sea views, wonderful lake territories, or even stunning mountainside views.
During elopement photography, the photographer is free to capture the couple's most private moments, in the most scenic of areas. Just imagine what the photographer can do with all of nature's glory; the sun setting while the photographer expertly catches the sun's rays bouncing off the bridal veil.
There are several excellent elopement photography choices for Greece. This week we will focus on a few prime choices and what makes them extra special choices.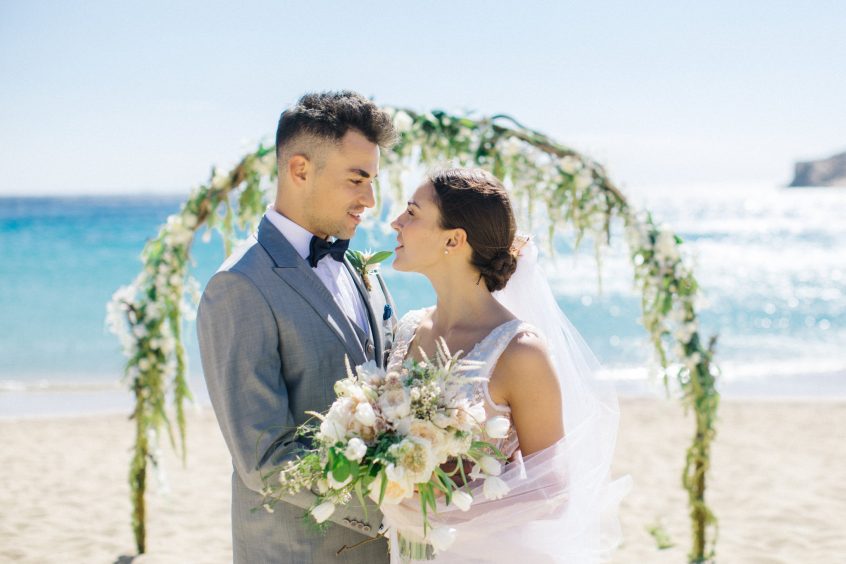 WHAT IS AN ELOPEMENT?
Before we begin to discuss the ideal elopement locations and what makes them so special, we first need to explain what an elopement is. Chances are that most wedding enthusiasts already know what an elopement is, however, some readers may not be entirely sure.
An elopement is a private "getaway" wedding where just the bride and groom marry. Usually, they have no guests and no family with them, so it is just the two of them. As such, elopements are often seen as very romantic gestures because couples exchange vows just between them. There is an element of seclusion, upmost privacy and romanticism at play here.
All in all, such a romantic action needs an elopement photography style to accompany it. The photographer that works with the couple must be discrete and focus on the couple's intimate moments.
WHY CHOOSE AN ELOPEMENT
So now we know what an elopement is, so the next natural question is "why would someone want an elopement"?
Firstly, individuals who plan to marry may not have the appropriate budget for a regular wedding. A regular wedding with guests involves booking a venue, the appropriate catering company, a band, sending invitations as well as many other costs. The reality of the situation is that despite the speciality of the occasion, oftentimes the budget just isn't there. As such, couples can easily get married at a much lower cost just by themselves.
Additionally, couples may feel that they want something extremely romantic for themselves. This means that they want their own privacy while exchanging vows. And that's okay! Not everyone wants to share their special day with their guests. All in all, the elopement photography photographs will always exist so a select number of guests can view the wedding!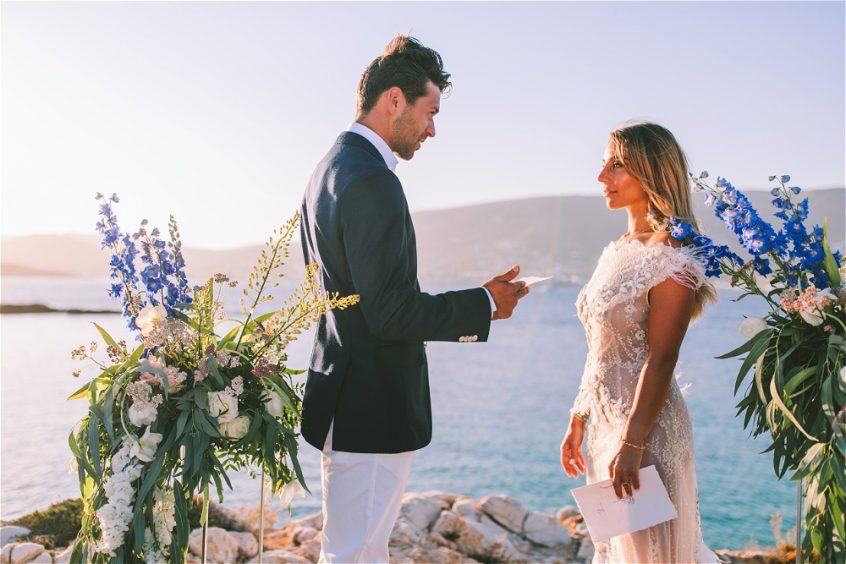 ELOPEMENT PHOTOGRAPHY SETTINGS
As we mention above, perhaps the best settings for elopement photography are those that are more secluded in nature. Somewhere the couples can have their privacy, and ideally somewhere in nature.
Below we mention some excellent elopement photography opportunities couples can find in Greece!
LAKE VOULIAGMENI
Lake Vouliagmeni is the name of a lake located within the Athenia Riviera, whose waters are said to possess healing powers. The underground current from Mount Hymettus refills the water of this lake initially formed 2000 years ago. The lake is supplied by both warm seawater and a freshwater spring meaning its temperature usually ranges between 20-25 degrees Celsius. It is a majestic location for a lake wedding, as the natural landscape constitutes it as a unique, irreplaceable location.
All in all, the privacy it offers makes it one of the most beautiful destination wedding locations in Greece for an elopement photography session. The photographer is free to capture a number of different sights. The lush greenery, the colorful waters, as well as the couple enjoying their private dinner here.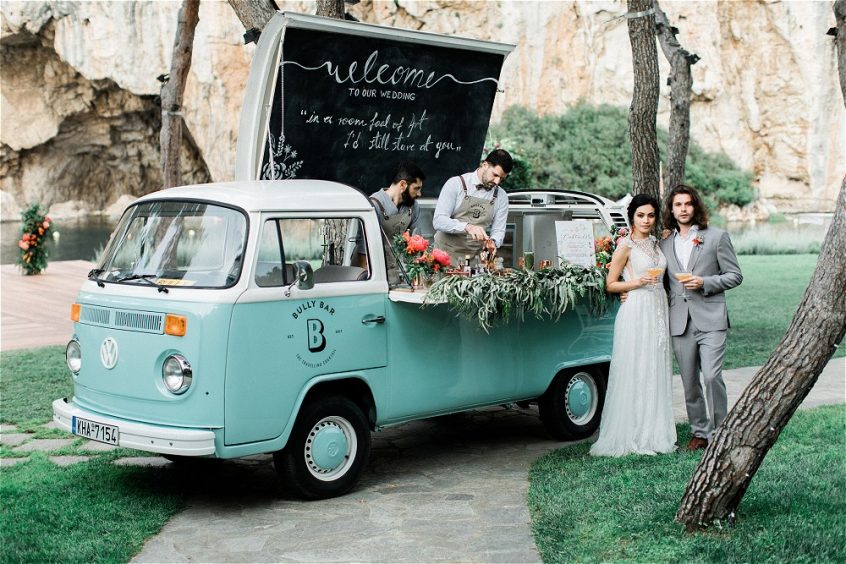 FOLEGANDROS
Folegandros is a small island with less than 1000 permanent members. The privacy it offers makes it a great place for a more secluded, private wedding. In fact, even romantic elopements with just the bride and groom are a perfect match for this small island. The fact that it is just 6 hours away by boat, and offers amazing sunset and sea views, make it a great choice.
In summary, this is another great choice for an elopement photography session. The fact that the island has less than 1000 members makes an elopement here a romantic island getaway. A couple that marries in such a fashion will enjoy the picturesque buildings and architecture, in a quiet manner. The combination of both beautiful natural landscapes and traditional, beautiful buildings will elevate your elopement to the next level!
METEORA
Meteora is the name of a monastery situates on the top of a rocky formation. This monastery is not one, but six different monasteries in close vicinity, that happen to be one of the largest Eastern Orthodox ones. The location of the monasteries could not have been more perfect since they stand atop huge natural pillars and boulders.
Couples that love mountainous regions, as well as nature, will surely love Meteora. This is because Meteora will give them the chance to observe all of nature's glory from a high altitude while being surrounded by forests. All in all, couples who choose this region for their wedding will enjoy stunning elopement photography settings. This is because the photographer will have a wide range of natural settings for the couple to enjoy.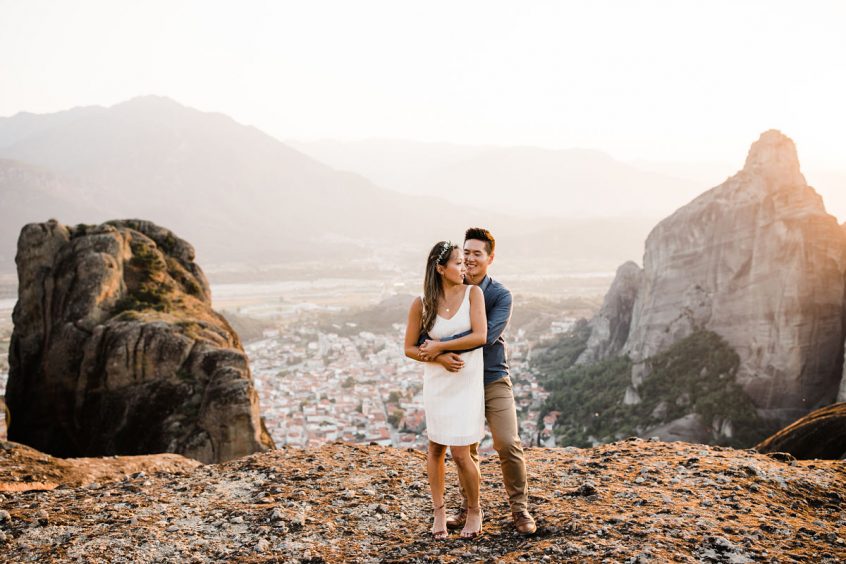 PAROS
Paros is not an island that is commonly associated with elopements. This is because it is a relatively expensive island to have a wedding on. It has expensive wedding venue and accommodation options, and generally higher rates than most Greek islands.
However, the barren lands typical of the Cycladic islands make for a unique elopement photography terrain. There are several settings in Paros that remind of desert-boho settings that the couple can easily schedule a photoshoot in. Additionally, there are rocky areas, surrounded by the sea that also make for beautiful settings.
All in all, couples who wish for an elopement in Paros will not experience the high wedding rates the island is known for. Instead, they will enjoy several beautiful settings that can produce amazing photographs and unforgettable memories.
CONCLUSION
Elopement photography is an art form that accompanies almost all elopements. Photographers who specialize in this art form manage to elevate the couple's private union, through the expert usage of their cameras.
All in all, the art of elopement photography is able to produce stunning photographs. Elopements are private celebrations of weddings, and as such, no guests will usually be present. Being able to have a photographer capture your special moments, however, will enable you to share your special day with your closest friends. Additionally, it will allow the couple to retain reminders of their special day.
Do you want to marry in Greece? Feel free to contact us! We love to assist couples who consider Greece as their destination wedding location!