Do you find yourself constantly glancing over stunning wedding venues worldwide?
Is your big day abroad but you don't know where to start?
Don't worry!
You'll know when you find the right spot!
However, because there are so many places and stunning wedding venues worldwide to choose from, we thought we'd help you out! We made sure to scout and research stunning wedding venues worldwide in order to present a shortlist of some amazing choices.
We hope that you find what you are looking for. If, however, you have questions to ask, please feel free to contact us!
Enjoy!
GLOSTER HOUSE, BROSNA, IRELAND
Ireland with its impressive settings and landscapes belongs to a stunning wedding venues worldwide list. If you adore the uniqueness factor in a wedding, then the 300-year old Gloster House in Ireland is perfect for your wedding. Gloster House is a wonderful house of Georgian origin settled at the bottom of the Irish Slieve Bloom mountains.
Gloster House offers an atmosphere of magic and mystery as if you are reading a fairytale written by the Grimm Brothers themselves. This is because guests can find the house in a territory that includes private gardens, woodlands, and lakes.
All in all, the outward appearance of the house offers a view of well-kept gardens and fountains within terraces. This is an excellent choice for couples who adore a fairy tale setting for their wedding.
CASTELLO DI VICARELLO, CINIGIANO, ITALY
Castello Di Vicarello, sit atop a hill merely two hours away from Florence. It is a 900-year-old caste with Tuscan influence. Similar to Gloster House that we mention above, Castello Di Vicarello offers a great setting for a romantic, fairytale wedding.
Guests will find the castle within a premise of well-kept gardens and olive groves. The territory also has a pool so the couple has flexibility in organizing their wedding ceremony and venue (poolside? Or simply a garden reception?)
All in all it is a great stunning wedding venue worldwide choice for couples who want an old traditional fairy style wedding. Additionally, Castello di Vicarello offers some amazing complementary experiences. Guests can engage in cooking classes, hiking and biking, wine tasting as well as other unforgettable experiences.
THE SURGA VILLA ESTATE, BALI, INDONESIA
Bali is not only a top destination to travel to but also one of the best places to get married in the world. It offers stunning locations as well as stunning wedding venues. If you've always dreamt of a big and stunning wedding in a private villa, surrounded by the exotic setting of Bali, then you should look for The Surga Villa Estate. It has a capacity of more than 120 guests for the celebration, and can comfortably sleep 26 individuals.
All in all, this luxury villa offers exquisite ocean views from the top of a hill. Additionally, it is closely located to the beach, which means that the couple and their guests can comfortably observe the wonderful sunsets! A great choice for a stunning wedding venues worldwide list.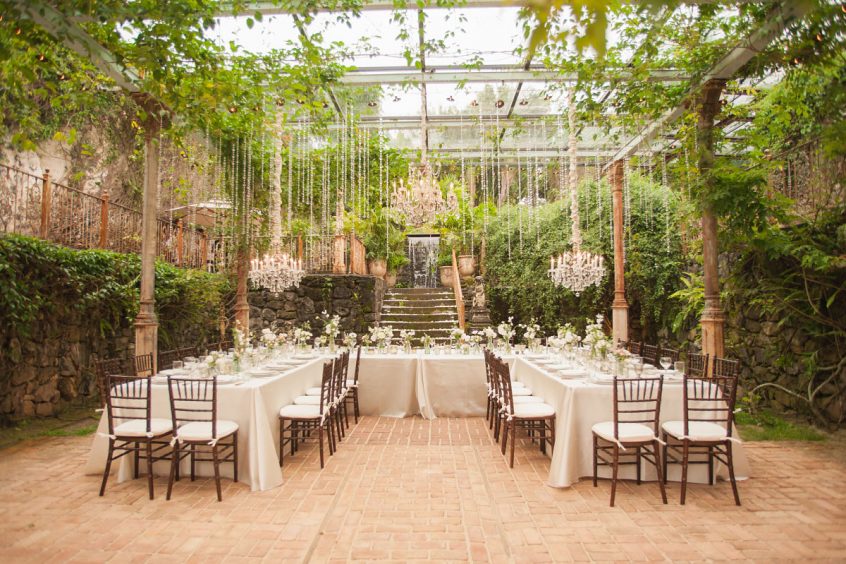 CASA PALOPO – GUATAMALA
Casa Palopo located in Guatamala is one of the most stunning wedding venues the region has to offer. It is a luxurious boutique hotel that offers both wonderful accommodation options and great ceremony and reception venues.
Casa Palopo has a luxurious restaurant decorated with the countries classical artistic style where the couple can host their reception. The catering services that Casa Palopo offer are five stars, since their personnel are immensely experienced individuals.
Additionally, Casa Palopo offers a wonderful outdoor terrace with wood floors. Couples can exchange vows under the warm sun, while they observe the wonderful immense sea.
All in all, it is a stunning wedding venue worldwide choice for couples who want to plan their destination wedding in a great hotel. The couple will be able to soak in the Guatamalan culture, while also providing great accommodation for their guests.
CONCLUSION
There are plenty of stunning wedding venues worldwide. These venues offer choices and amenities that can easily satisfy any couple and any wedding type choice.
All in all, we suggest that couples first decide on a wedding type as well as an approximate location, and then begin their wedding venue search!
If you feel that you need help to organize your wedding planning, and you want to find the perfect wedding venue, feel free to contact us! We love to help couples who consider Greece as their destination wedding choice!