A destination wedding in Greece is a marvellous occasion, so the Greek wedding invitations must be spectacular as well!
Greece is an extremely popular tourist destination. In fact, millions of tourists visit this wonderful Mediterranean country every year. As such, it would make sense that Greece is a popular wedding destination as well.
The wonderful, everlasting hot sun in combination with the crystal-clear, blue waters of the sea make this country an extremely beautiful wedding destination.
Summer island weddings are a common occurrence; however, Greece has several unique locations fit for a variety of wedding types. For example the lovely mountaintops of Meteora, for those couples that love picturesque mountain regions, or Lake Vouliagmeni, for those couples that dream of a perfect elopement on a lake.
Ultimately, whatever wedding type and location the couple may choose, the invitations are the first clue of your wedding your guests will receive. As such, a Greek wedding invitation must make an important first impression, to condition your guests of the wonders that are to come!
Pinpoint the style
As we mentioned above, the Greek wedding invitation for your destination wedding in Greece, is a "sneak peek" at what your guests will expect.
There are typical elements that a wedding invitation must include, such as the location and time of day (duh!). However, the style a couple chooses for their wedding invitation will give off a vibe of the wedding type they will go for.
As such, it is extremely important for the couple to be aware of the wedding type they will throw. This is because if the couple is clear on the wedding type they are going for, then they can shop for invitations and stationery that matches that style.
All in all, couples who decide to have a wedding in Greece should consider a wedding invitation style that matches the country regardless of the exact location. For example, a small custom made logo of an olive branch will be suitable regardless of whether the wedding happens on a beach or on a mountain.
Inspiration is key
There are hundreds of thousands of couples that got married in Greece. As such, there has been a great amount of variety when it comes to their Greek wedding invitations.
These are couples that had a variety of different wedding types: from beach weddings, to venue weddings and religious weddings in small chapels. As such, there is a great amount of material an interested couple can browse to gather inspiration.
Being able to browse online, or perhaps reach out to couples who have already married in Greece, will allow you to gain extra insight into the process. This way, the couple will be able to properly inform the wedding planner or stationery expert, of the exact theme they're going for.
All in all, proper research is paramount in order to obtain the ideal Greek wedding invitations. Inspiration from what other couples have done will help you identify the exact invitation you are going for, and you'll be able to properly communicate it to your planner!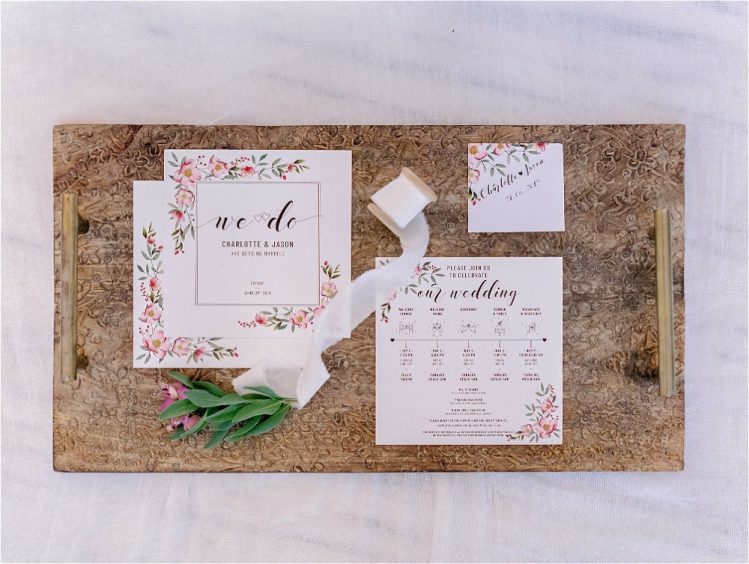 Color palette
Some say that the wedding type and wedding colors are interlinked. This is because there are common colors associated with different wedding types. For example, a romantic wedding type will probably have red roses. As such, the color red will be more prominent than other colors.
It is important to first identify the wedding type and colors you would like to have. This is because you want to establish a motif, and have every wedding stationery you have reflect these attributes.
Classic wedding invitation choices include a white or "cream" cart with black or gold font. However, a destination wedding in Greece is far from classic.  Consult with your wedding planner to find suitable choices to brighten up your invites to reflect the bright Greek sun. You can even choose suitable colorful envelopes or liners.
All in all, there should be consistency between the wedding type, colors and stationery material. Just make sure that your font choice and color choice don't inhibit readability for your Greek wedding invitations.  
Ideal Size 
Classic wedding invitations are usually 11.5 cm x 16 cm rectangle cards. However, as we mentioned above, a destination wedding in Greece is far from classic.
This means that couples will be able to have a lot more input regarding the exact shape and structure of their wedding invitations. For example, choosing to have circular Greek wedding invitations to mimic the circular olive oil crown given to the winners of the Ancient Greek Olympics. The sky's the limit!
All in all, the fact that a destination wedding in Greece is a unique event will give you more leeway with unique wedding invitations. However, keep in mind that large structures or heavier ones may cause you to pay more in postage fees.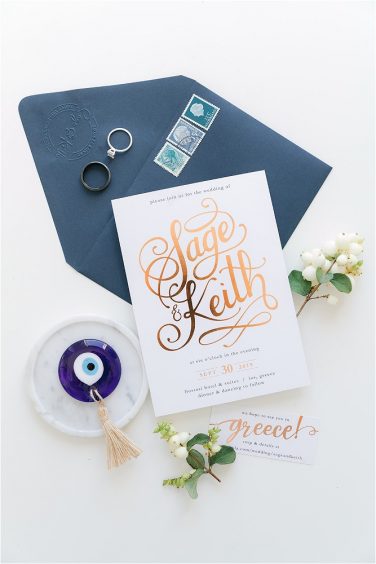 The art of typography
How you relay information is just as important as what information you share. As such, being able to properly express your wording is really important.
A few good rules of thumb to follow are the following:
The names of the couple should be written first 
Include a custom invitation line inviting your guests
Display the ceremony time as well as the ceremony location 
Information regarding dress code (if required) 
Any additional required RSVP information
As we noted above, how you communicate this information is just as important as the information itself. Ultimately, you want to make sure that you present all the required information without creating a cluster.
All in all, relevant information should be present on Greek wedding invitations. Any additional information, for example, directions to the wedding venue and other details, should be communicated via other means. For example using a social media group where all your guests are included, or creating a custom wedding website.
Proper timing
Now that the proper wedding type, ideal colors, typography, size and strbucture are decided, it is important to set a mini timeline for your Greek wedding invitations.
Traditionally, for classic weddings, save the dates are typically sent out a few months beforehand with the invitations being sent a few weeks before the actual wedding date. A destination wedding in Greece is different, however. The extra preparation time needed for your guests to travel means that they must receive them earlier than they would for a traditional wedding.
All in all, plan to send your save the dates 10 months in advance and your wedding invitations 6 months in advance. Additionally, make sure you plan for the printing time it will take to get all your invitations ready. This way you will give your guests ample preparation time.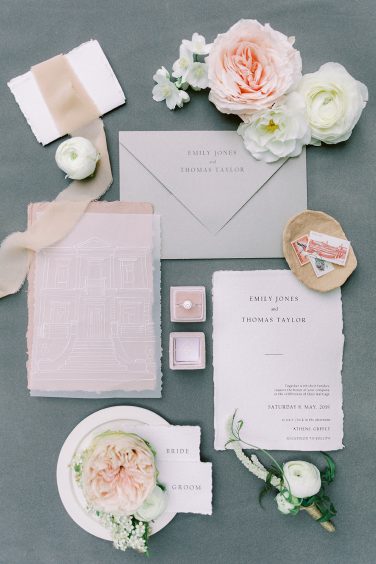 Cost considerations
Wedding invitations can become quite expensive. This is especially true when a lot of customization goes into them, which is usually the case with Greek wedding invitations.
There are a number of factors that will affect the price of your wedding invitations:
The custom design 
Ink type 
Printing method 
Typeface 
Paper type 
Minimum order quantity
This is why it is really important to explore your options as early as possible. There is nothing worse than spending hours and hours on coming up with an ideal design, only to find out that it is too expensive to implement.
All in all, cost considerations for your Greek wedding invitations make or break your ideal invitation. The most perfect and ideal wedding invitation is worth nothing if your budget is unable to support the total cost associated with them.
Conclusion 
Greek wedding invitations are a special type of invitations because they refer to a destination wedding.
The wedding location determines wedding type which in turn influences every aspect of the wedding such as the wedding invitations.
Greek wedding invitations must contain the uniqueness factor prevalent in destination wedding and give off a vibe of the wedding type your guests will enjoy.
All in all, wedding invitations are an important stationery part of every wedding and especially when it comes to destination weddings!
Do you want to marry in Greece? Feel free to contact us!  We love to assist couples who consider Greece as their destination wedding location!