Wedding chic invitations are amazing!
According to the dictionary of Merriam-Webster, the word "chic" has two distinct meanings.
The first one is "smart elegance and sophistication especially of dress and manner".
The second one is "a distinctive mode of dress or manner associated with a fashionable lifestyle, ideology, or pursuit wearing the latest in urban".
How does this relate to this week's blog post?
Well, this week we take a look at the origin of chic style and some wedding chic invitations tips that are sure to delight any chic loving couple!
THE ORIGINS
The origin of the very word chic may have either come from the German word "Schick" or the French word "chicanery".
Which of the two was ultimately responsible is unknown.
The very word chic, as we state above, is an expression for a very stylish and elegant dress style. In fact, individuals even use it to describe home décor.
All in all, there are different interpretations of what exactly it means. Often, individuals may even confuse it with other styles. This is because a chic style is often a style that looks great without too much effort. In essence, it may even look minimalistic or simple.
CHIC WEDDING INVITATIONS
As we note above, chic style is a style put together without too much effort. However, this style will produce stunning results even with the bare minimum effort. Here are a few tips for chic wedding invitations.
SIMPLICITY IS KEY
Whether it's for a chic dress code or a wedding chic invitation, simplicity is key. Avoid using too many colours.
In fact, a good rule of thumb is to use up to three colours: two colours for the wedding invitations and one color for the font. Additionally, you should not mix different font types together.
Find a font type that is relatively easy to read, and one that goes well with the colors you chose, and stick to it.
All in all, simplicity is key is a good replacement for the phrase less is more. Your invitations should not look rushed, however, they should not look too "complex".
Being able to produce stunning results while keeping a tone of "simplicity" is an art form in itself!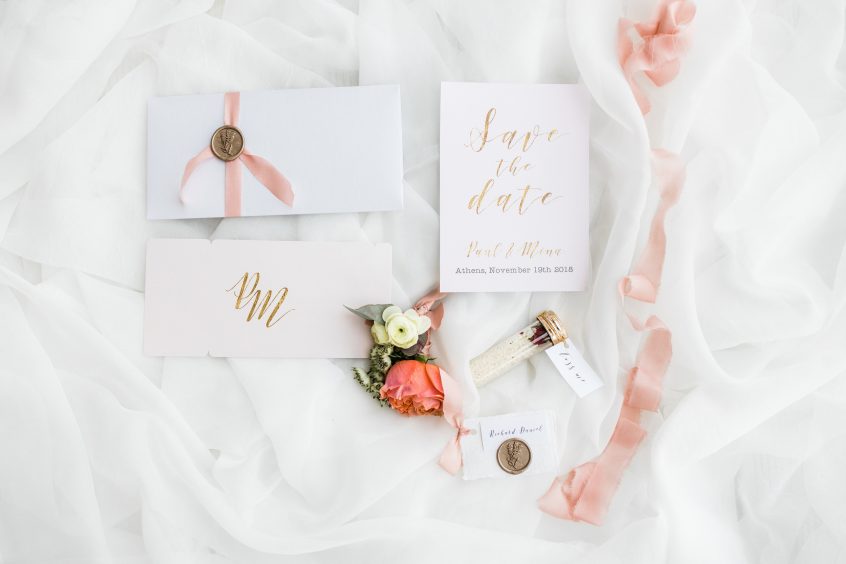 CHIC SHOULD BE YOU
This often goes without saying. However, regardless of the chic invitation style or any other style you choose, it should reflect you.
One of the great secrets in the process of creating an ideal chic invitation is making it a simple reflection of your personality. For example, if you had to choose just two colors to represent you and your wedding, what would they be?
If you had to choose just one wedding font to reflect you and your wedding, what would that be?
All in all, if you make your chic invitations simple without making them about yourselves, then you need to revise your entire process. After all, the wedding is a reflection of the couple's personality, so why should the chic invitations be any different?
CONCLUSION
All in all, creating a chic invitation is no different than following any other style be that dress code or a house design style. Attention to detail is crucial regardless of style, but extra care is required with chic invitations.
This is because with chic invitations, and the chic style in general, you must be able to express yourself in the simplest way possible.
In summary, this is a difficult aspect to achieve, and one where you must really think it through!
If you feel that you need help to organize your wedding planning, and you want to find the perfect wedding venue, feel free to contact us! We love to help couples who consider Greece as their destination wedding choice!