The splendid weather conditions allow for superb wedding flowers in Greece. The Mediterranean climate one can find here make it a perfect location for a variety of beautiful flowers. In fact, wedding flowers in Greece, are a huge part of destination weddings that take place here.
Individuals can argue that wedding decoration, and by extent wedding flowers, are an integral part of any wedding ceremony. These individuals are correct!
Flowers play a major role in weddings because they are part of the fundamental decorative process. They help create a majestic atmosphere by brightening up the wedding aisle, chairs, the wedding table, and any and all areas of the chosen wedding venue!
This week we will take a look at popular wedding flowers in Greece, and a few wedding decoration suggestions for different wedding types!
Possible choices
These are a number of choices for wedding flowers in Greece. Below we will outline a few popular examples.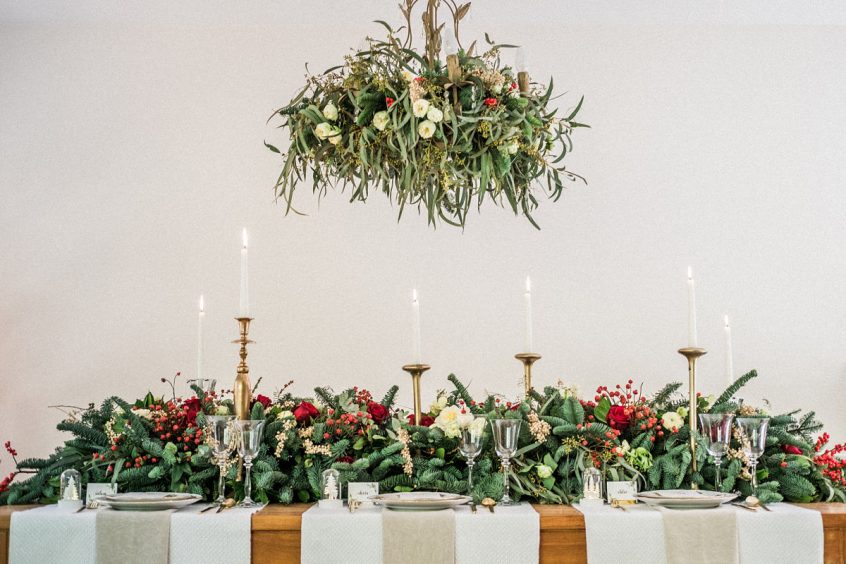 Olive leaves
Not typically thought of as a flower when thinking of wedding flowers in Greece, however, it is undeniably a plant closely associated with Greece. This is because olive trees are native to Greece, and they fill large stretches of land.
In fact, olive leaves are also symbolic in nature. This is because they symbolize prosperity, peace, hope and even resurrection since Ancient Greek times. It is said that after the Persian King Xerxes burned Athens, a single olive tree survived. From then on the Athenians would associate olives with resurrection. Olive branches tied together as a crown, known as olive wreaths, were even given as a prize to the winner of the Ancient Olympic Games.
All in all, the symbolic nature of the olive leaves, as well as the fact that it is prevalent in Greece, make it an amazing choice to decorate a Greek wedding.
Eucalyptus
Eucalyptus is one of the most prevalent greeneries found in any wedding, so it is a logical choice for a flower type for wedding flowers in Greece. In fact, Eucalyptus has more than 700 different species, which allows couples a great variety of choice.
Since Eucalyptus is an evergreen plant, couples can find it throughout the cycling seasons. For example, couples who may choose to marry in Greece during the winter months will still have this plant available for their wedding.
All in all, the fact that this plant has many different species, and is available throughout seasons, make it an excellent choice. Additionally, Eucalyptus can decorate any area of your venue: from the wedding exit to the wedding tables!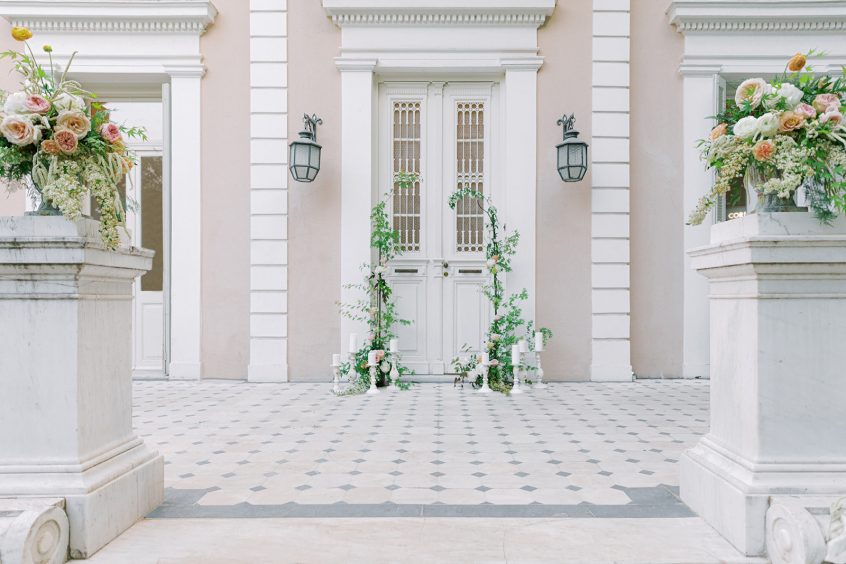 Roses
What other plant do people more closely associate with love and romance?
Roses are an excellent choice for any wedding type, and certainly an amazing flower type for wedding flowers in Greece. Their color variety makes a great addition to a flower palette, and complement different wedding types excellently. For example, a couple that wants a romantic wedding type in Greece may choose to have red roses dominate their floral decorations. Other couples who may choose to have an elopement in Santorini, may choose white roses to decorate their venue, since they complement the whitewashed buildings of Santorini excellently.
All in all, a romantic wedding or a wedding in the Cyclades (where whitewashed buildings dominate), is an excellent wedding type for roses!
Hydrangeas
Hydrangeas are really beautiful flowers, and an excellent flower type for a pallet that consists of wedding flowers in Greece.
The Hydrangea season begins from spring, all the way to fall, making it a hard flower to find for winter weddings. However, destination weddings in Greece occur almost entirely during the summer, so a couple planning their wedding will have this flower available to them.
The White Wedding Hydrangea is an excellent flower for white color. Its sturdy green stems give it strong structural integrity, and its bloom is pillow-like in appearance.
All in all, it is a really beautiful flower which makes for an amazing addition to a wedding in Greece.
Peonies 
Peonies are wonderful flowers, and a flower type that couples should definitely include for their palette for wedding flowers in Greece. These are iconic in weddings, because they symbolize both happiness and prosperity. In fact, it is not uncommon for peonies to dominate the wedding bouquet, because of this very fact!
Additionally, peonies have a large bloom and stunning ruffles, which make them a very aesthetically and visually appealing flower.
All in all, couples can find different colored peonies that range from pink to coral to white. They make great floral bouquets, floral crows as well as amazing additions to tables!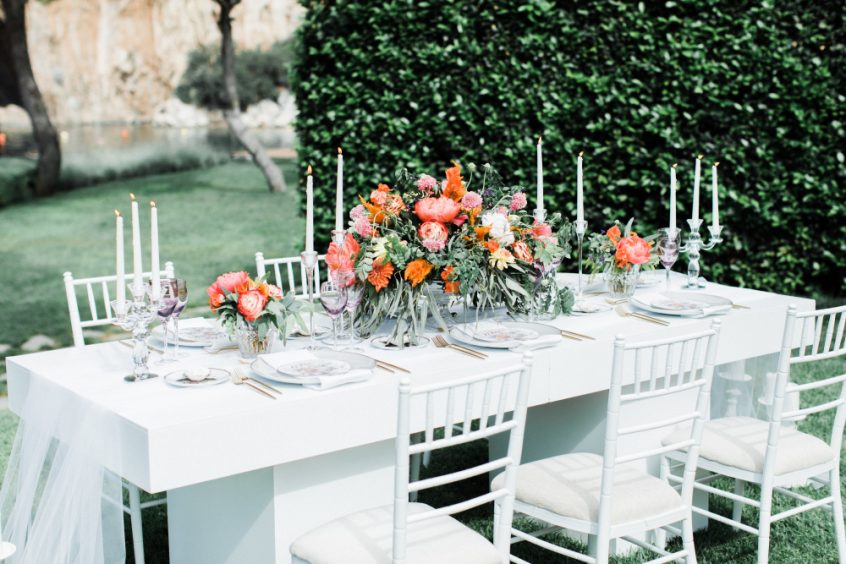 Wild Flowers 
Wildflowers are the most diverse flower types one can find for floral decorations. This is because there are many different types, all of which make an amazing addition to any palette for wedding flowers in Greece.
The variety of wildflowers include sunflowers, cosmos, bachelor buttons, daisies and sweet peas. The exact mix is entirely based on the couples preference and the wedding type. For example, a couple having a grand outdoors wedding during a sunny Summer day may very well choose to decorate the area with iconic sunflowers.
All in all, a great addition to provide some diversity to your wedding flowers in Greece line-up. Even though some wildflower types are primarily associated with rustic settings, cleverly using them in any wedding type will bring out the best of any wedding type!
Combination suggestions 
Since we mention a few great flower types for wedding flowers in Greece, we thought we might suggest a few excellent combinations for different wedding types.
The beach wedding case 
A great combination is:
Eucalyptus 
olive leaves 
lavender 
chamomile
lysianthus 
roses 
This will give a nice green feel to your decorations, while still having a color variety! Great for a sunny beach wedding.
Luxury wedding case
A great luxury wedding combination is:
garden roses 
peonies 
hydrangeas 
orchids 
dendrobium 
This will help generate a nice "elite" atmosphere to perfectly complement your luxury wedding.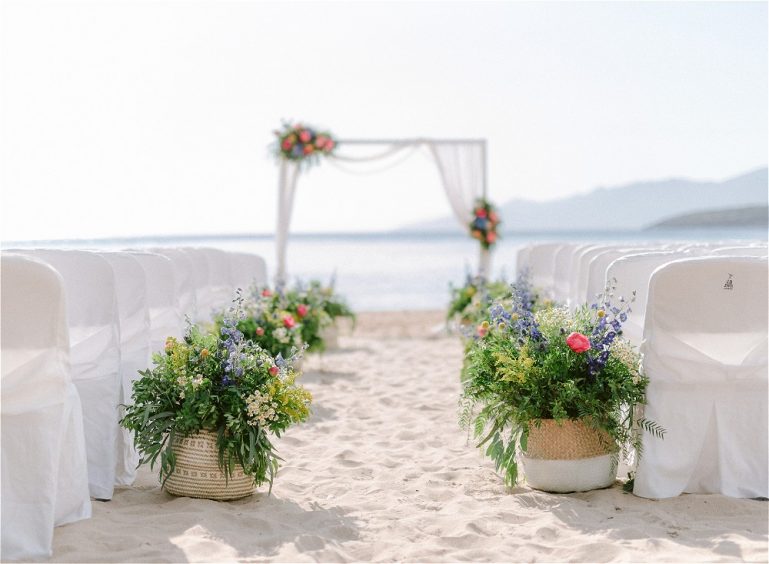 Boho wedding combination 
A great boho wedding combination is:
pampas grass
roses 
orchids 
The pampas grass will help give the decorations a nice boho feeling, with the roses and orchids allowing for great customization!
Elegant wedding 
A great elegant wedding combination.
Greenery 
Roses
Astilbe 
Hypericum 
Tulips 
Nerangulas 
Unique and exquisite flowers such as the nerangulas will help add an elegant touch to the entire wedding atmosphere.
Conclusion 
A flower palette for wedding flowers in Greece can consist of an immense variety of flowers. This is because Greece has hundreds of beautiful wedding locations, with venues suitable for a variety of different wedding types.
Since Greece is suitable for different wedding types, the palettes for wedding flowers in Greece have a great variety themselves. One can say that wedding florists in Greece are prepared to offer a voluminous amount of different flower species, suitable for the different wedding types a couple can have!
If you feel that you need help to organize your wedding planning, and you want to find the perfect wedding venue, feel free to contact us! We love to help couples who consider Greece as their destination wedding choice!