Wedding Villas in Greece are one of the most private and luxurious wedding venue options for a destination wedding in Greece. Greece has the good fortune to have many beautiful areas suitable for all wedding types.
As such, the wedding venues available for interested couples are both plentiful and beautiful.
All in all, we'll try our best to explain why one should have a wedding in a villa, and then suggest a few great wedding villa options.
WHY HAVE A VILLA WEDDING IN GREECE
We will explore the top reasons to have a villa wedding in Greece
COMBINE YOUR WEDDING WITH YOUR HONEYMOON
Your wedding in a majestic villa is the perfect opportunity to enjoy your after-wedding stay. Instead of travelling far and wide, you can host your reception in one of the plentiful wedding villas in Greece. After your marvellous wedding preparations are done, and you and your guests enjoy a wonderful wedding day, you can have the villa available for as long as you wish to stay!
CUT BACK ON PREPARATION TIME
The bigger the wedding the more preparation time is needed. This is particularly true for destination weddings where you must factor in travel and accommodation logistics for your guests. If you choose to have your wedding in a villa, you avoid the hassle (and cost) of identifying a wedding ceremony and reception venue.
In summary, through a wedding villa, you will be able to have your wedding reception, wedding ceremony and accommodate yourselves!
UNIQUE VIEW
Don't get us wrong.
There are plenty of wonderful wedding venues that offer stunning views.
However, no matter how stunning a view they offer, plenty of couples will always make sure to book these beautiful venues.
A private villa is a more alternative wedding choice. It probably won't receive the same traction as other popular wedding venues. As such, you will be able to enjoy a unique view that not many couples have seen before!

POPULAR WEDDING VILLAS IN GREECE
These are a few of the most popular choices for wedding villas in Greece.
WEDDING VILLAS CLOSE TO ATHENS
These are the wedding villas in Greece that are closest to the city of Athens. Couples that would like to a villa wedding without too much-associated travel will appreciate these villas the most.
VILLA ACHILLIOS – KEA
If you love secluded, stone exteriors with minimalistic indoor decoration than Villa Achillios is a perfect match for you. Constructed with stone, wood, and glass this structure is carefully complemented with select art paintings.
The master suite is independent of the guest rooms; the guest floor being below the master suite.
To sum up, enjoy an amazing view from the outdoor balcony equipped with a private pool, overlooking the sea surrounding Kea island.
NOMIOS VILLA – KEA
For those couples who desire a secluded accommodation option, the Nomios Kea Villa is the choice for you.
The Villa is located on a hilltop, within an area of ten thousand square meters. This secluded hilltop is complemented with nature's beauty and a beautiful view of the sea far down below.
It is split into two floors and contains an outdoor area with a pool where you can relax and spend time with your guests.
A beautiful choice that nature lovers shouldn't think twice before selecting. You can view more stunning photos and information here.
WEDDING VILLAS ON GREEK ISLANDS
These are a few of the most famous villa options found on the Greek islands.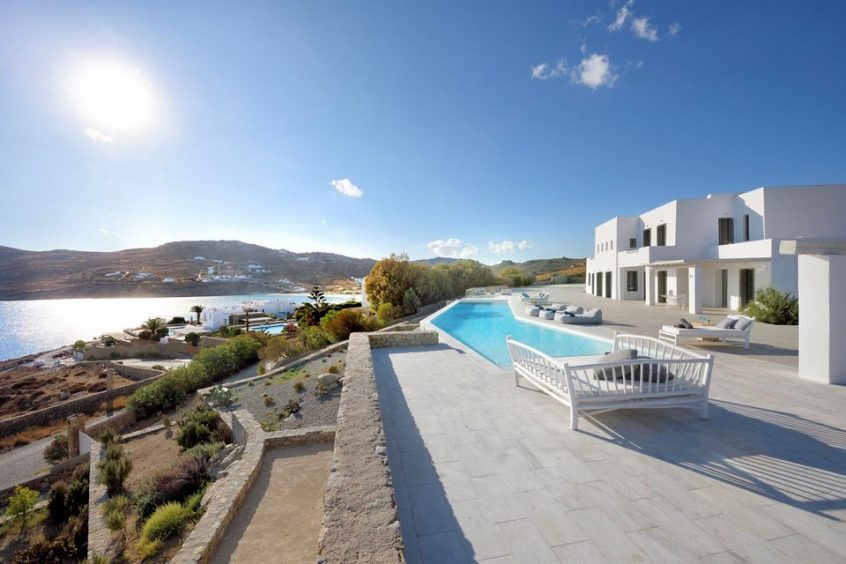 WEDDING VILLAS IN SANTORINI
Beautiful wedding villas in Santorini.
CAVO VENTUS
A four-person villa that was recently constructed. It has two bedrooms and two bathrooms, as well as a private swimming pool. This luxurious villa also has a private infinity pool on the premise, meaning that the couple can enjoy a relaxing pool bath.
Like several other wedding villas in Greece, there are several amenities which we believe guests will thoroughly enjoy. These include:
A bathroom with a jacuzzi
An infinity pool that is heated
An outdoor area suitable for dining
All in all, it is a very beautiful small villa. We encourage couples who would love to combine their wedding honeymoon, with their wedding reception to not think twice. There is a great open area outside where small guest sizes can easily enjoy both the ceremony as well as any reception planned.
VILLA BORDEAUX
One of the most well-known premium wedding venues in Fira Town, it is the perfect area to celebrate your special union. There are large pool and reception areas where all your guests will be able to enjoy both the ceremony and the beautiful scenery.
The entire villa draws inspiration from the traditional Cycladic architecture. They combine both the traditional vibes of the past, with modern additions. Villa Bordeaux is split into 4 luxury suites, each containing comfortable amenities. These luxury suites each have their own characteristics: 2 of them have exceptional pools, one is a maisonette and the other one is an open plan suite.
All in all, it is a great Santorini villa to both organize your wedding and have majestic accommodation options available to you.
WEDDING VILLAS IN MYKONOS
Beautiful wedding villas in Mykonos.
VILLA PARADISO
Villa Paradiso is a luxurious villa in Mykonos with 10 bedrooms and a maximum capacity of around 10 guests. This luxurious Mykonos villa is ideally located atop a mountain hill, offering an awe-inspiring sea view and stunning sunset views.
The entire property covers a total of 2000 square meters, with the villa covering around 300 of those. The interior rooms include four bathrooms, 3 master bedrooms, 6 double bedrooms, a kitchen, living and dining rooms.
Villa Paradiso has handmade furniture that decorates the interior, with lighting expertly illuminating the room fixtures. The exterior grounds also have a cactus garden and a 10 x 20 m pool, which has several sunbeds.
All in all, it is a great choice for a secluded private villa Mykonos wedding. Small wedding parties can celebrate the couple's union here. Additionally, private elopements are also possible here.
SEASCAPE COVE
One of the largest and most luxurious villa complexes in all of Mykonos and a certain addition to our list of wedding villas in Greece.
What primarily separates this villa from the other ones is its immense size. This villa has 20 bedrooms that can comfortably accommodate up to 41 guests. A small to medium-sized wedding with few guests may choose to book this villa to comfortably celebrate their destination wedding.
It is almost like a "mini-resort" that belongs entirely to the couple and their guests. This mini resort comes with CCTV monitoring as well as helipads. The biggest villa also has two professional kitchens, making it ideal for preparing meals for a Mykonos wedding.
All in all, a great villa choice for a wedding in Mykonos. This is because it offers a very spacious and luxurious area, which can be decorated according to the couple's desire.
WEDDING VILLAS IN OTHER GREEK LOCATIONS
 Beautiful wedding villas in other Greek wedding locations.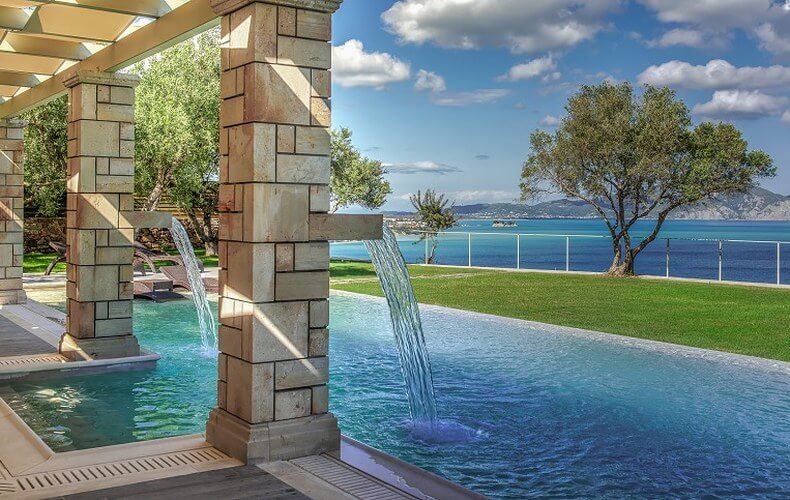 ARTINA LUXURY VILLA – ZAKYNTHOS
Found in the popular island of Zakynthos (Zante), Arting Villa is a luxurious accommodation inside a private property of twenty-one acres. Artina Luxury Villa is located on top of an elevated hill, allowing a view of the marvellous Ionian Sea.
Visitors here have a multitude of viewing choices; they can witness the Keri Lake, Marathonisi island as well as the soothing blue waters of Zakynthos islands.
Couples that'd like to have their own space in the popular island of Zakynthos should seriously consider this villa. The surrounding areas are bustling with life, so couples can leave their secluded villa for joyous social activities.
THE SUN RIDGE VILLA – KALAMATA
This beautiful villa is located in the area of Verga, less than ten minutes away from the centre. What makes this villa very unique, is the fact that it offers a magnificent view of the Messinian Gulf. As a result, it offers stunning sunset views that are truly one of a kind.
Privacy is not an issue in the Sun Ridge Villa, since it is located within closed grounds and surrounded by vegetation. The entire lot is more than 8000 meters.
The villa has 3 bedrooms and 4 bathrooms and is a perfect getaway for up to six guests. All in all, Sun Ridge Villa has a large outdoor area which makes it ideal for an outdoor summer reception.
VILLA ANDRIANA – SIVOTA (NORTHERN GREECE)
Northern Greece is a beautiful region for weddings since it has both high mountains and beautiful seas. It may not be as popular as other Greek islands, however, this does in no way mean that it is not as beautiful. A stunning example is villa Andriana.
This is a beachfront, two-story villa of around 180 square meters. The numerous amenities however are not the only wonderful aspect of this luxurious choice. Villa Andriana is surrounded by more than 1000 square meters of a green garden. This means that there is plenty of space to organize a stunning reception and ceremony for you and your guests.
All in all, it is a luxurious choice, having both an indoor jacuzzi and a swimming pool. It is a great choice to combine your wedding with a honeymoon.
MEA TERRA-RHODES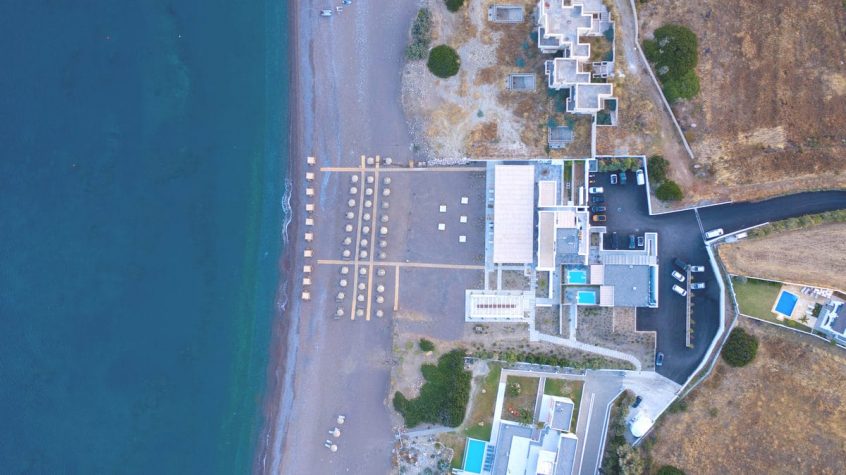 Mea Terra-Rhodes is a villa complex made up of two amazing villas. Villa Esthir and villa Theros.
Villa Esthir is a wonderful and charming 70 square meter villa that has a double bedroom, as well as a wonderful swimming pool. The outside area has a wonderful private terrace that is right next to the beach, suitable for having a wonderful event.
Villa Theros, on the other hand, is a property with 90 square meters that can easily accommodate four guests. It has a wonderful sitting area as well as two large bedrooms. Access is granted to the same private pool as villa Esthir.
All in all, Mea Terra makes for a wonderful combination of two unique villas. With a beautiful outside area, it is both a wonderful place to host a wedding and enjoy your honeymoon!
CONCLUSION
In summary, wedding villas in Greece are both plentiful and gorgeous. Mountain loving couples will be able to secure their own paradise high up in a mountain, while sea lovers will get to smell the sea breeze from their sea villa. All villa types can be found in Greece, as well as very luxurious villas that resemble the luxury found in Caliviginy island.
If you feel that you need help to organize your wedding planning, and you want to find the perfect wedding villa, feel free to contact us! We love to help couples who consider Greece as their destination wedding choice!