Planning Your Wedding in Greece?
Halkidiki Wedding Venues To Consider
If you are looking for Halkidiki wedding venues, this post is written for you…
Among thousands of beautiful locations in Greece, Halkidiki remains for many decades one of the top and favorite tourist destinations, both for Greeks and foreign visitors.
Halkidiki can meet every couple's style and taste! Offering a large variety of wedding venues to choose from. Most of them offer, either a crystal clear sea or great natural beauty or of its high-quality and delicious cuisine. This is why so many couples choose Halkidiki as their wedding destination.
But what does a wedding in Halkidiki mean?
Emerald beaches for dreamy beach weddings
Numerous wedding venues
Accommodation of high aesthetics
Plenty of chapels
Dense pine forests
Beach bar for endless parties
Archaeological sites with a long history
Warm climate
Halkidiki (or Chalkidiki) is considered the ideal wedding destination for couples who want to explore Northern Greece. Additionally, it is a suitable place for those who willing to have their wedding in a seaside location. Moreover, it offers the ideal setting for a wedding that you wish to share with family and close friends. Whether it is a traditional wedding, or a civil wedding, or an elopement wedding with a modern character, Halkidiki has a great variety of wedding venues in which you can organize the perfect wedding.
On this blog post, we will focus on the different types of Halkidiki wedding venues a couple can choose for their wedding.
4 Halkidiki Wedding Venues Ideas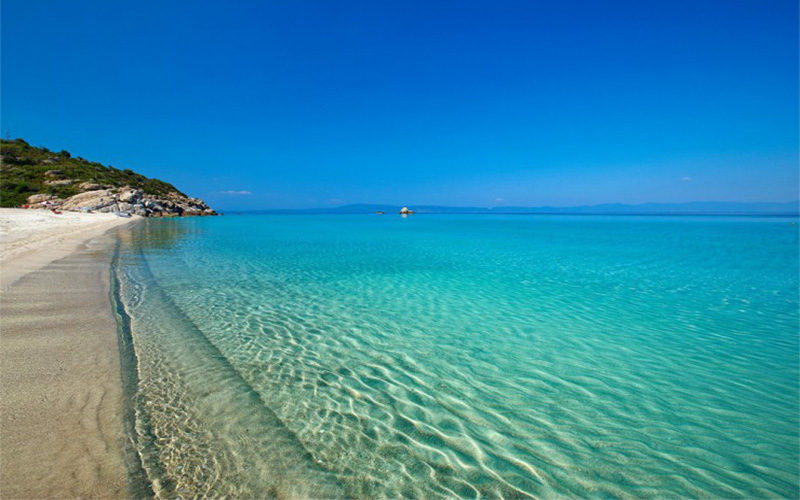 Ktima Nefeli 
Nefeli estate is one of the most beautiful and popular Halkidiki wedding venues. It is located right next to Nefeli Villas & Suites and it offers the ideal setting for the most special moments.
The wedding ceremony can take place either on the private sandy beach or next to the pool of the estate premises, or even inside the historic church located right next to the estate, in the church of Panagia Faneromeni.
The reception can take place at Ktima Nefeli, which has a capacity of 600 seats with an area that reaches 900 m2.
Avaton Luxury Hotel & Villas
Avaton Luxury Hotel & Villas is the ideal wedding venue in Halkidiki for couples who dream of a destination beach wedding combined with luxury accommodation facilities. The resort is an elegant and modern seaside resort overlooking the crystal blue waters of the Aegean Sea. It consists of 36 luxurious rooms, suites and villas most of which have a private pool with built-in sunbeds. Avaton offers great packages for couples and newlyweds. As well as, suites with a private pool, massage treatment for two, cruises overlooking the sunset with a luxury yacht and candlelight dinner on the beach are some of the facilities the resorts can offer.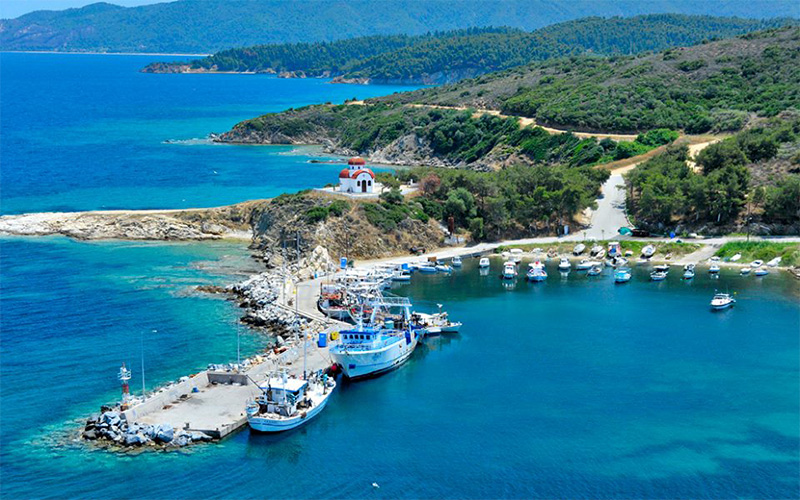 Aelia Beach Bar Restaurant
Halkidiki is popular for its variety of beach wedding venues. Aelia restaurant offers an experience of Greek modern cuisine combined with the green and enchanting landscape right by the sea. Furthermore, at Aelia Beach bar the wedding day turns into an unforgettable party accompanied by refreshing drinks and delicious cocktails.
The period of operation of this wedding venue in Halkidiki is formed between May – September. It has the possibility of serving 600 people at a seated meal and 1000 at a cocktail reception. Finally, the duration of the events is not subject to restrictions.
Danai Beach Resort & Villas
Danai Resort is a unique marble-laid estate with luxe living standards which makes it one of the tops in the list of Halkidiki wedding venues.
Additionally, located amidst lush vegetation, above the sandy beach of Nikiti in Halkidiki, the 5-star Danai Beach Resort & Villas overlooks the Aegean Sea. Danai resort has a private beach, 3 gourmet restaurants by the sea and a holistic spa.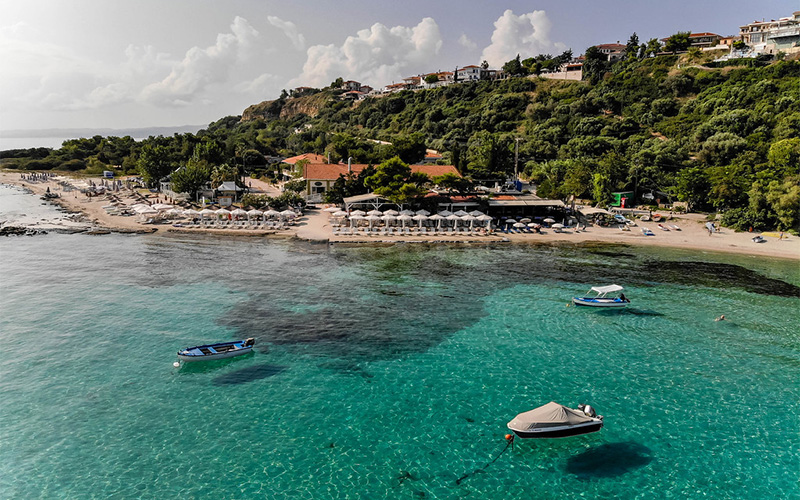 All in all, what makes couples consider Halkidiki as a great wedding destination are its variety and diversity. This is to say that even the most demanding visitor is not left unsatisfied. Furthermore, Halkidiki is famous for its picturesque churches. Some of them with excellent views overlooking the Aegean Sea from above while others have courtyards that end at the sea. Generally, in the wider area of Thessaloniki and Halkidiki, couples will find some of the most beautiful estates. Moreover, couples will find stone buildings, with modern or traditional architecture, lush flower gardens, and unpretentious luxury rooms. Additionally, the imposing swimming pools and small waterfalls are just a few of the many things couples can experience for a dream wedding.
Do you consider getting married in Greece? A notable choice is Halkidiki! Halkidiki wedding venues can meet every couple's style and needs!
If you want to find out more about booking a wedding planner for a wedding in Halkidiki, feel free to click here to contact us! We love assisting couples who consider Greece as their wedding destination!